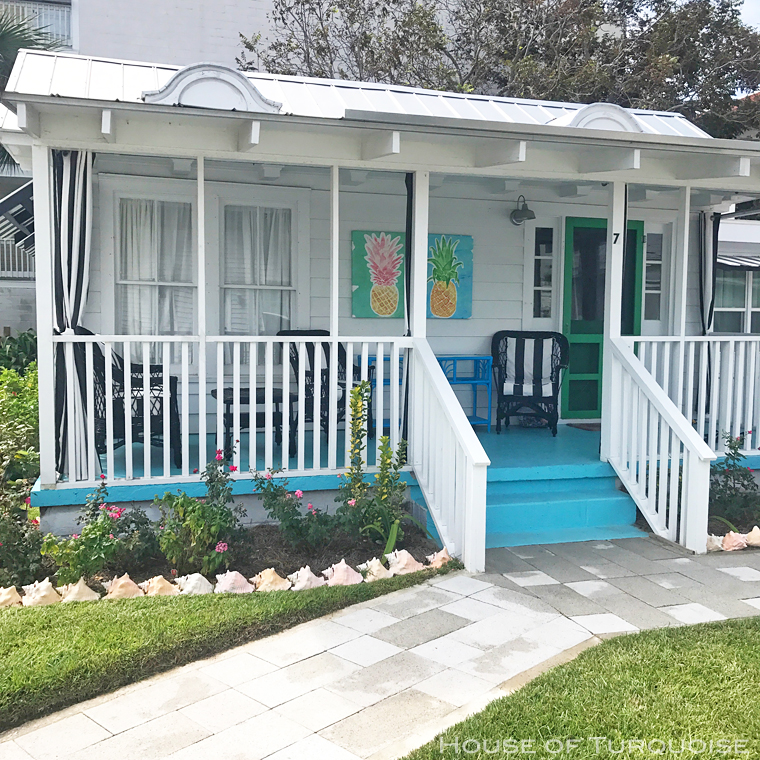 There's nothing quite like a Jane Coslick cottage to put a smile on your face! I'm excited to be sharing my photos from our recent vacation at Maddie's Seaside Cottage on Tybee Island, the laid back little island just outside of Savannah, Georgia. If you've been reading my blog for a while, you know Tybee is one of my favorite places to visit. I learned of the island almost ten years ago now after I discovered the work of interior designer and preservationist Jane Coslick; I was immediately drawn to her signature cheery use of color. Her beach cottages are my happy place!
I'm lucky enough to have been inside a handful of Jane's cottages (I'll link to them at the bottom) and each time I seriously feel like I've walked into an issue of Coastal Living magazine. Picture Perfect. But cozy and comfortable too! Maddie's was the ideal beach cottage size…it looked small from the outside, but didn't feel like it when you were inside. The main living area was bright and open, with two bedrooms, a powder bath and a bunk room right off the kitchen.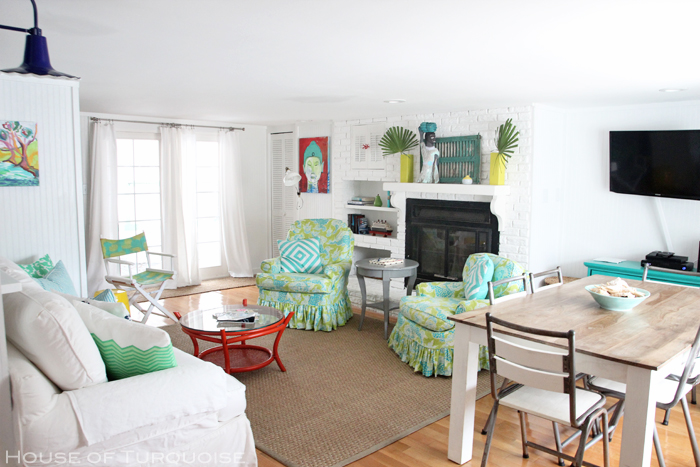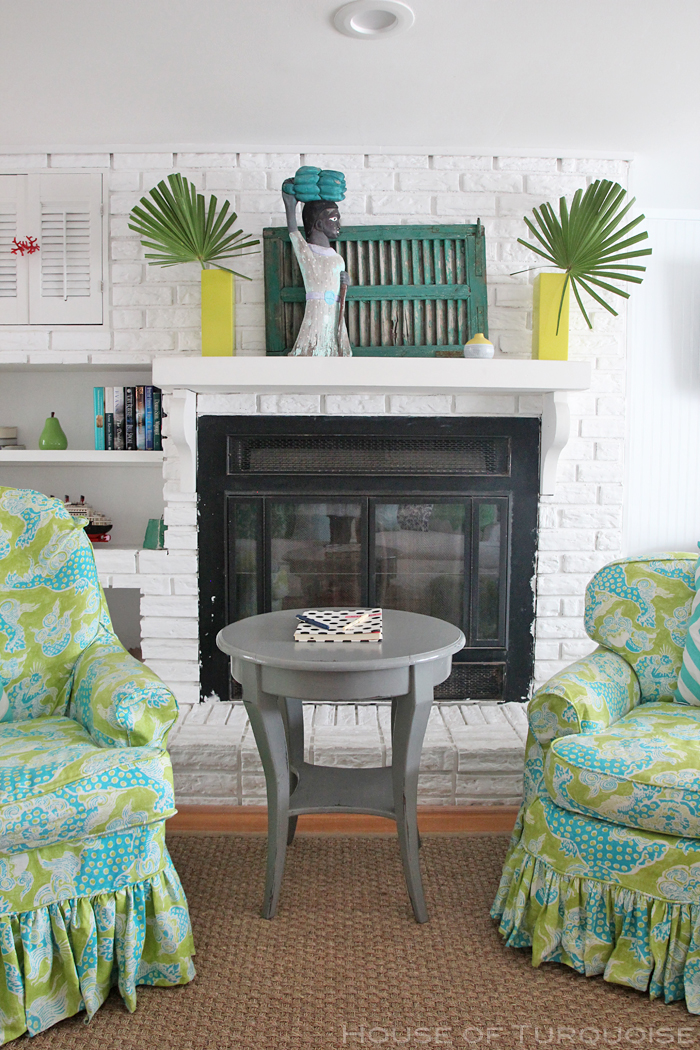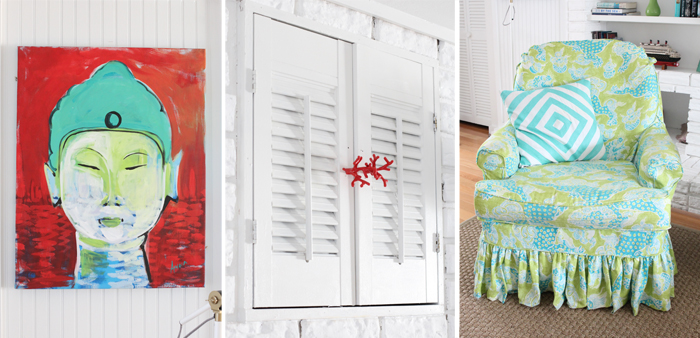 The open living room and dining room is where we spent most of our time. I absolutely loved all of the bold, colorful artwork by Jane's super-talented assistant Anna, not to mention the the homeowner's unique finds from her travels around the world. And how about those comfy turquoise and lime green chairs?! Jane is a genius with slipcovers!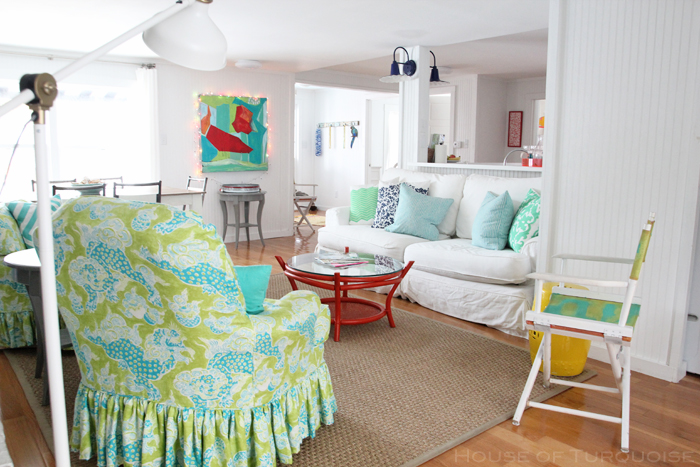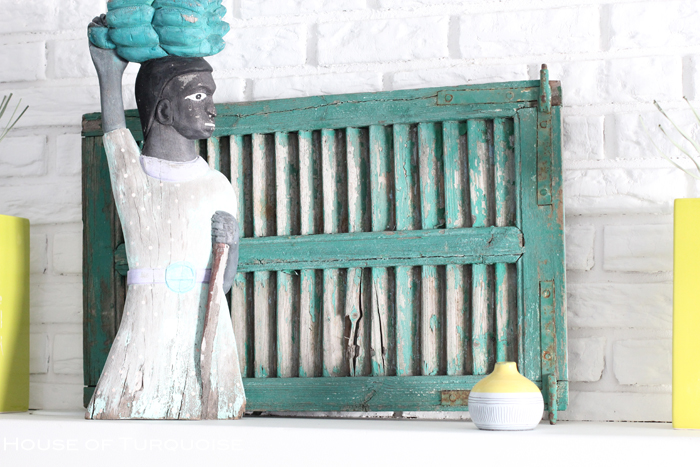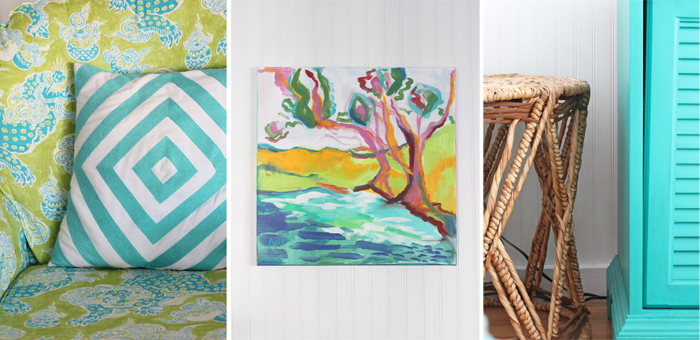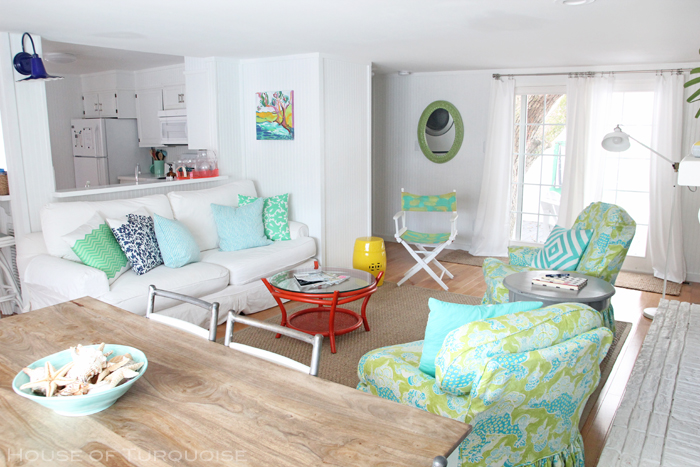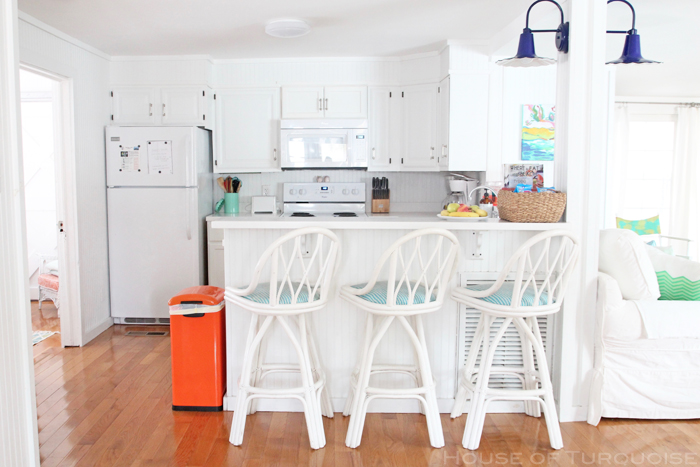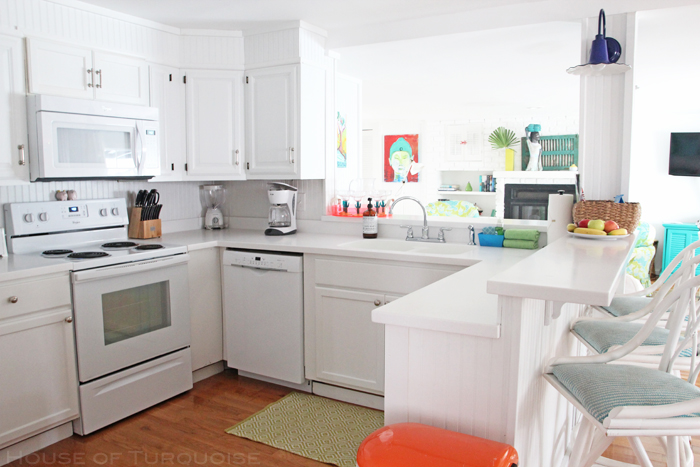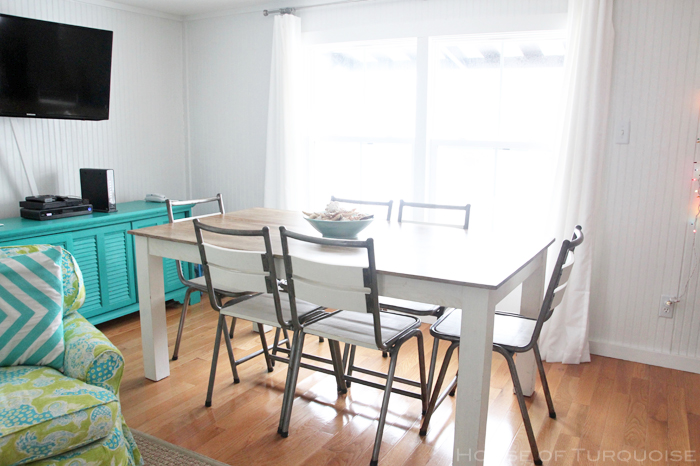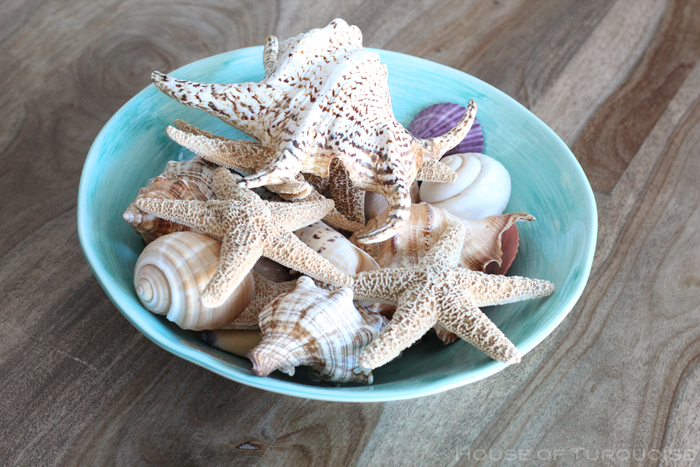 Now on to the bedrooms! The queen bedroom at the front of the house was filled with so many fun touches. The Stray Dog Designs pendants, cute striped stools, colorful pillows, I loved every inch of that room.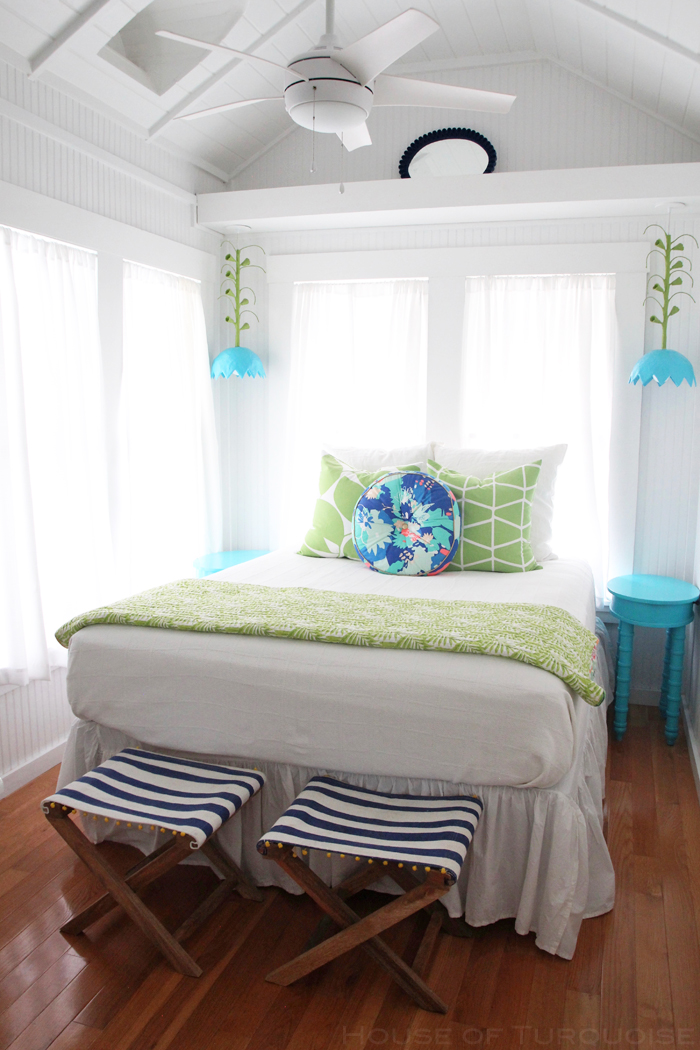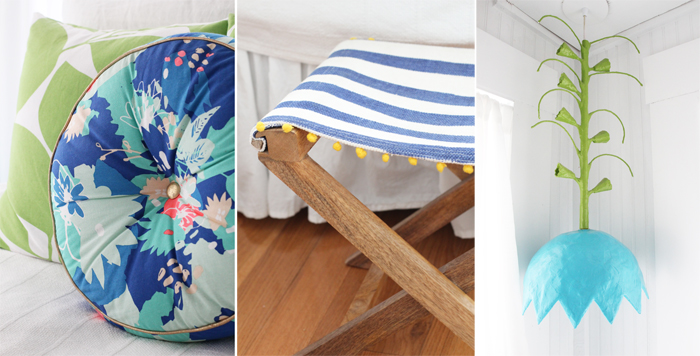 It had a pocket door that opened up to the powder room…loving the mirrors!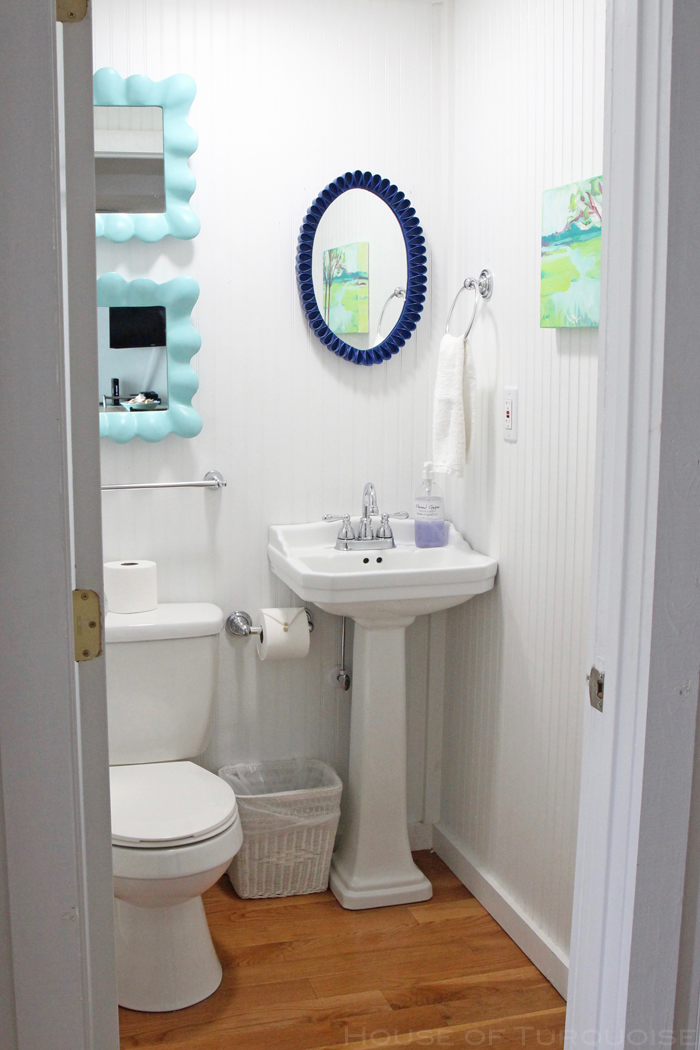 Next we have the kids' bunk room. You should have seen Wesley's eyes light up…he was on the top bunk 20 seconds after we walked in!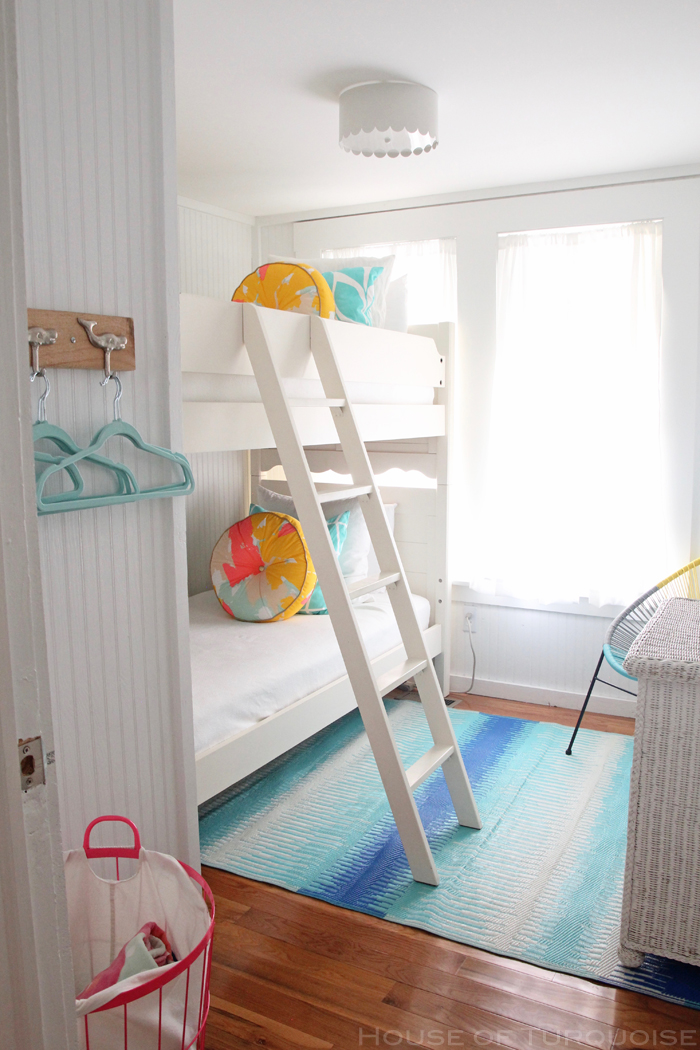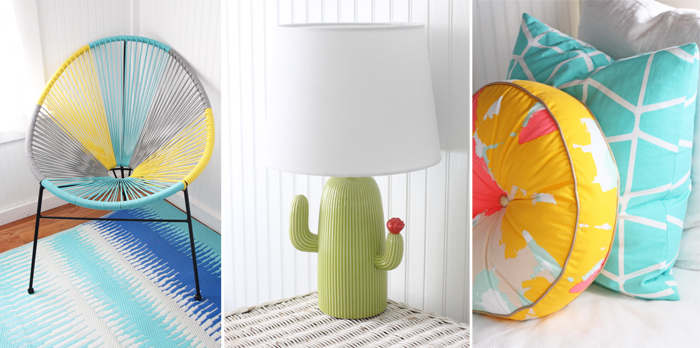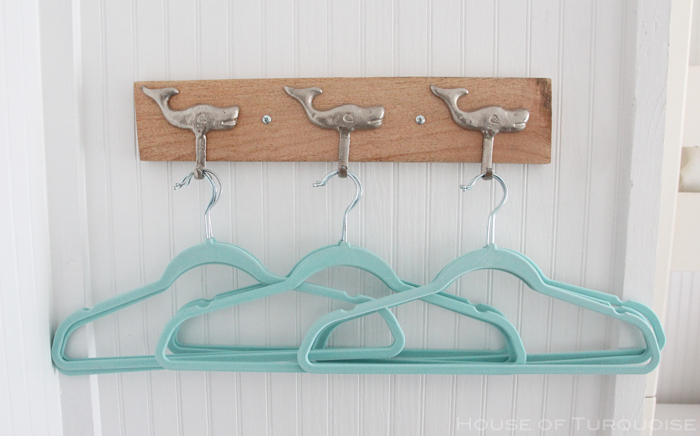 Next we have the second queen bedroom off of the kitchen…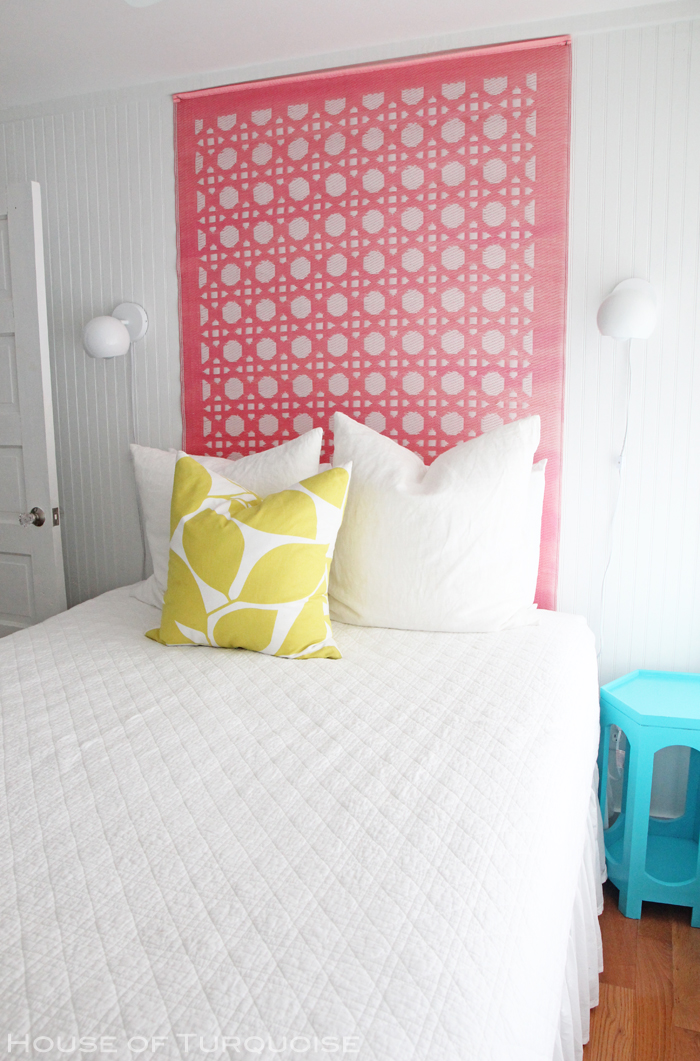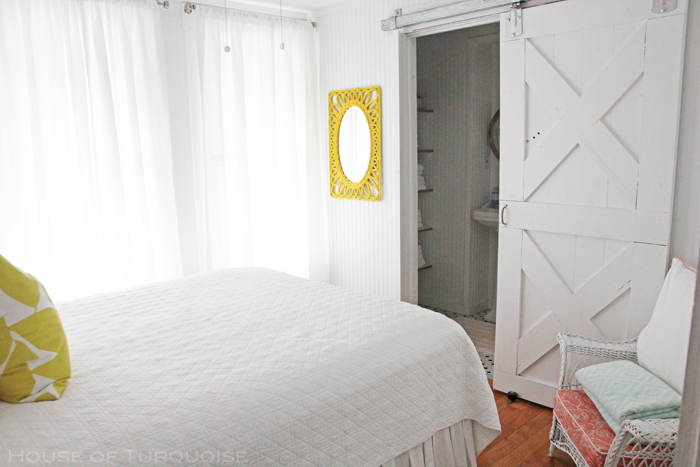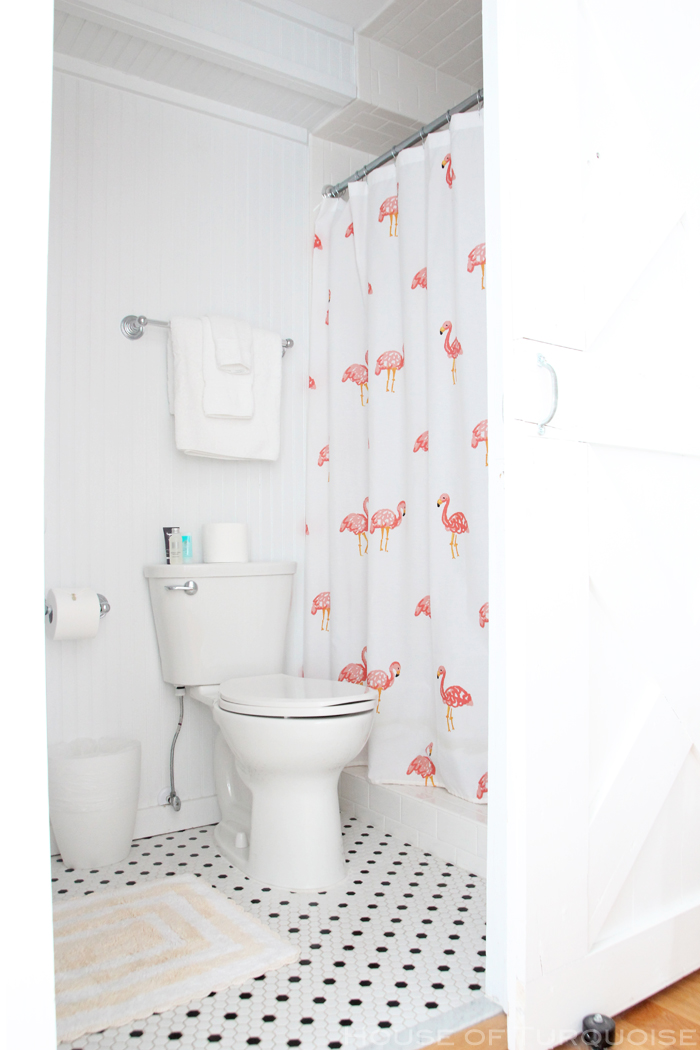 This one had its own private bath with a great barn door and vintage-inspired tile. The flamingo shower curtain was so cute! I loved how the colors tied in with the coral headboard…did you notice it's actually a rug?! Love it!
After you turned the corner behind the living room, there was a stacked washer and dryer (SO appreciated having that on vacation!) as well as a full bathroom with a clawfoot tub (another thing I appreciated having on vacation!).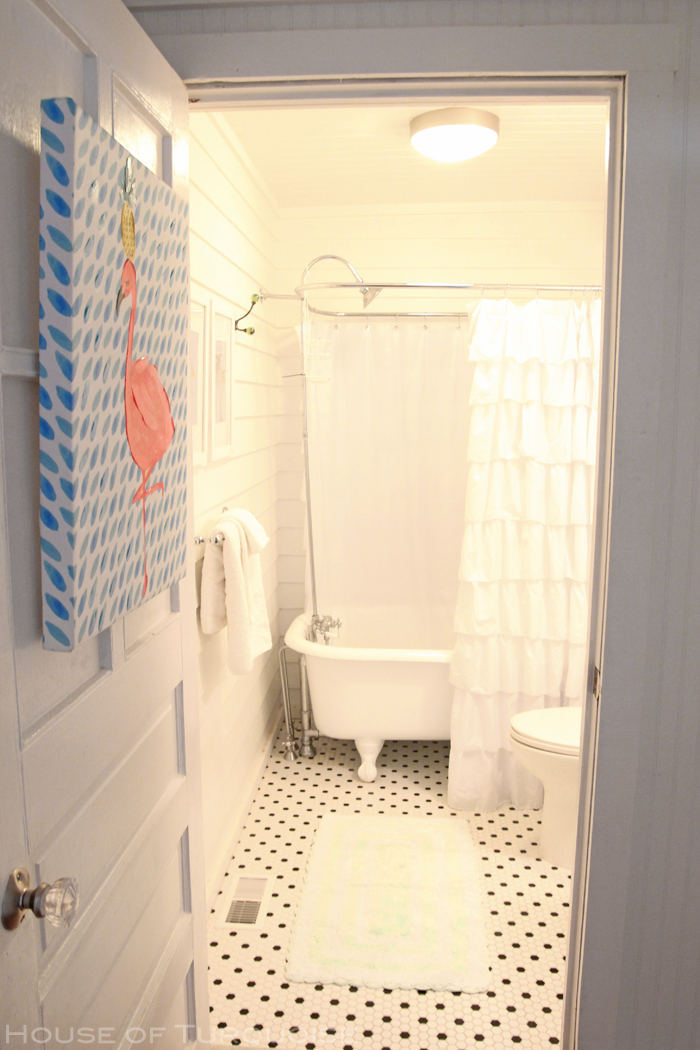 And then just when you think you reached the back of the cottage there was huge surprise waiting for you…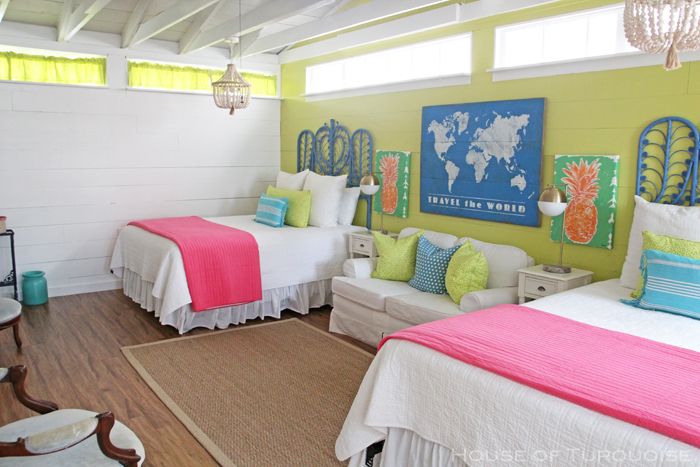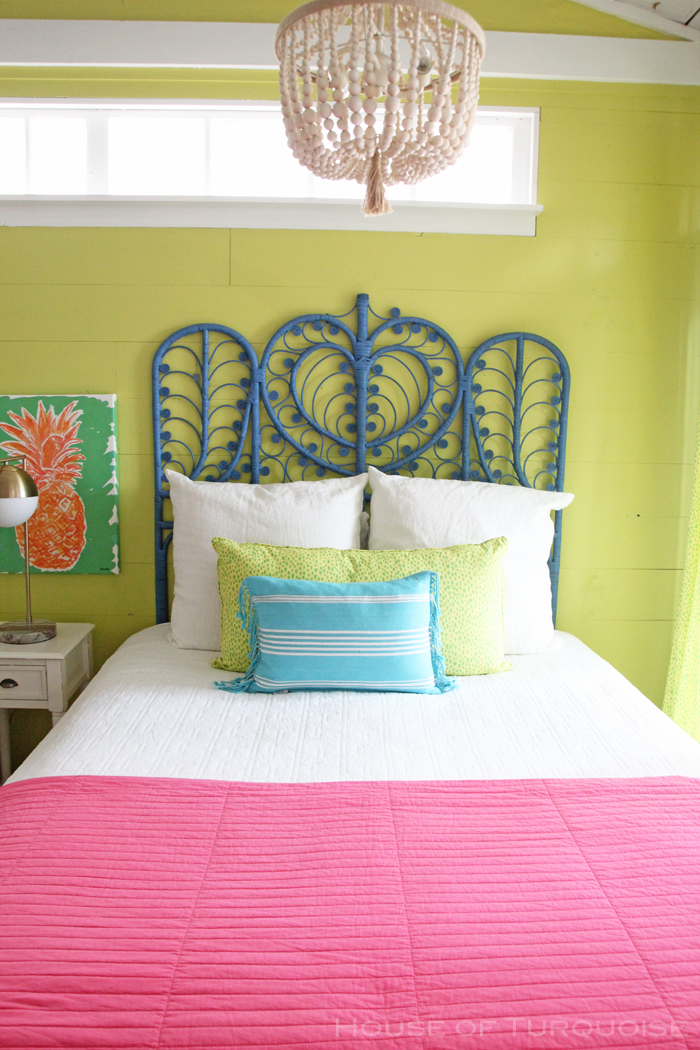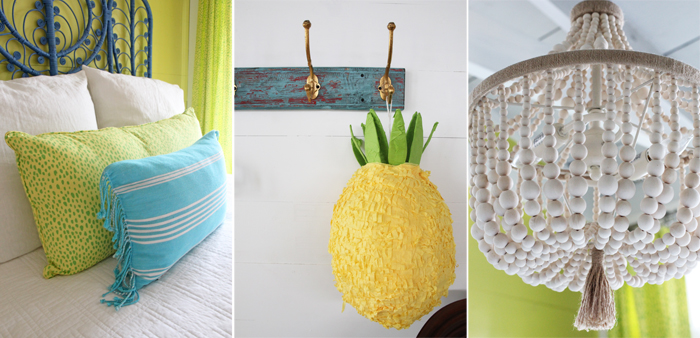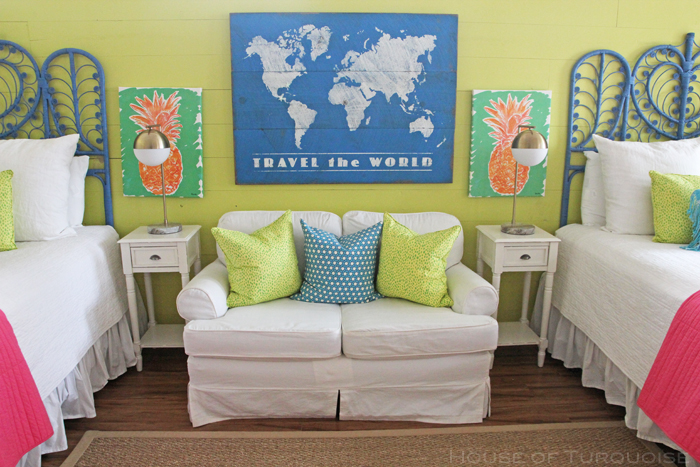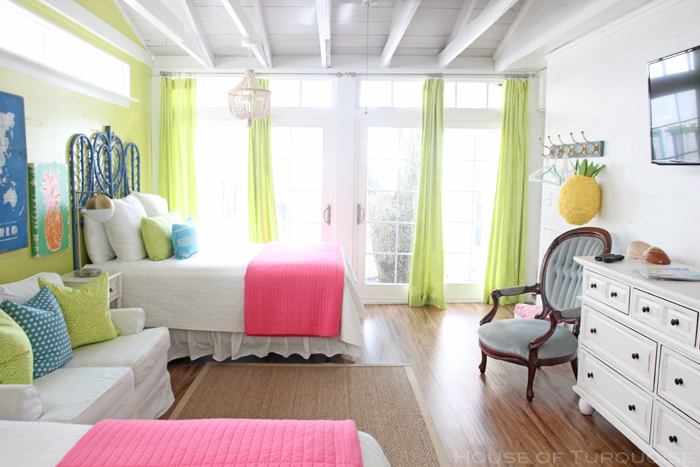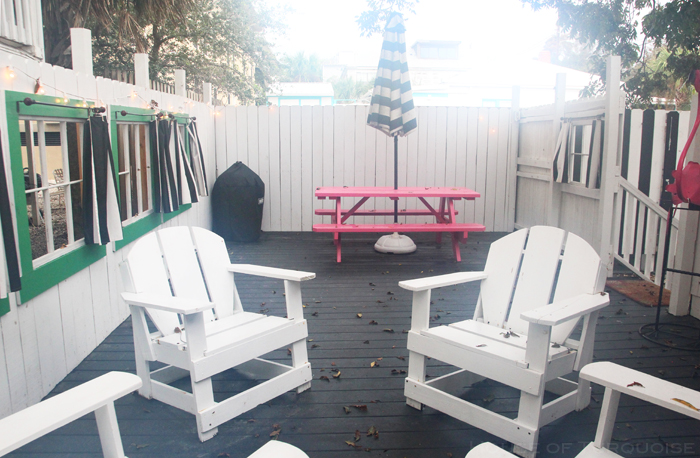 This spacious bedroom/hang-out area actually used to be a porch. So many great elements in that space like the vintage headboards that came from the attic of Tybee's TS Chu department store, the beaded chandeliers, original transom windows, and brand new sliding doors that lead to a fun deck and outdoor shower (of course)!
Lastly we have the entry and front porch…bright and cheery with whimsical touches, just like the rest of the home. Check out that cute sun light fixture!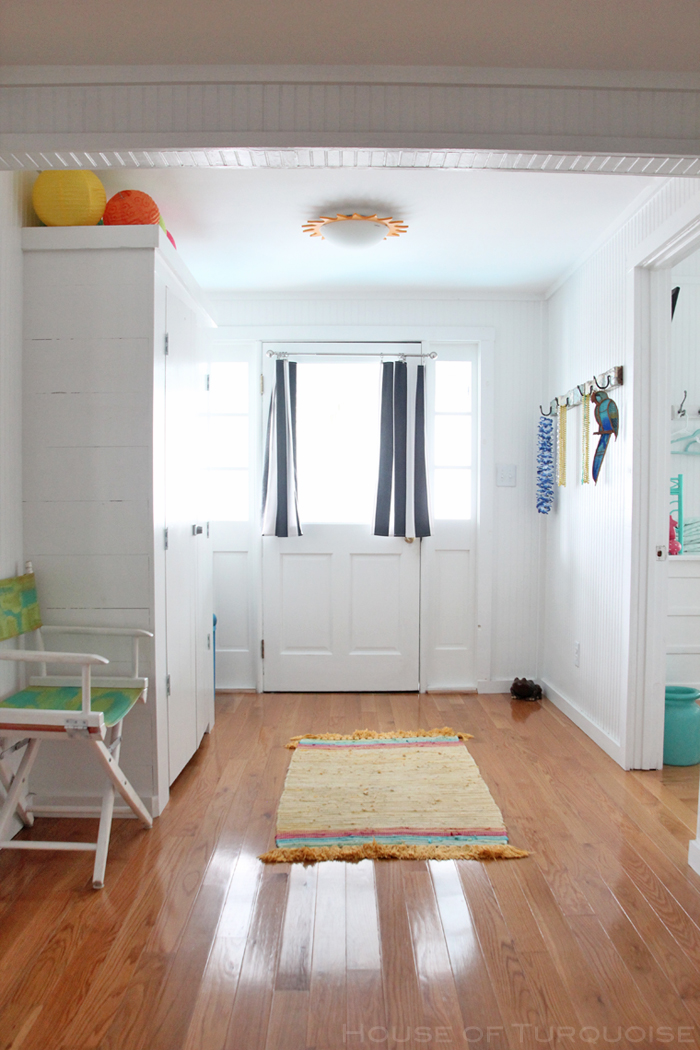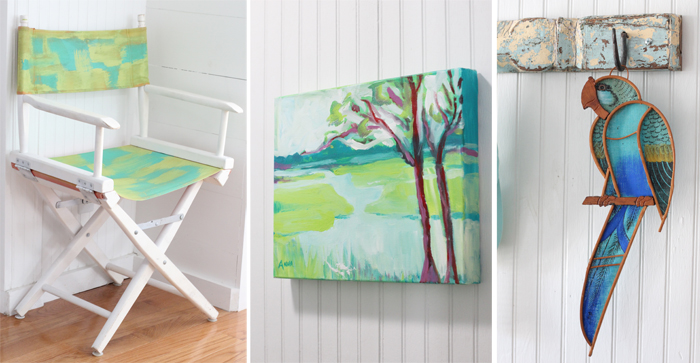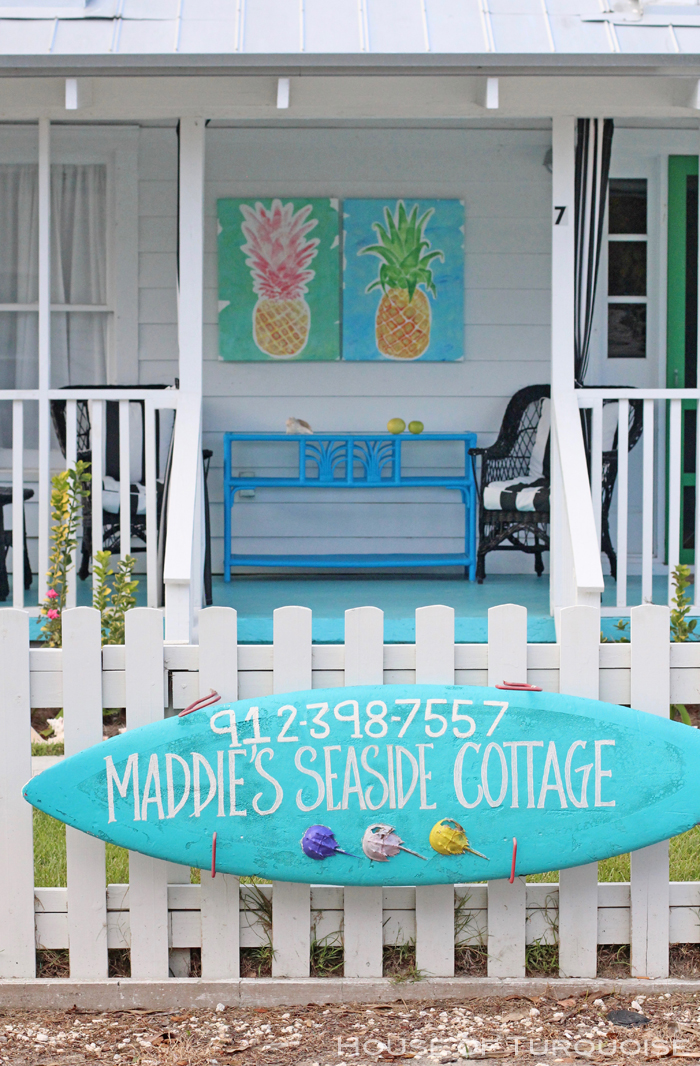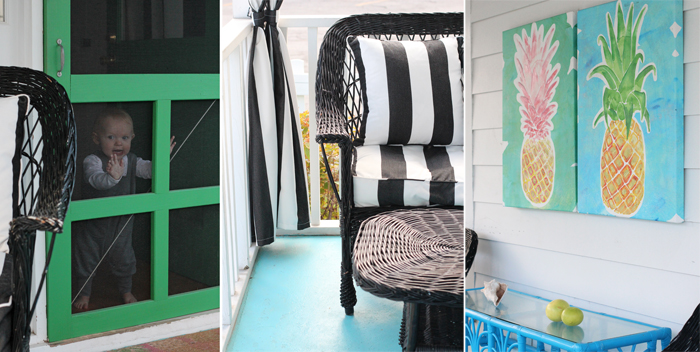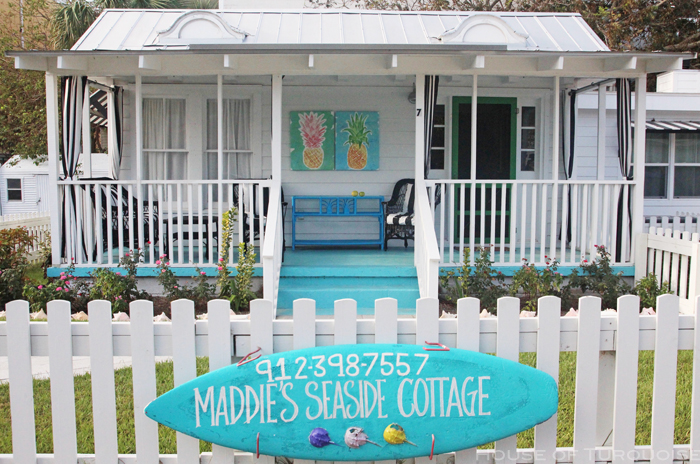 Gotta love that porch floor painted "Tybee Turquoise" from Jane Coslick's own line of paints!
To date, Jane has designed or restored about 70 homes on Tybee Island, with Maddie's Seaside Cottage being one of her latest. The home was built in 1936 (the homeowner, now in her 70's, actually remembers it being built…how cool is that?!) and it underwent a huge transformation. Check out these 'before' shots: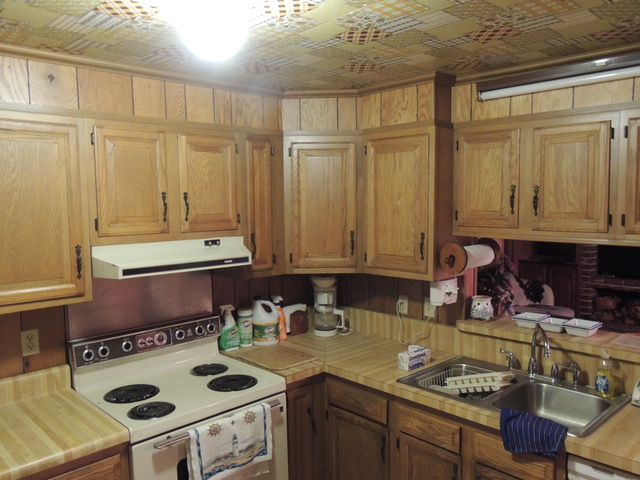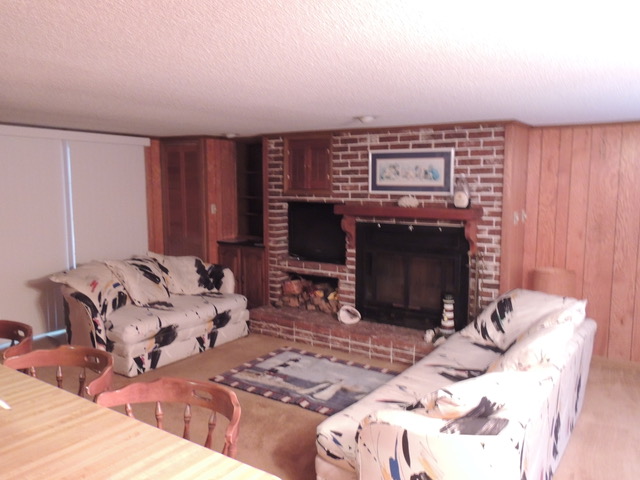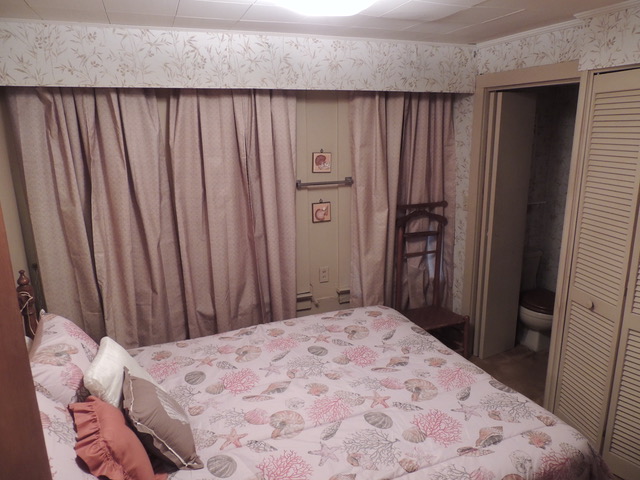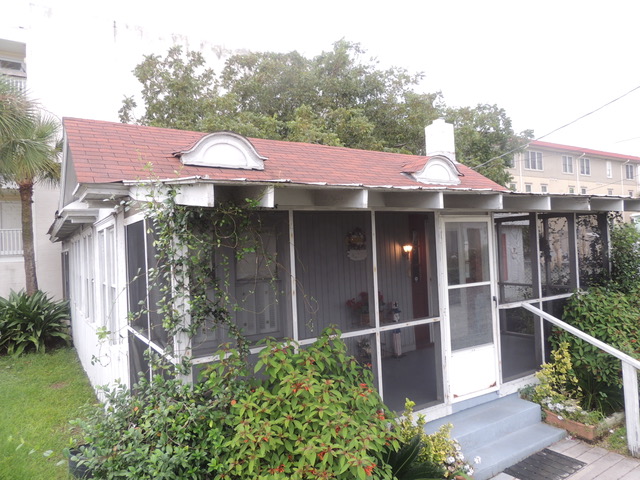 That's one of the reasons I love Jane's work and am endlessly inspired by her…she sees the potential in dilapidated beach cottages and turns them into something special. She lovingly preserves the original character and charm, while simultaneously giving the home a whole new look with all the modern amenities. Truly the best of both worlds.
Maddie's Seaside Cottage is a vacation rental listed through Airbnb…see more photos and get rental info here! (The homeowners couldn't be any nicer or more helpful!) And be sure to check out Jane's blog for more 'before' pics and behind-the-scenes on the design of the home.
To see more Jane Coslick cottages I've stayed at or toured, visit: Mo's Pink Zebra Cottage, Sundew Cottage, Cottage on the Green, Doc Holiday Cottage, Southern Tides and The Shrimp.
My Turquoise Tour of Tybee is kinda fun too!
Oh and I didn't even tell you guys one of the best things about Maddie's Seaside Cottage–it's only like a two-minute walk to the beach!!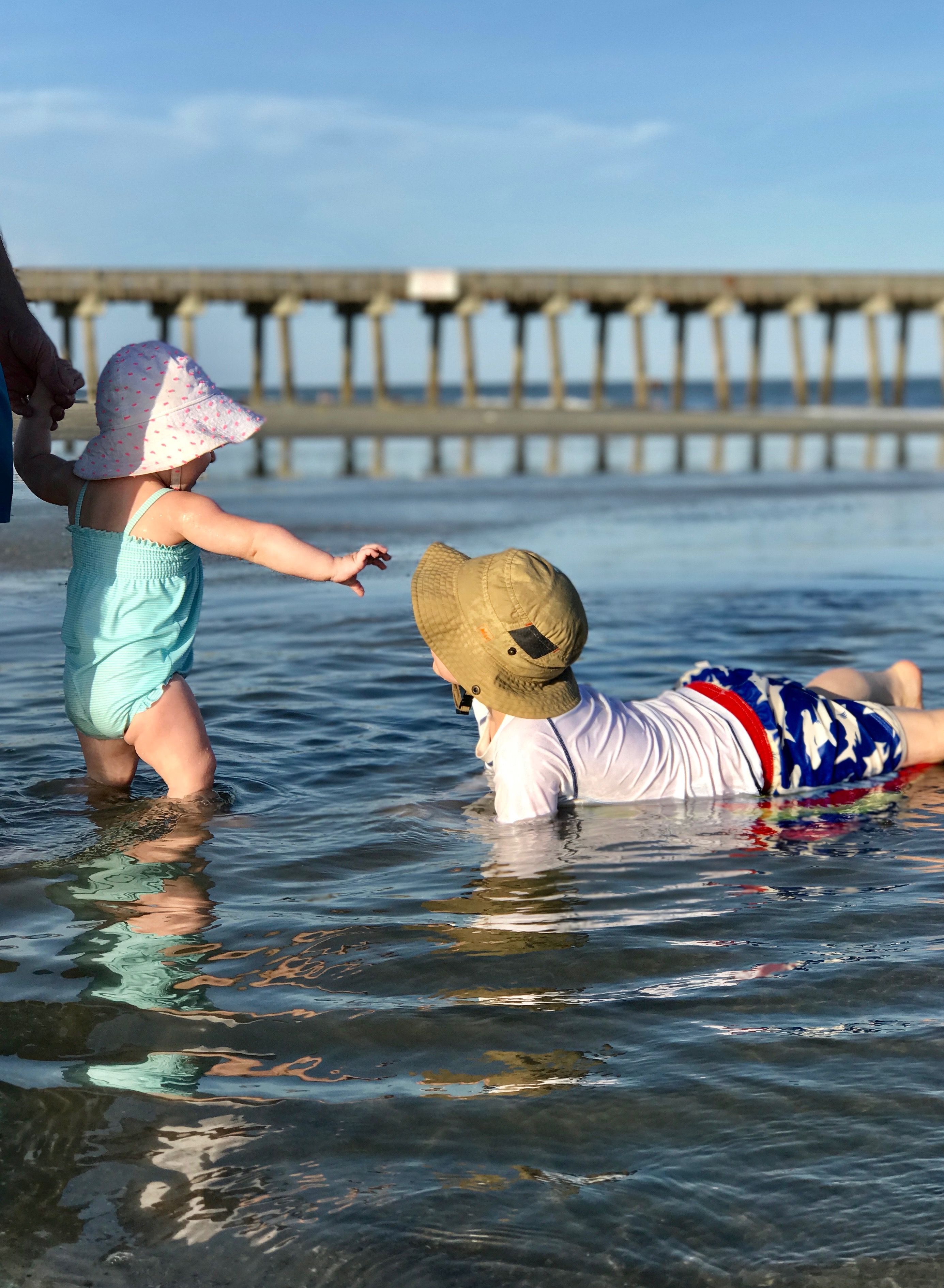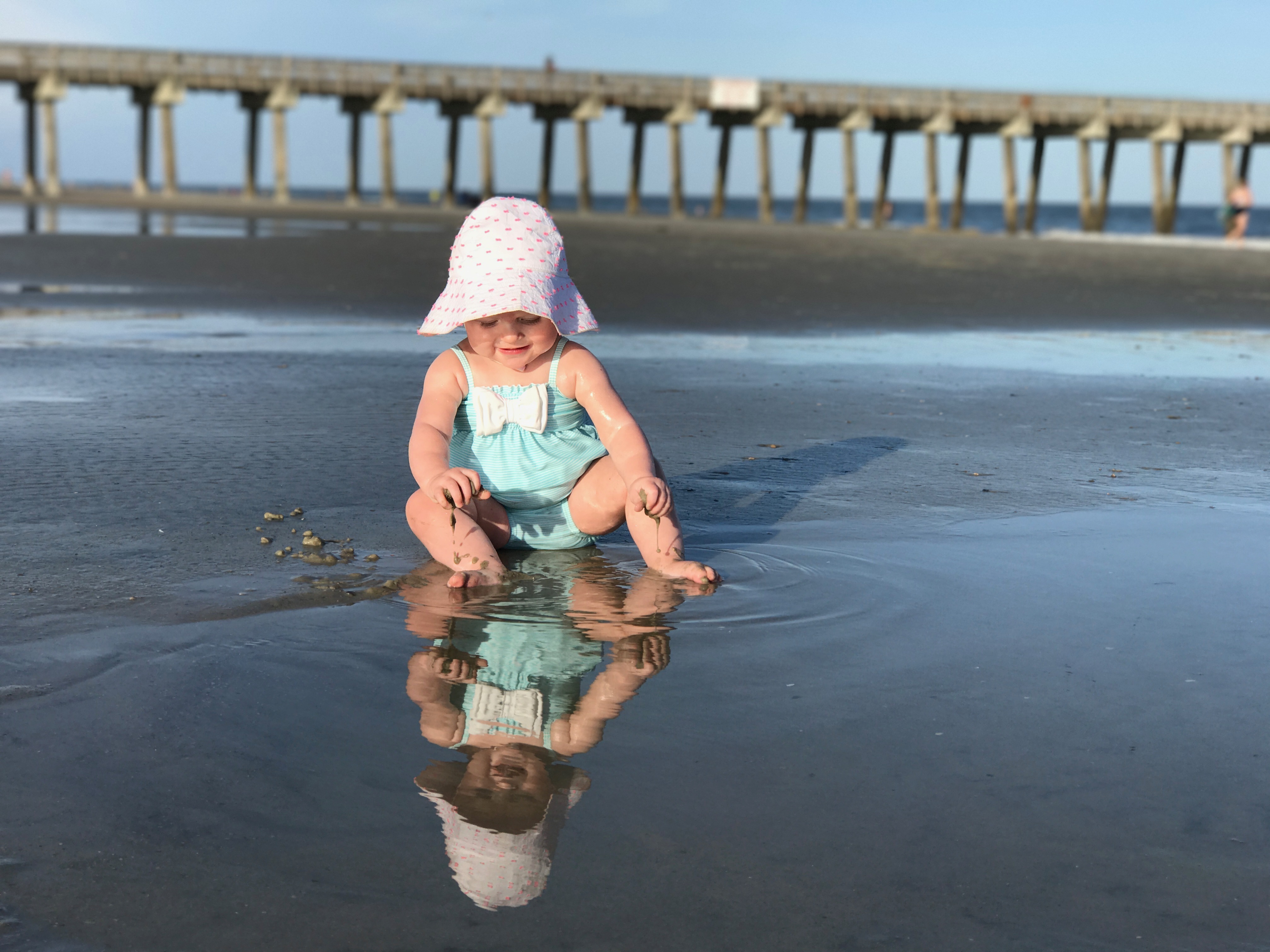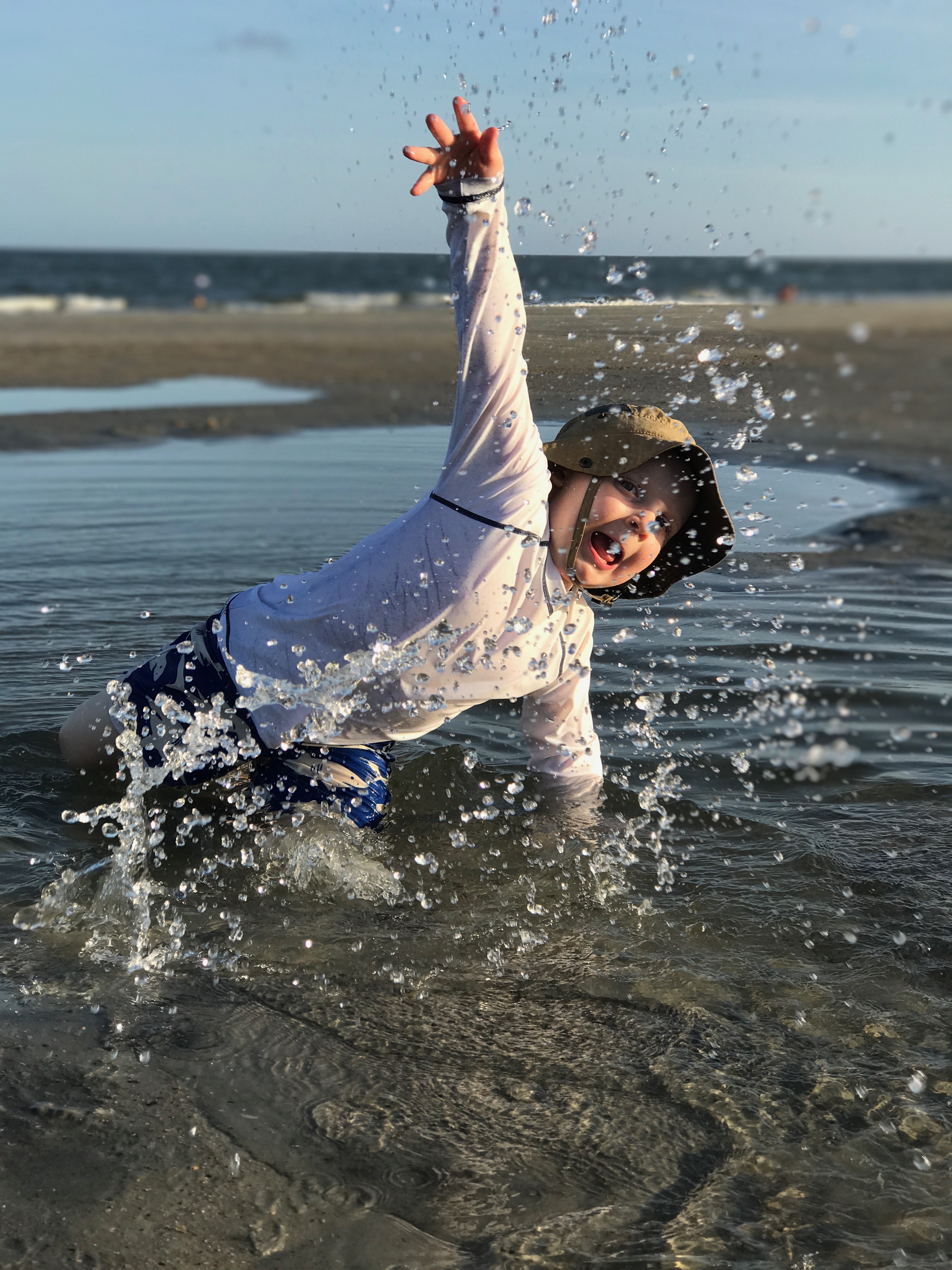 They can't wait to go back!!

Love turquoise? Visit my shopping blog Everything Turquoise…updated several times throughout the day! Check out Decor by Color for even more color-themed shopping!