Benjamin Moore "St. Lucia Teal" 683 (JorDecor)
Sherwin-Williams "Splashy" SW 6942 (HGTV)
Benjamin Moore "Wythe Blue" HC-143 (Hiya Papaya)
Valspar "Starry Sky" 5005-8C (HGTV)
Dunn Edwards DE5734 "Emperor Jade" (Built Custom Homes)
Benjamin Moore "Stratton Blue" HC-142 (Megan Rice Yager)
Sherwin-Williams "Aquatint" SW 6936 (HGTV)
Benjamin Moore "Wythe Blue" HC-143 (Hiya Papaya)
Benjamin Moore "Yorktowne Green" HC133 (Allison Banks)
Benjamin Moore "Wythe Blue" HC-143 (Suburban Bees)
Benjamin Moore "Florida Keys Blue" 2050-40 (Old Town Home)
Sherwin-Williams "Watery" SW 6478 (Hooked on Houses)
Benjamin Moore "Wythe Blue" HC-143 (Hiya Papaya)
Happy Halloween! I'm so excited to be back blogging! Thank you all so much for the kind words about the birth of our little sweetie Mirabel. I can't believe she turned one month old yesterday! It's been such a crazy month. Having two little ones is definitely way more challenging than just one, but Wesley is a great helper and loves his little sister! I'm not guaranteeing a new post for you guys every day, but now that we are getting into a routine, things are getting easier!
I couldn't think of a better way to return from my hiatus than with an ode to one of my favorite design elements: a turquoise front door! If only our home didn't have a glass door. Though I can't imagine having to decide what paint color to go with–clearly you can't go wrong with Benjamin Moore's Wythe Blue, that's for sure! No matter the shade, a turquoise door is a simple yet striking way to add curb appeal and personality to your home. And I'd really love to be able to tell people, "just find the house with the turquoise front door!"
P.S. Here's a pic!! 🙂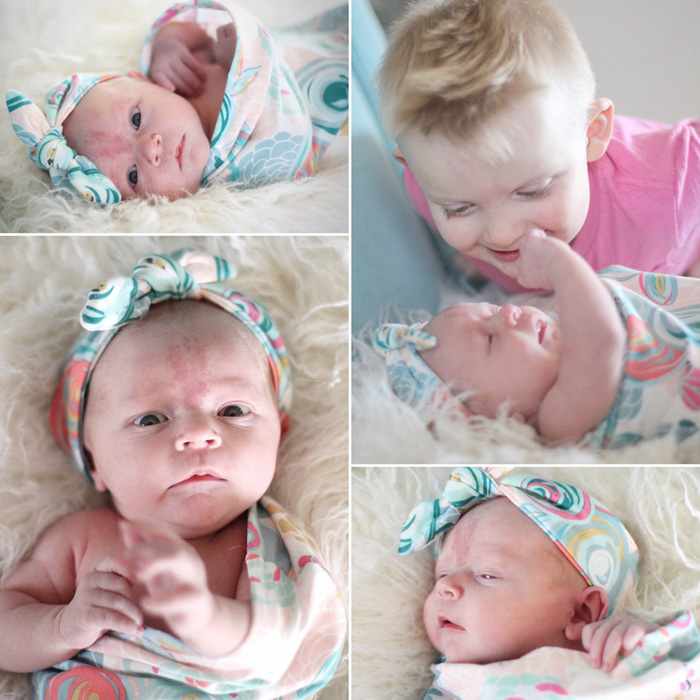 Love turquoise? Visit my shopping blog Everything Turquoise…updated several times throughout the day! Check out Decor by Color for even more color-themed shopping!