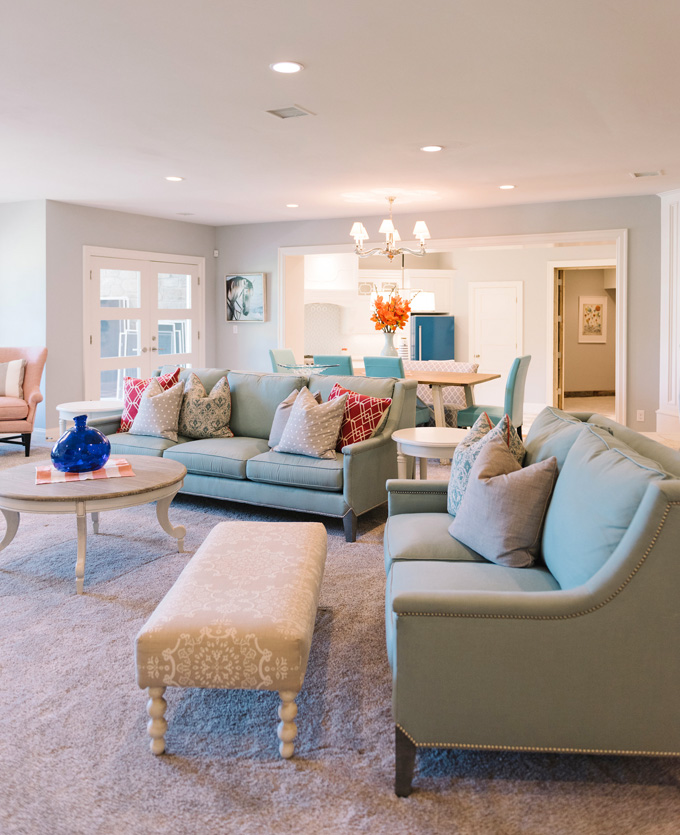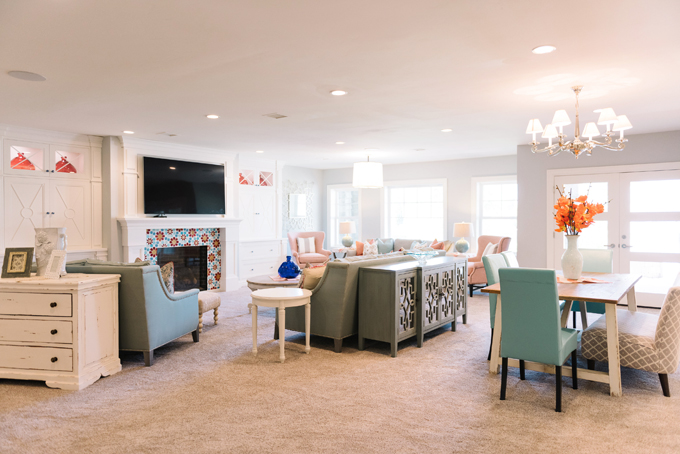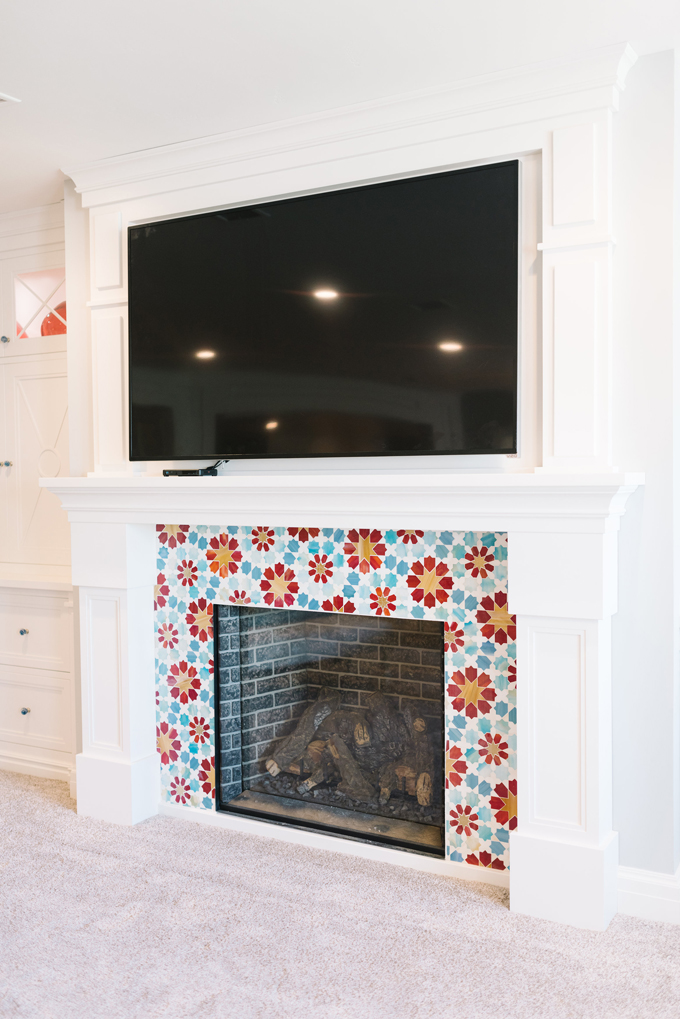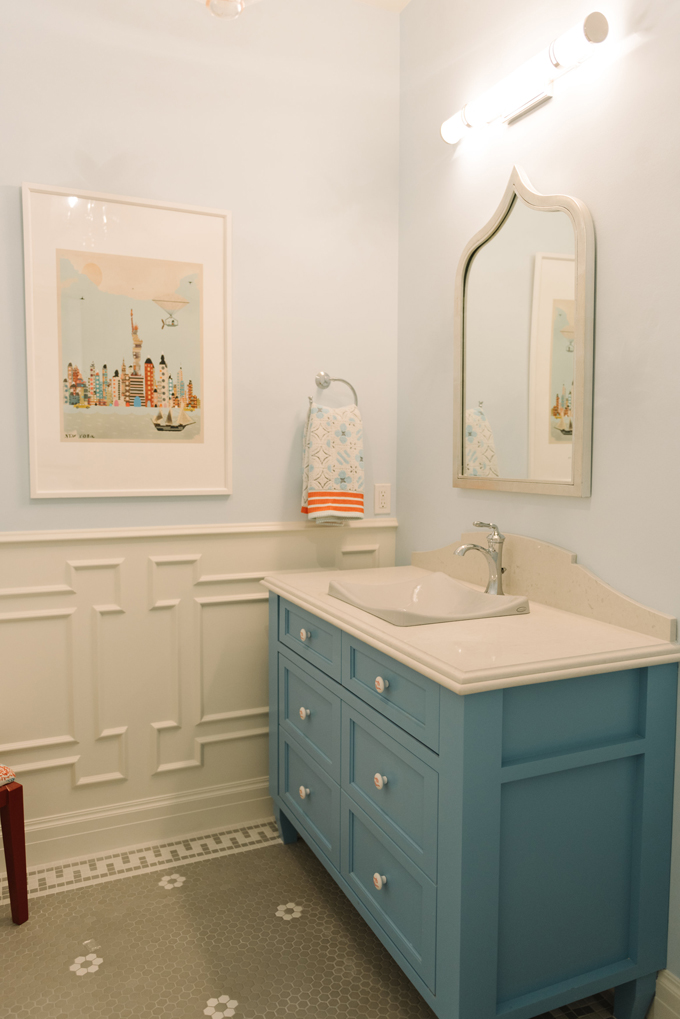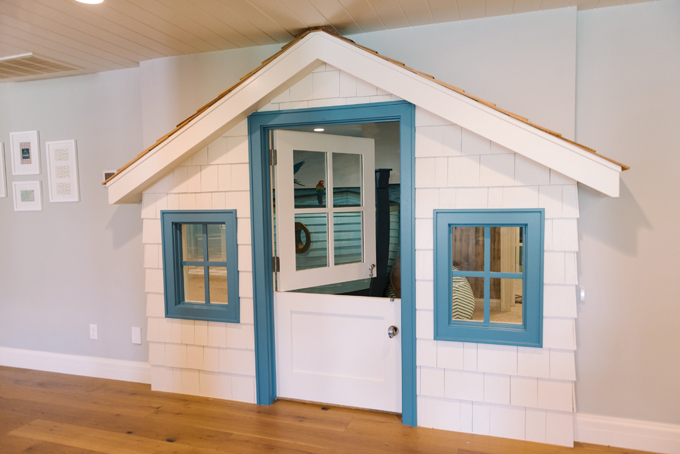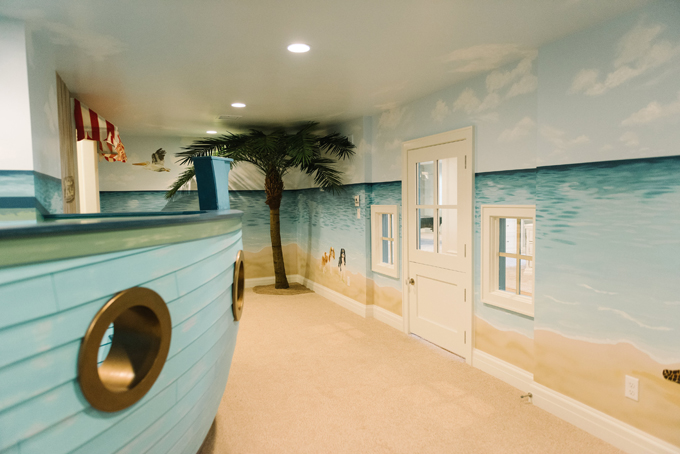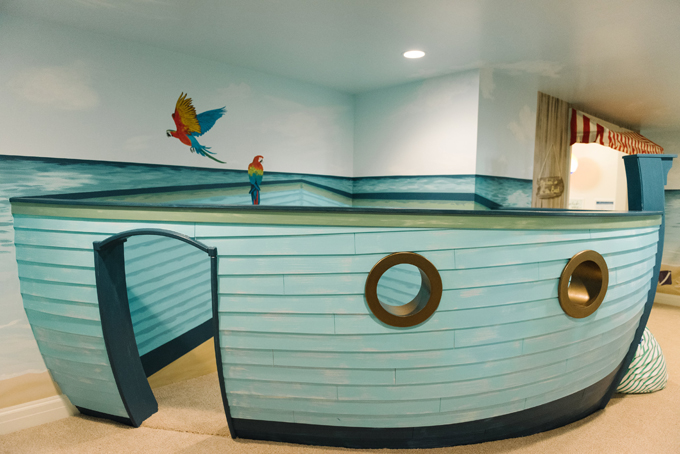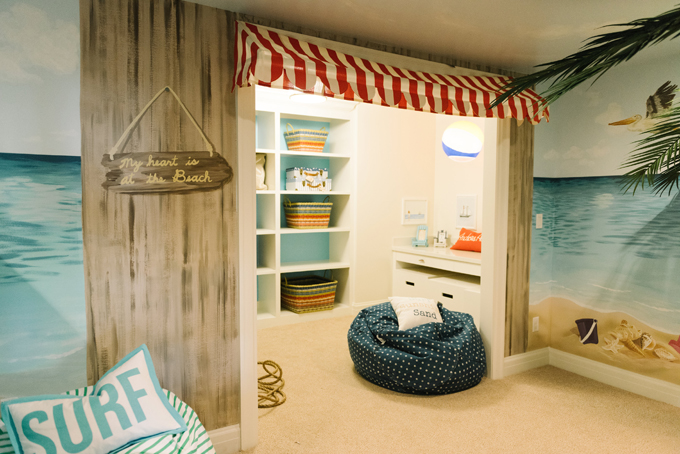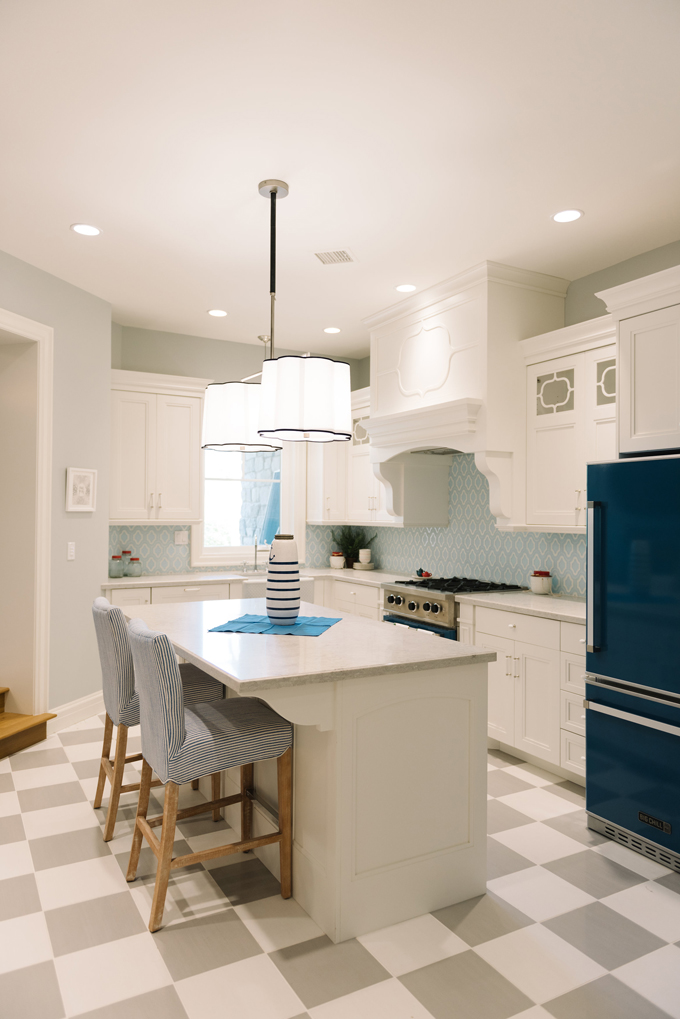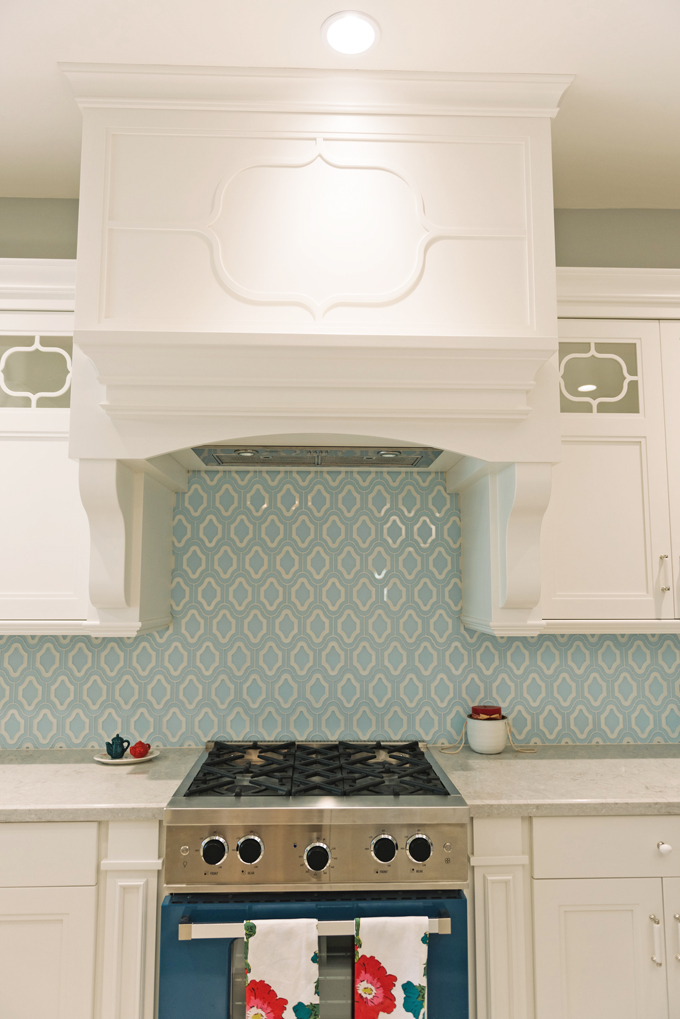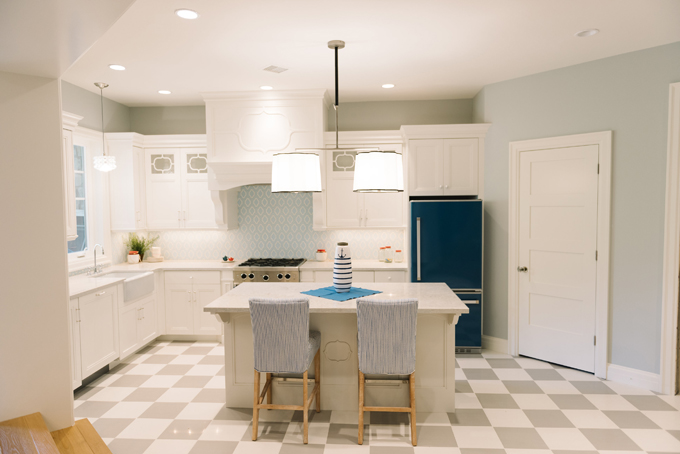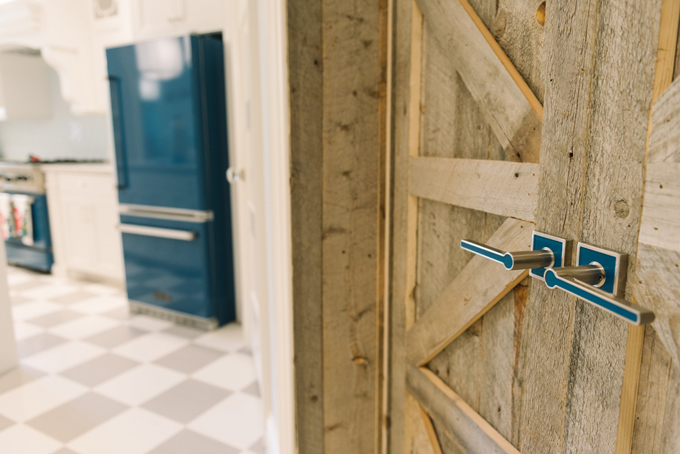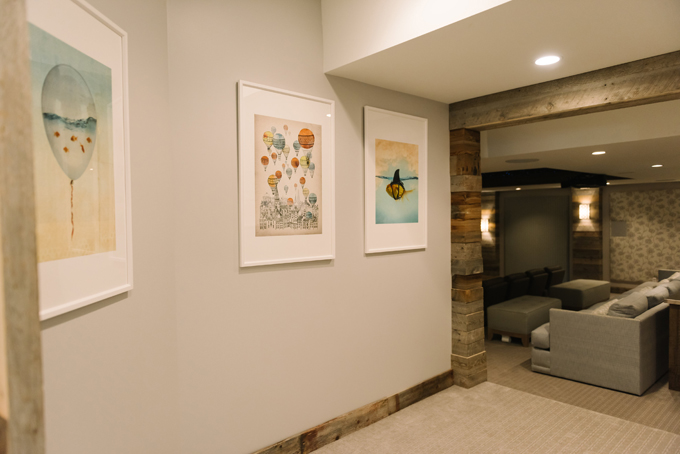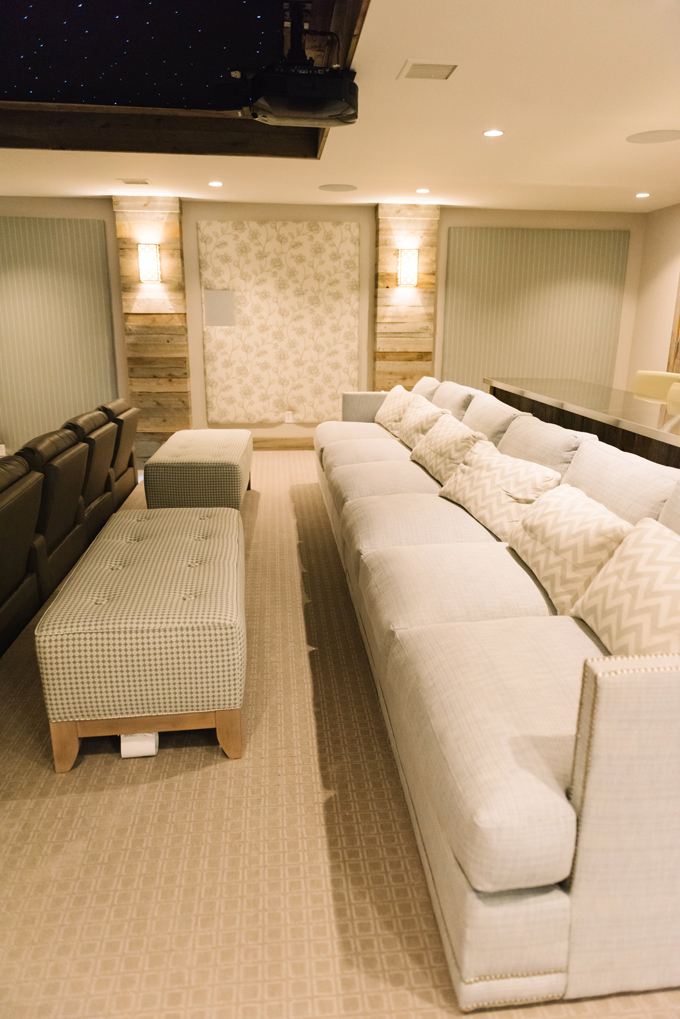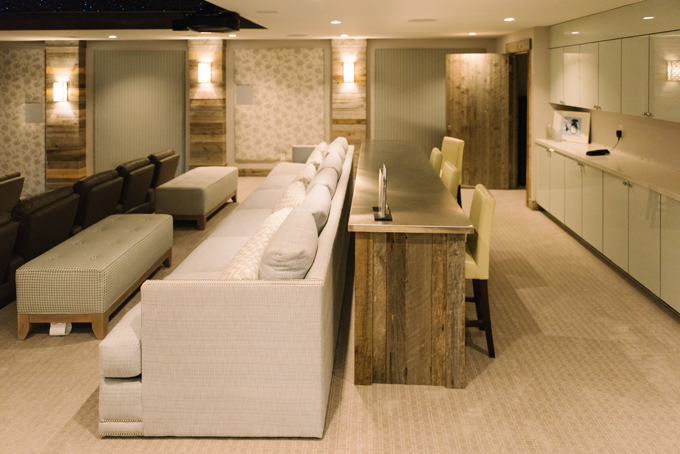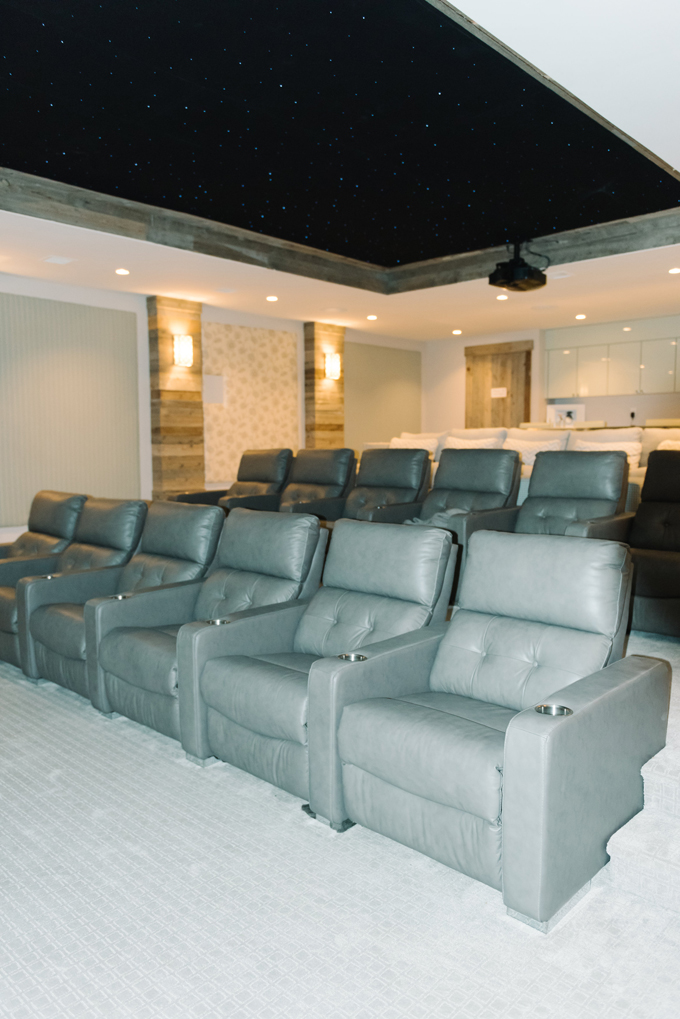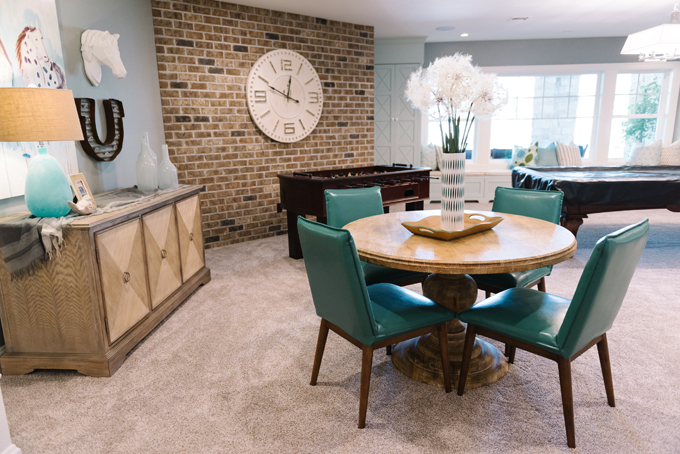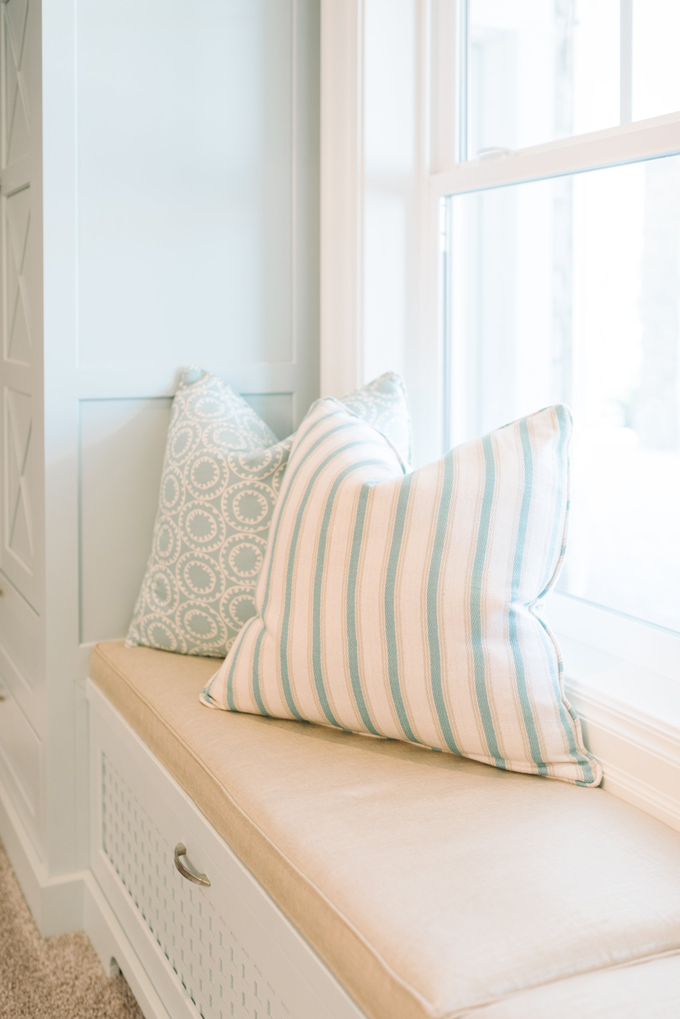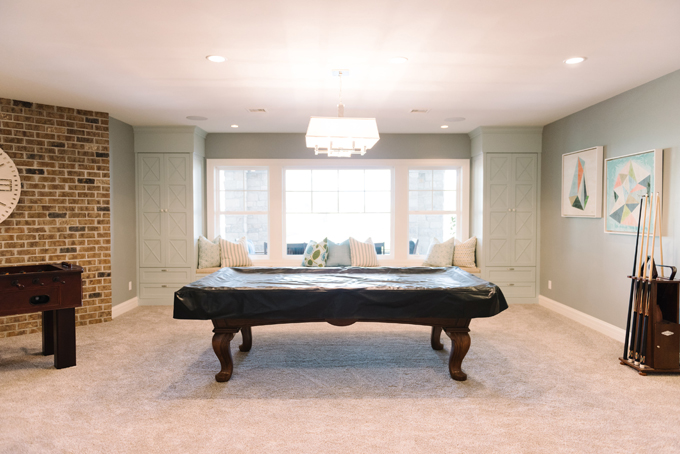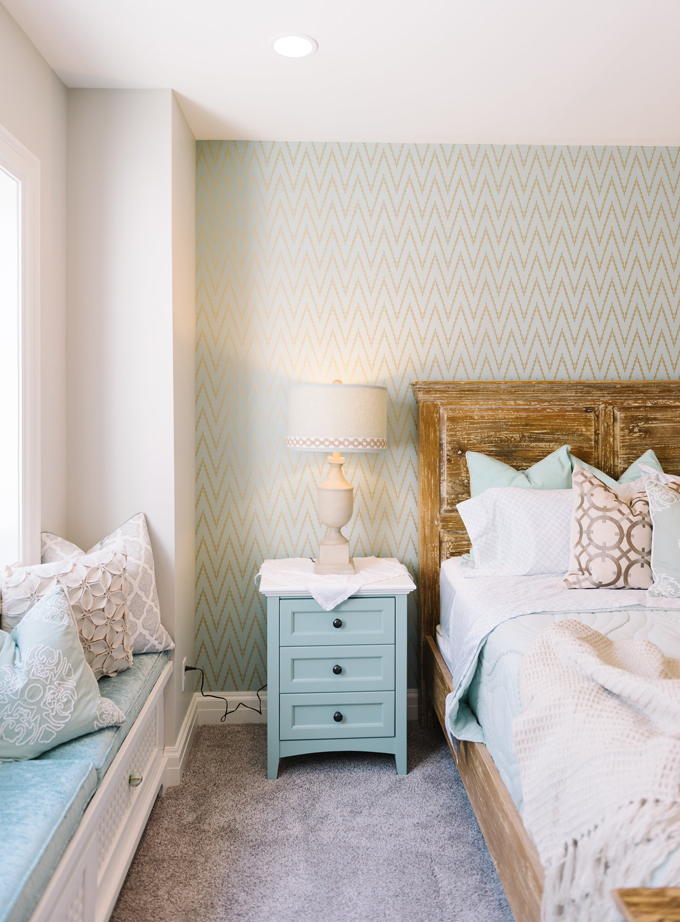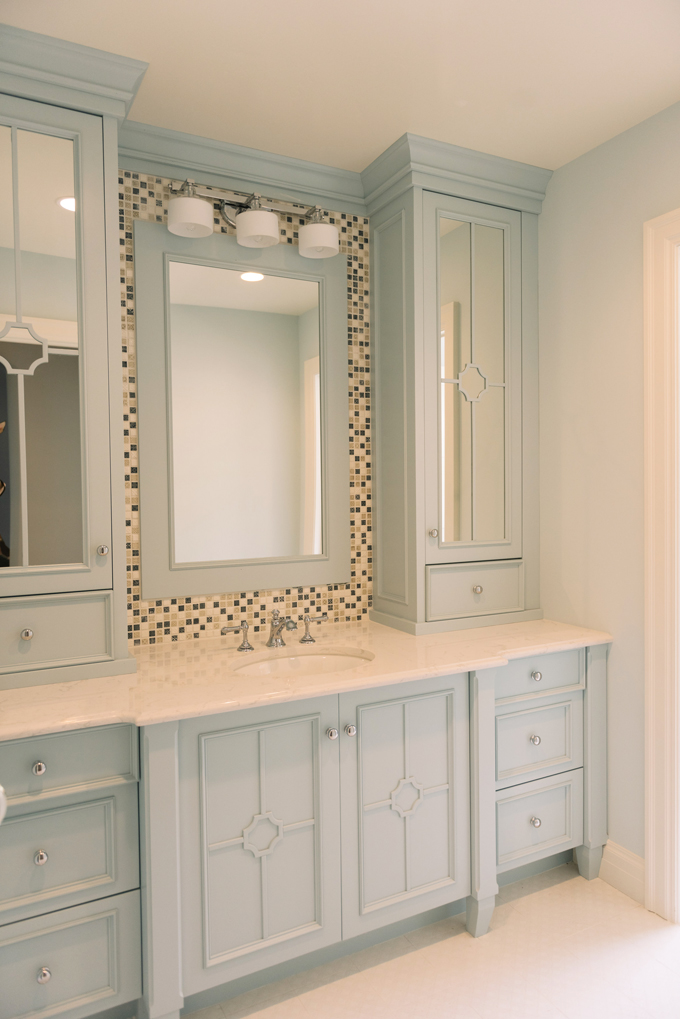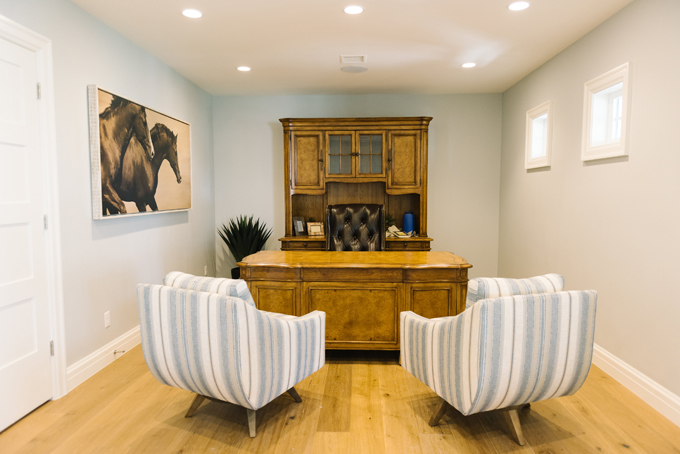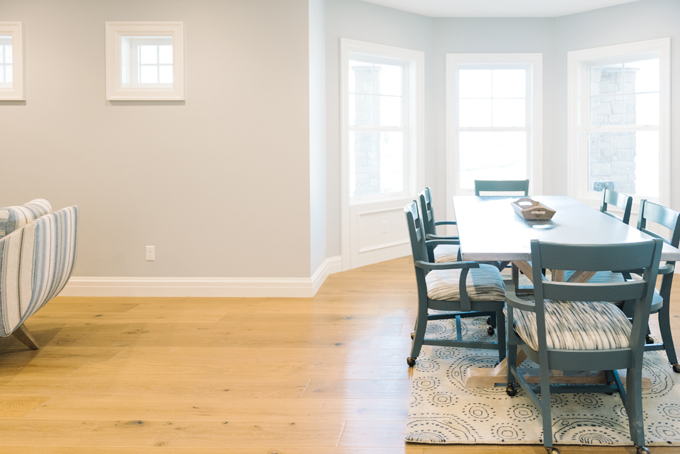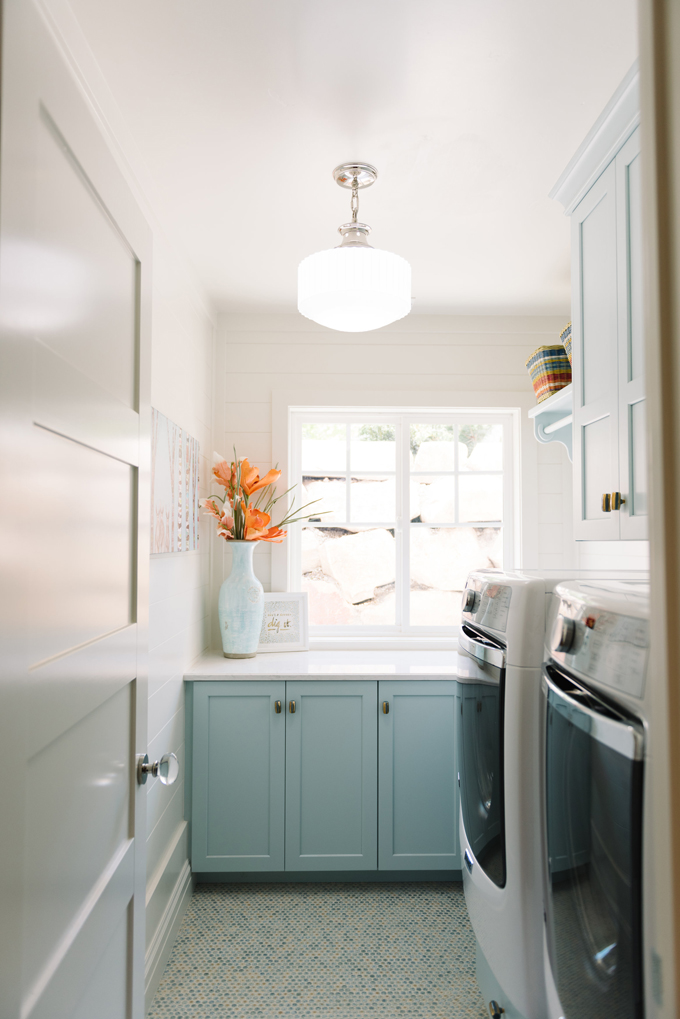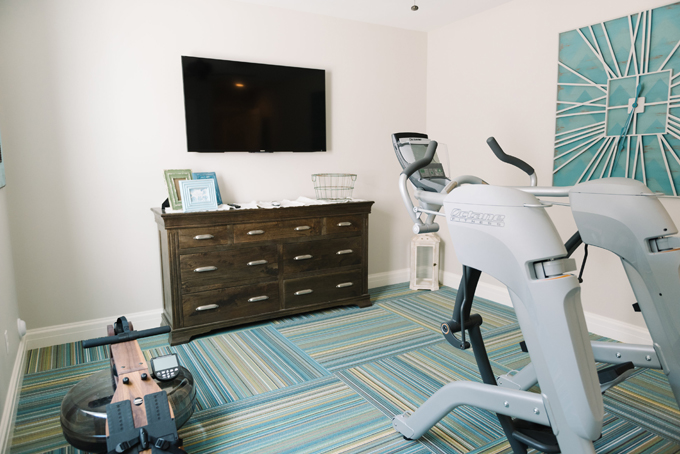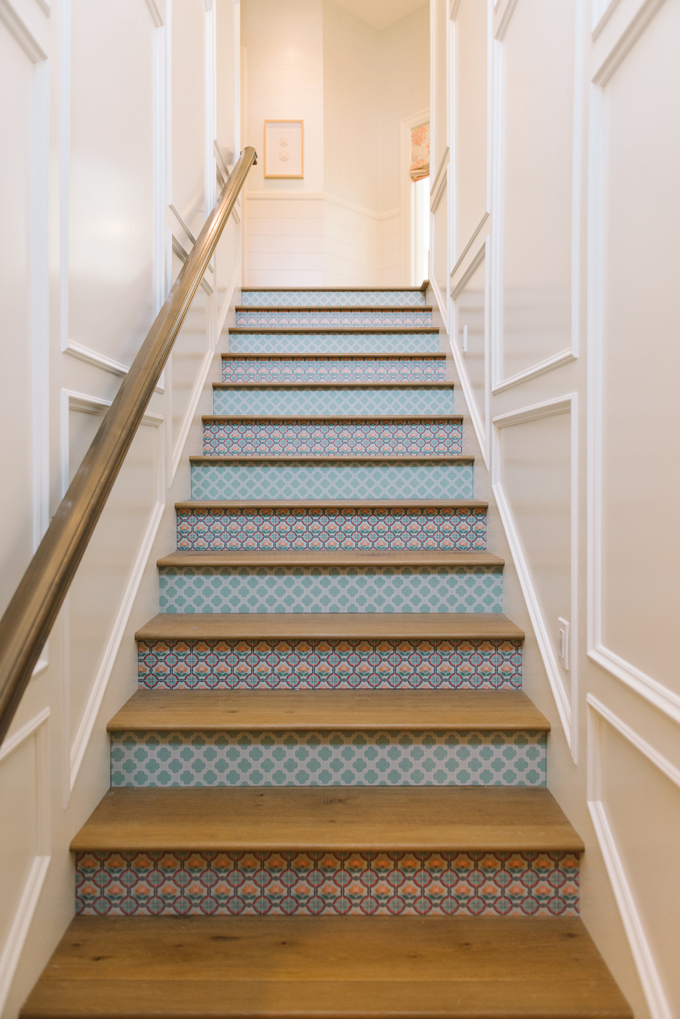 I told you we were in for some fun today! The basement of this Mapleton, Utah dream home designed by Lindy Allen of Four Chairs Furniture has something for everyone! Once again the builder, Davies Development, brought dreams to life. Not only did this family want their home to be beautiful, but functionality and comfort were a top priority. We definitely saw that upstairs in the main living area, but I know friends and family will all want to gather down here! I love how the designer incorporated the family's love for Hawaii in the playroom; really throughout the entire home too with its fresh, beachy feel! Seriously though, a turquoise boat?! That mural?! SO cool! The fireplace surround, exercise room floor, kitchen backsplash, rustic touches, home theater, mix of colors and patterns…these are just a few of my favorite things! Love how bright it all feels too, thanks to the plethora of windows and light colors. And for a second kitchen, that one is mighty awesome! A big thanks to Jessie Alexis Photography for the great photos! And like always, if you see something you love, head over to Four Chairs Furniture for more info!
Believe it or not, there's still a lot left to see of this home. Come back tomorrow to finish the tour!
See more of the home: Day One, Day Two and Day Three.
P.S. A happy birthday shout-out to Wesley who turns 2 today!!! Can you believe it?! I'll share some b-day pics soon! 🙂
UVHBA Member Subcontractors and Suppliers
All-Star Garage Doors • BMC • Columbia Millworks • Davies Design Build • Four Chairs Furniture • Hardware Essentials • Harris Architecture • Hearth & Home • Jones Paint & Glass • Mountain Land Design • Premier Building Supply • ProBuild • Smith Hardware & Glass • Sunroc Building Materials • The Stone Shop

Paint Info (Benjamin Moore unless otherwise noted)
Family Room – Perspective CSP-5
Half Bath – Harbor Fog 2062-70
Half Bath Cabinets – Blue Jean 2062-50
Playroom Shakes – White Dove OC-17
Playroom Door and window grids – Blue Daisy 2062-40
Playroom Bookshelf – Skydive CSP-700Kitchen – Perspective CSP-5
Kitchen Cabinets – White Dove OC-17
Theater Room – Coventry Gray HC-169
Game Room – Gray Matters SW7066 Sherwin-Williams
Game Room Cabinets – Palladian Blue HC-144
Guest Room – Sea Salt CSP-95
Full Bath – Whispering Spring 2136-70
Full Bath Cabinets – Harbor Haze 2136-60
Office – Perspective CSP-5
Laundry Room Cabinets: Harbor Haze 2136-60
Exercise Room – Sea Salt CSP-95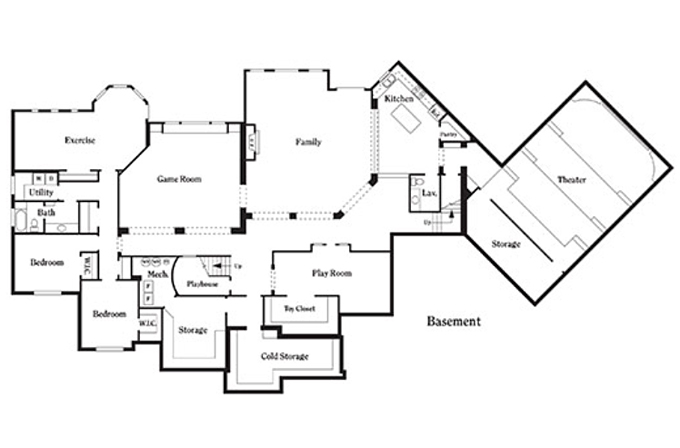 Love turquoise? Visit my shopping blog Everything Turquoise…updated several times throughout the day! Check out Decor by Color for even more color-themed shopping!

Recent Turquoise Finds: