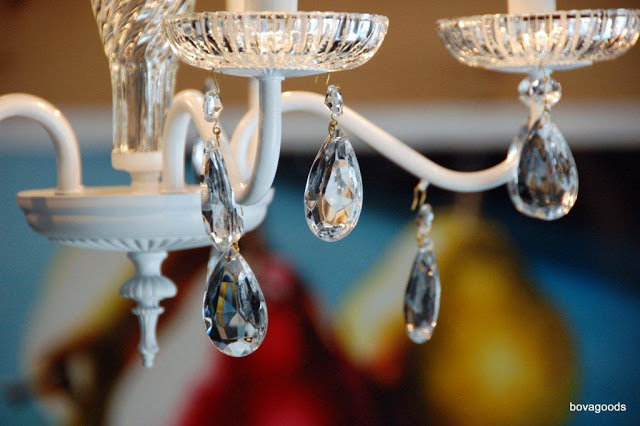 wow! am i really here? house of turquoise???? this is amazing.
hello everyone! i am elisabeth bova.
my blog is called bovagoods. and i….
am a stay-at-home-mom.
married my jr. high sweetheart.
drive a mini-van.
have brilliant organizational moments.
am really disorganized.
love antiques, family heirlooms, thrifting and spray paint.
do it myself.
live in the south.
was raised in the mid-west.
rarely ever take my camera off "auto".
never have a budget to redecorate…
…but do anyway.
am soooo thankful to erin for having me here today!
i am thrilled to share our dining room with you today. it was so fun to put this room together. i can guarantee that everything in this room is one or more of the following: old, new, handed down, inherited, gifted, thrifted, handmade, re-created, or spray painted.
here are some quick details about the room:
paint color is SW "black fox".
chandelier was $7.
blue chair is reeeeally reeeelly old.
curtains are from ikea.
shelf is west elm; why, oh why don't they make this one anymore?
green table that survived a roof collapse was $50.
buffet is from craigslist.
vanity bench purchased at a local antique store.
china cabinet = family heirloom.
chairs are from target.
the painting above the buffet was my inspiration for the room. it's watercolor and was painted by my brother. isn't he amazing? my father-in-law (also pretty amazing) made the frame from reclaimed pine support beams that came out of the building where my brother painted the painting (his art studio). a perfect marriage. and a great story. i love great stories. almost everything in my house has a story.
it's so much more fun that way.
you can go here to read all about the room. and i mean ALL about it. so, grab your coffee, take a potty break, turn on disney jr. for the kids and come on over. enjoy the goods.
~elisabeth