Hi, there! I'm Sara of Embrace My Space, and I'm thrilled to be Erin's guest this week as she enjoys some down time with her family. House of Turquoise has always been one of my go-to spots for breezy, beautiful design inspiration. Like Erin, I've had an ongoing love affair with turquoise (and teal, aqua, seafoam…) for as long as I can remember. I'm honored to have the opportunity to take my fellow House of Turquoise fans on a tour of my home. I hope you enjoy all the shades of turquoise along the way.
Please, come in!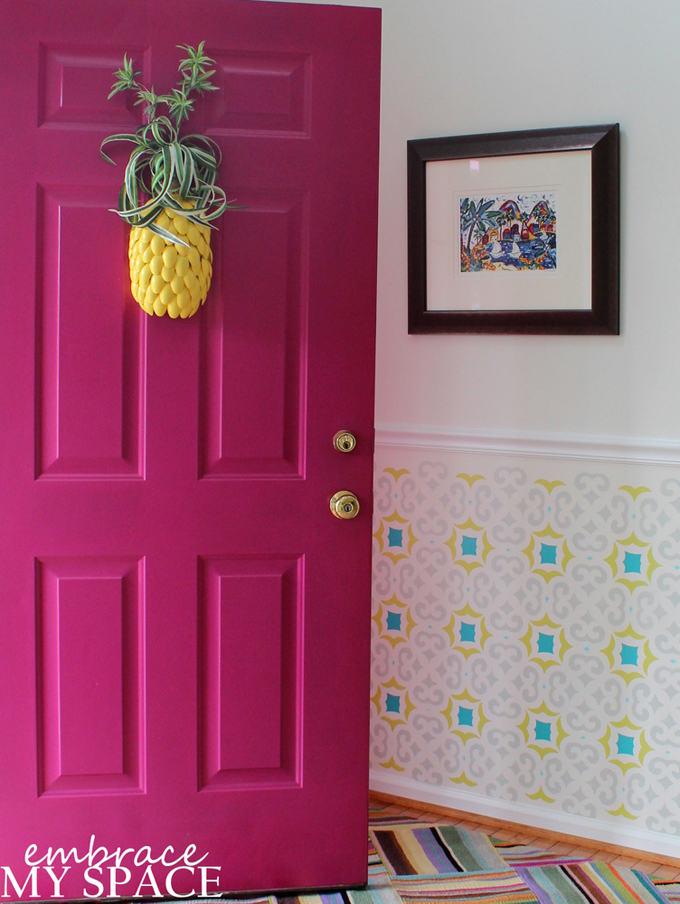 My front door is the first sign that I'm a lover of bold color, the coast and just a bit of quirk! This do-it-yourself pineapple I made out of plastic spoons is just one of the many handmade projects you'll find in my home, which I share with my husband, my soon-to-be two year old son and, expected this January, his baby brother or sister!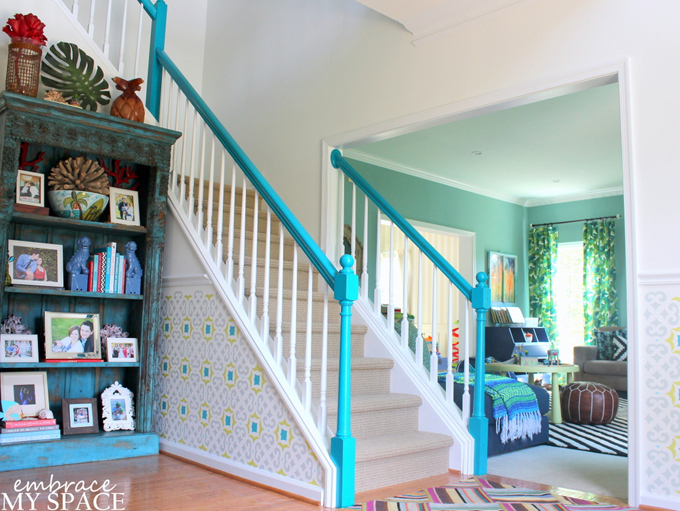 When we first purchased our home three years ago it was covered in early 90s wallpaper and beige paint. We've slowly replaced the former owners' style with our bold, coastal-inspired design aesthetic. Although we live in the suburbs of Philadelphia, we aren't afraid to show our love for the coast in our home. Through my mantra at Embrace My Space – Love what you have. Have what you love. – I hope to encourage others to decorate fearlessly using only the things they love!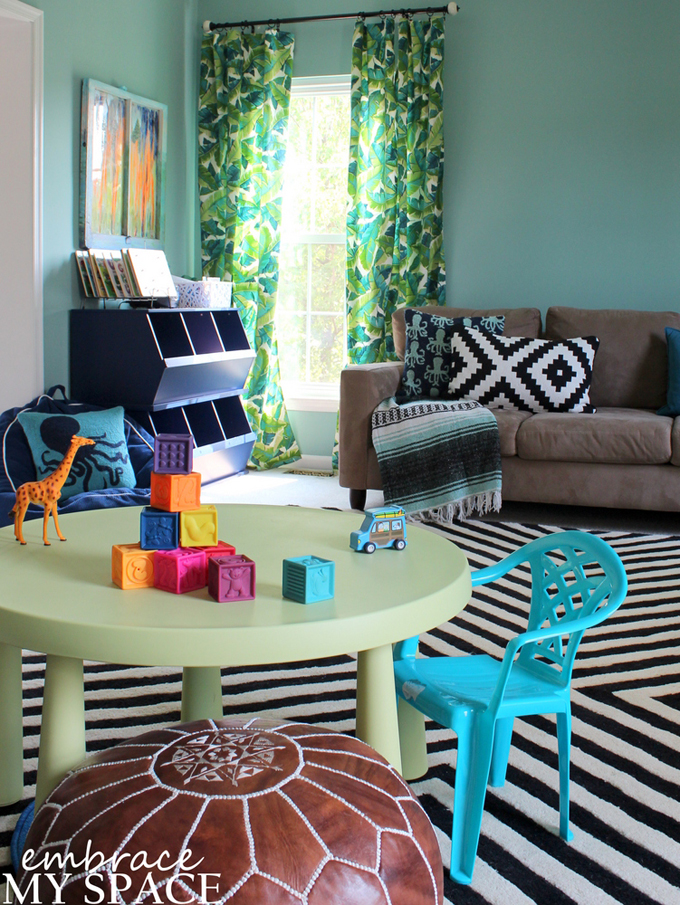 Our home was designed with a formal dining and living room. As casual people who prefer eating dinner in the kitchen then snuggling up for a good movie, we decided to use these first floor spaces as a playroom for our growing family. Having this designated area for my son to play keeps our adult family room a toy-free zone where we can relax after he goes to bed.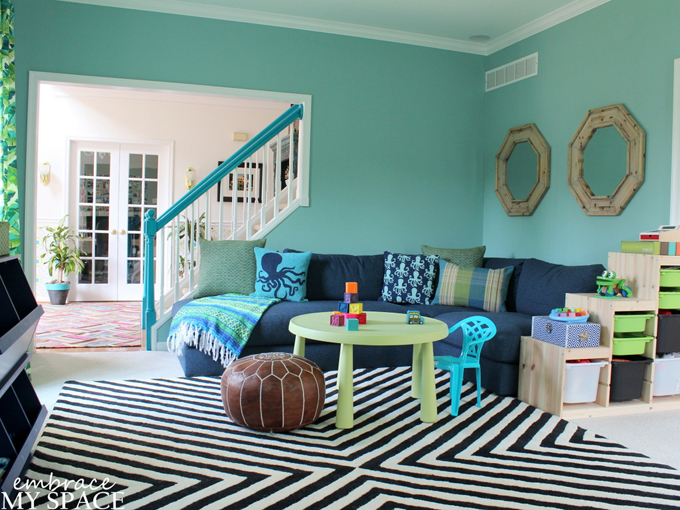 I created a space my whole family enjoys by mixing durable playroom pieces from IKEA and comfortable seating with playful, but not childish, patterns on the rug, curtains and pillows.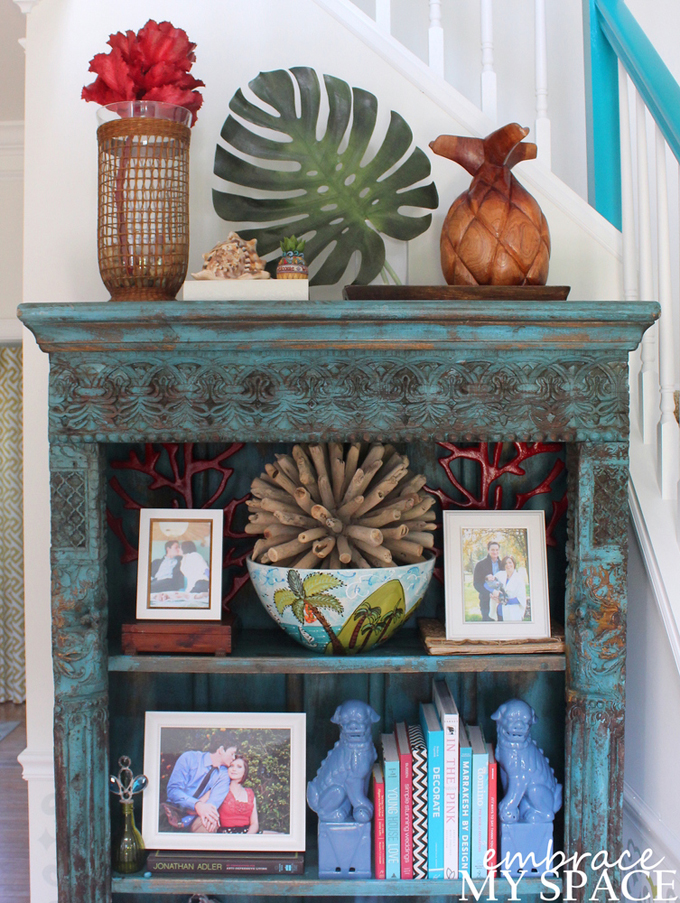 This turquoise bookcase in our foyer acts as the centerpiece of our home's decor. You can see the transformation of our foyer from boring beige to bright white here.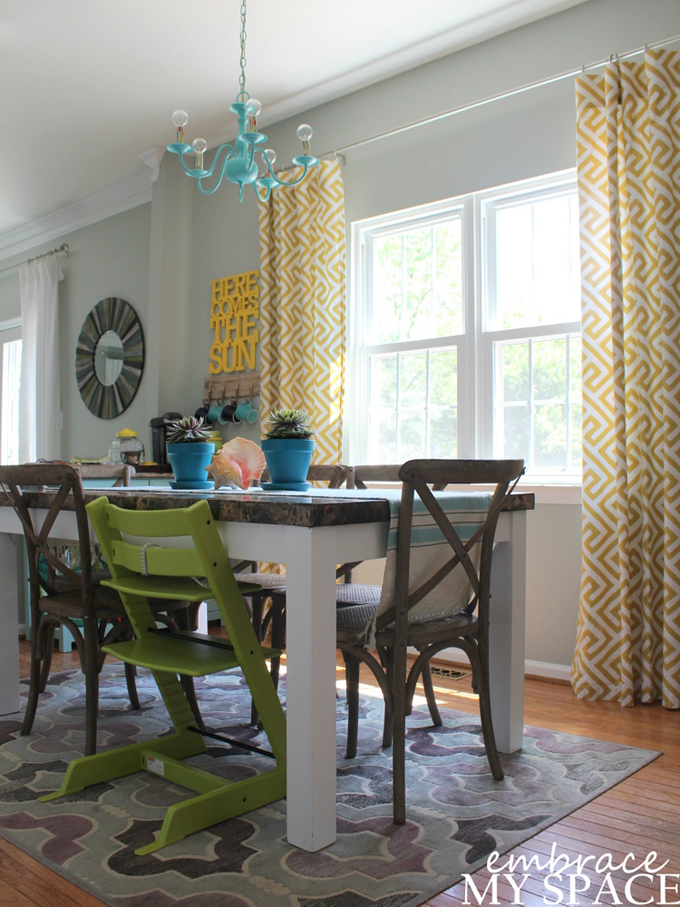 We share dinner together in our cheery eat-in kitchen. Inspired by an expensive piece from Restoration Hardware, I gave our kitchen table a refresh with a few coats of white paint. I'm a firm believer in reimagining something you already have to see if you can make it work before spending a lot of money on something new.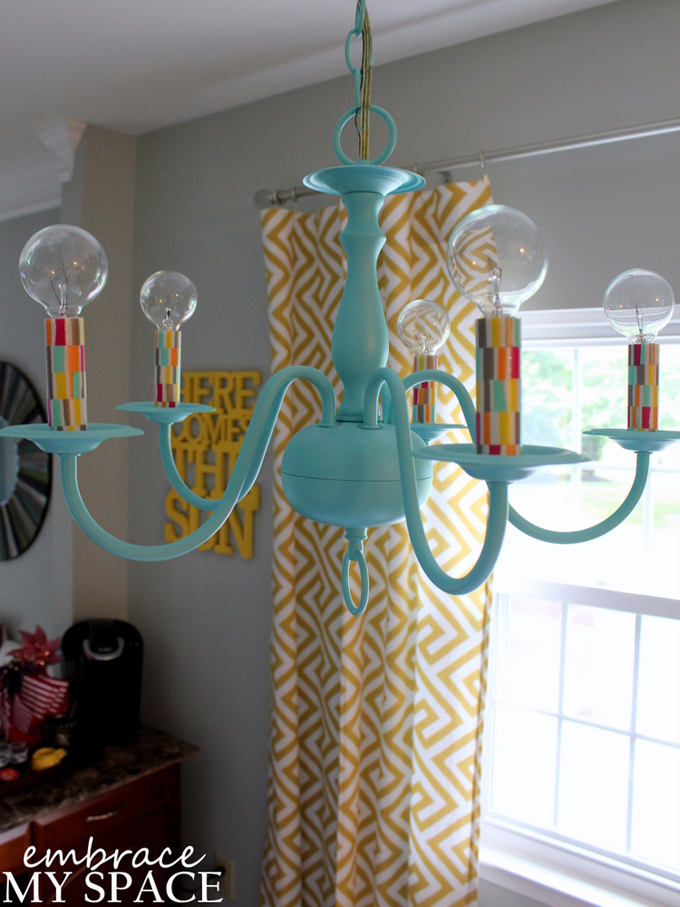 This chandelier is a perfect example of my tendency to re-love an old piece. When we transformed the dining room into the playroom, my contractor removed the brass chandelier that hung so low it served only as a head-bumping hazard. Rather than trash it, I gave it new life it with a few coats of spray paint and some ScotchBlue washi tape.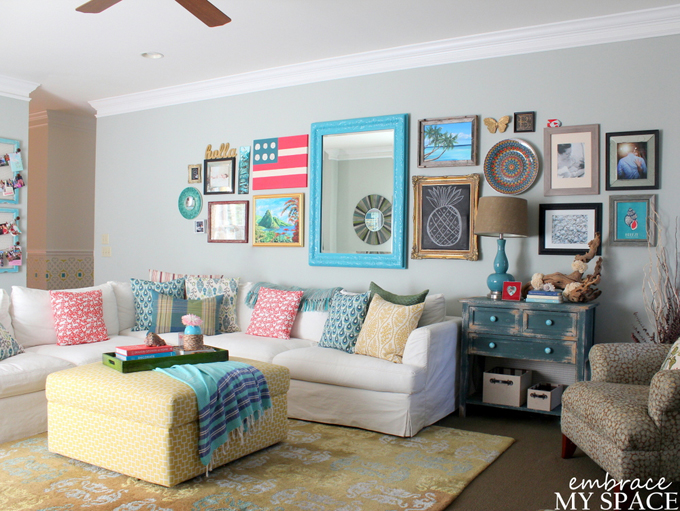 Just beyond the eat-in kitchen is our grown up living room, which is only grown-up in the sense that the sectional is white. Yes, you read that correctly – white! Somehow our sofa and toddler manage to survive under the same roof. The easy to wash slipcovers may have something to do with it!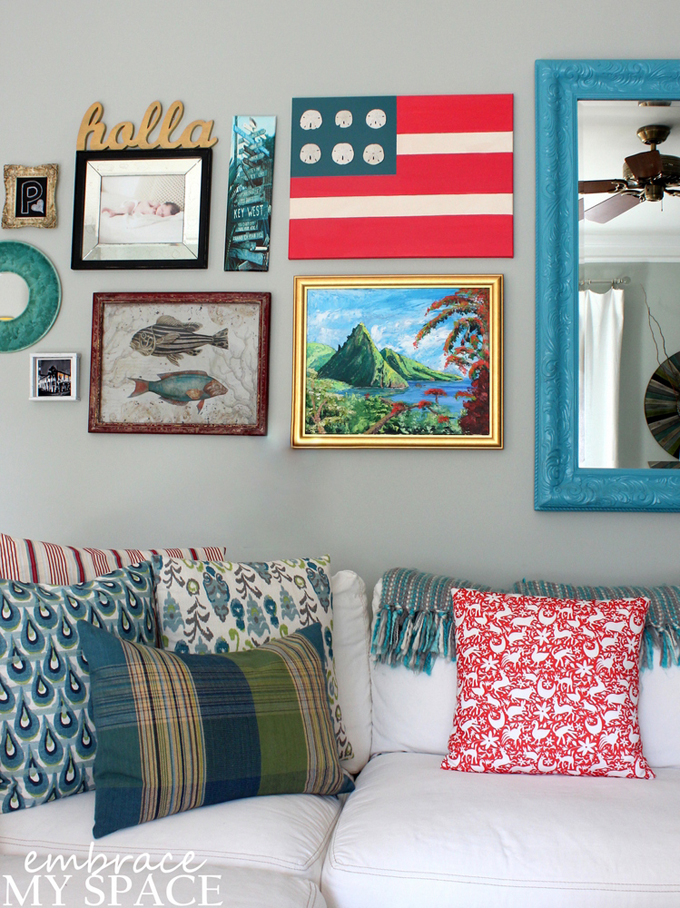 The gallery wall above the sofa has grown organically over the years. Starting with the mirror, a HomeGoods score that I painted teal, I slowly worked my way out from the center, adding pieces from vacations, my own do-it-yourself artwork and family photos. I have to rearrange a few pieces every time I add a new one, so there are more holes in this wall than I can count!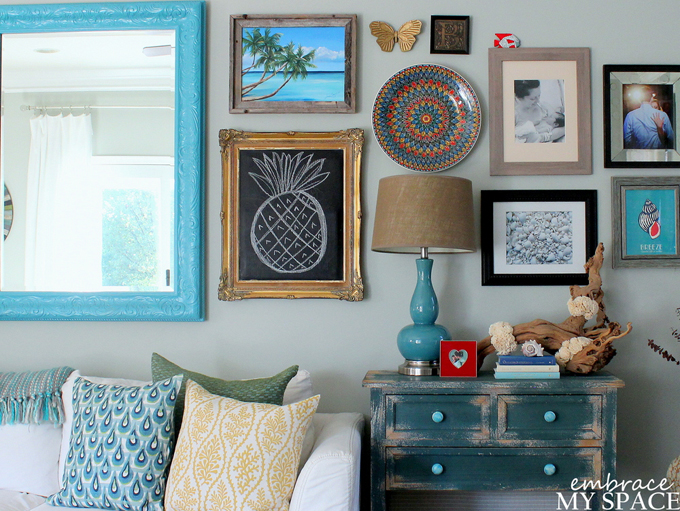 One of my favorites is this gilt chalkboard I made out of a thrift store canvas. The chalkboard was actually the menu board at our wedding in Key West, and I love having a little piece of that special day in our living room.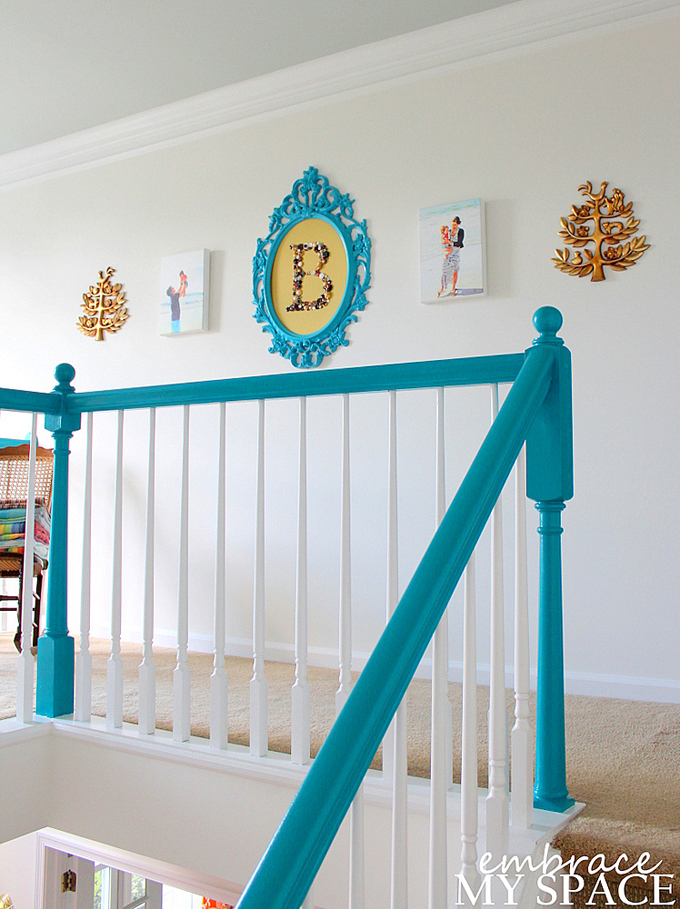 Because it's a serious work in progress, I am skipping right over our kitchen and taking you to the second floor (If you're curious to see the current progress in our kitchen, you can check out this post!) I decorated the hallway on our second floor with an antique button monogram and my very own "watercolors" I made using a simple iPhone app.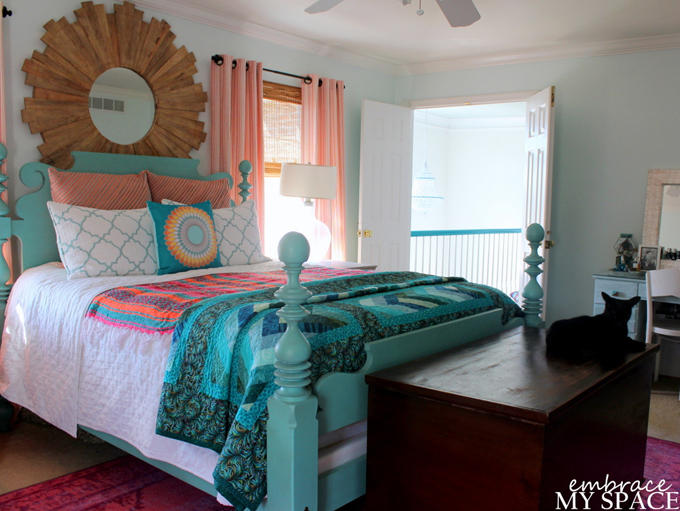 Our bedroom is filled with bold color and pattern, just like the rest of our home. I mixed new, repurposed and thrift-shop pieces to create a comfortable, collected vibe.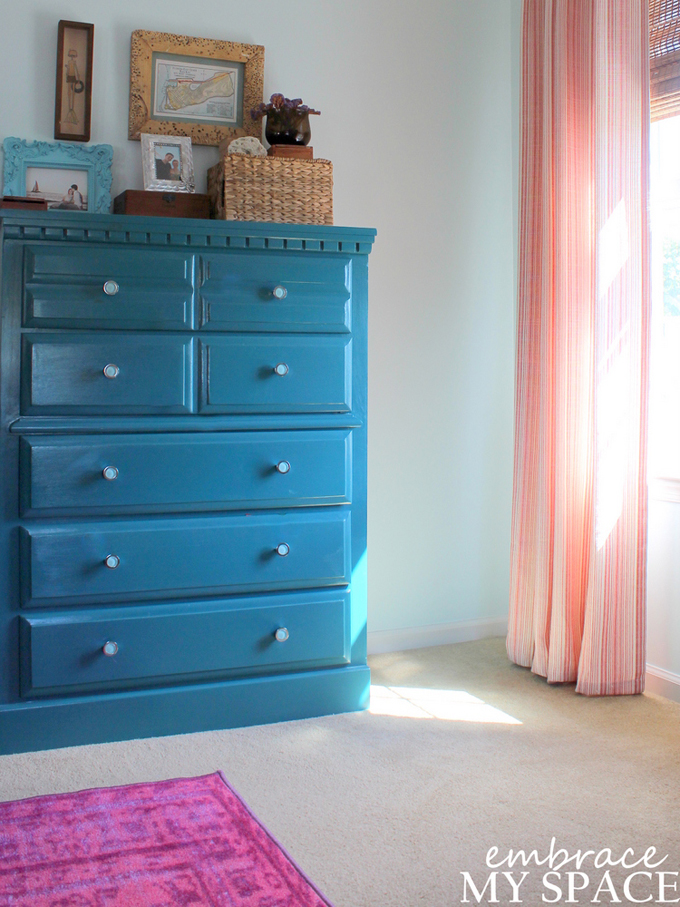 Natural materials and coastal touches help to balance out the bold colors and patterns.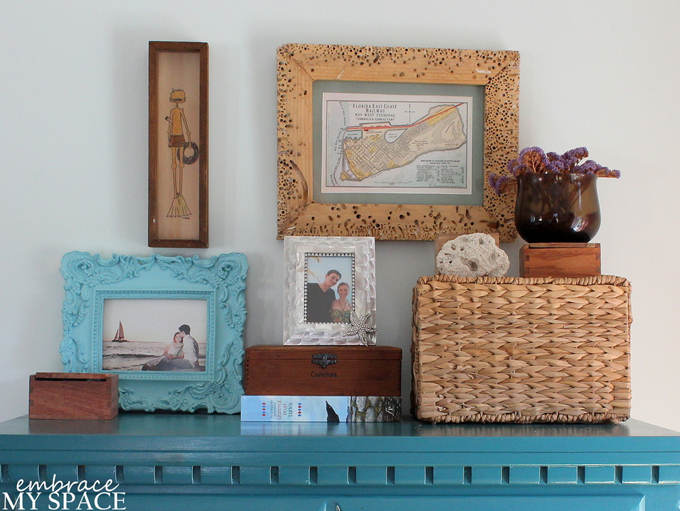 Our bed, which we purchased from Ethan Allen, is my favorite piece of furniture in our home. We waited years before finally purchasing it, and I'm so happy we finally did! A mixture of casual bedding (Target, HomeGoods, Handmade and the Boardwalk at the Jersey Shore!) is the perfect compliment to the bed's formal lines.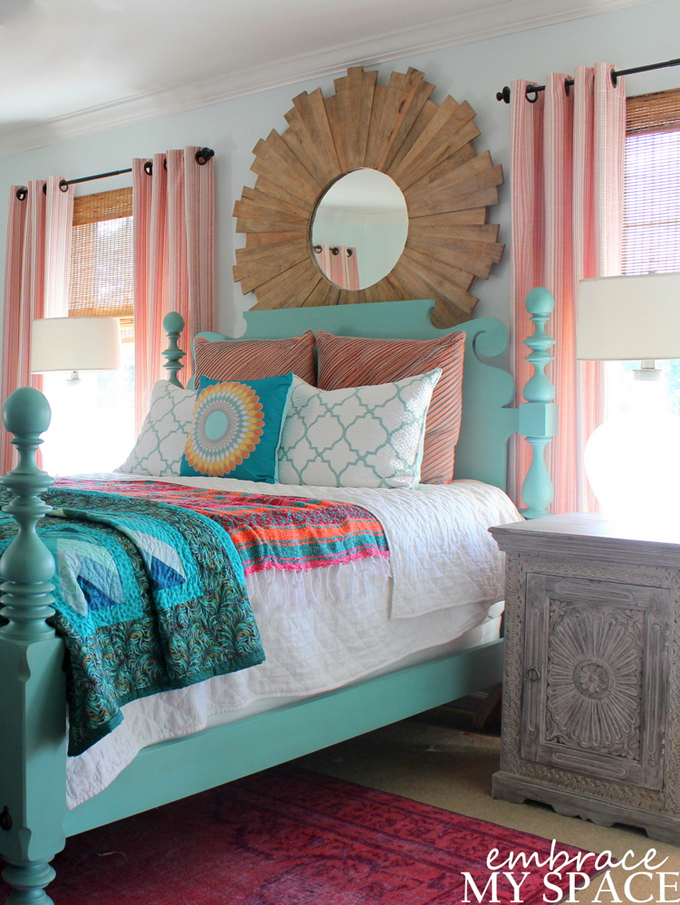 I customized the chandelier in our foyer with coral and turquoise beads for an inexpensive and unique finishing touch.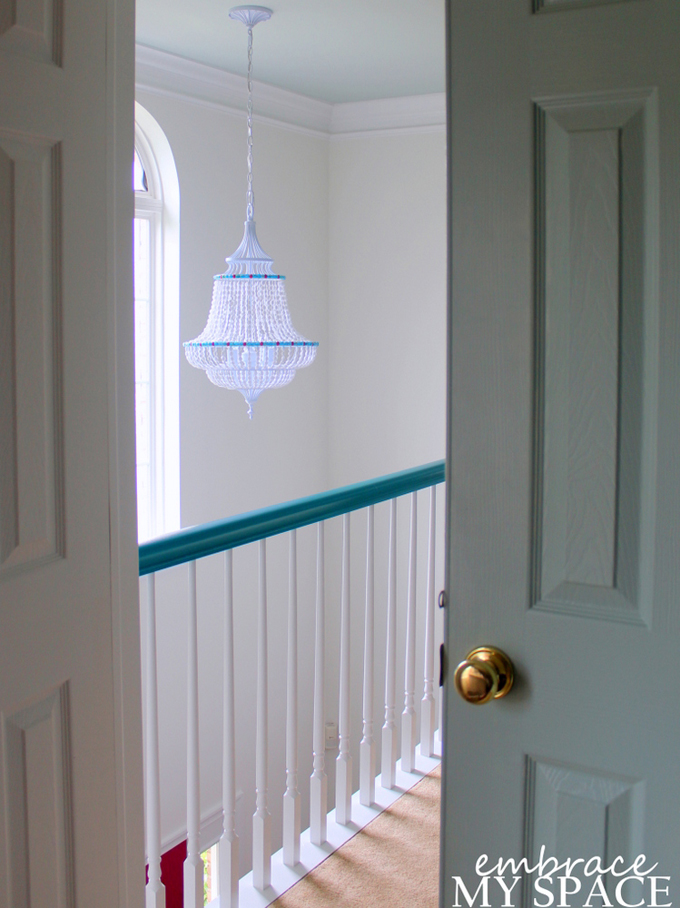 Just across the hall from our bedroom is my son's nursery. We didn't find out his gender during my pregnancy, so I tried to keep the colors and patterns neutral. I ended up with a shade of (surprise!) aqua on the walls and a lot of colorful accents!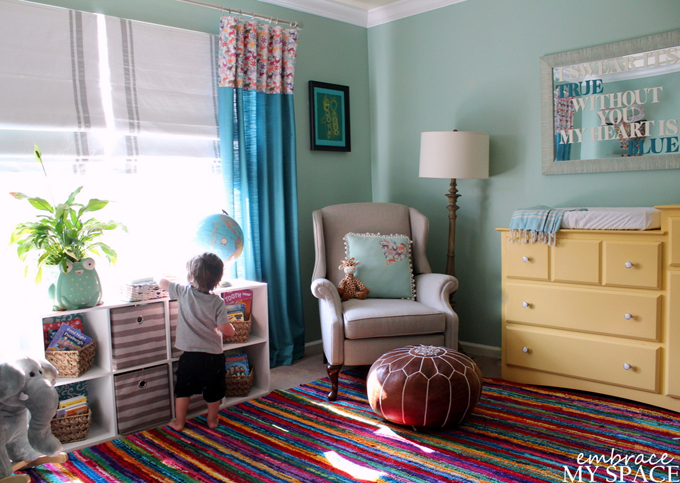 My proudest do-it-yourself project to date is the rainbow book ledge display I tucked behind his door, which you can learn how I made here. My son loves to read and this is the perfect way to display his books and keep some of them out of reach so they don't all end up on the floor!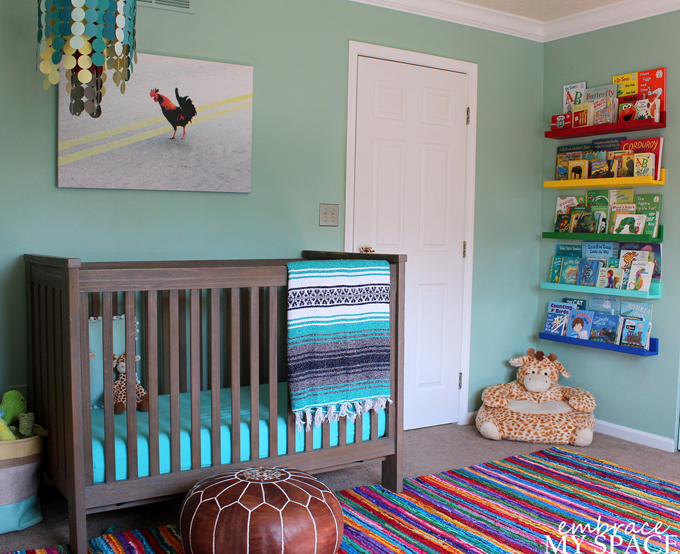 I'm working on a similar installation in the new nursery for my baby that's on the way. If you'd like to see my design plans for that space, hop on over here! Spoiler alert – the design includes some turquoise!
And just when you thought my home couldn't possibly have any more of that luscious shade of blue, you'd be right. So it's time to go outside to our patio!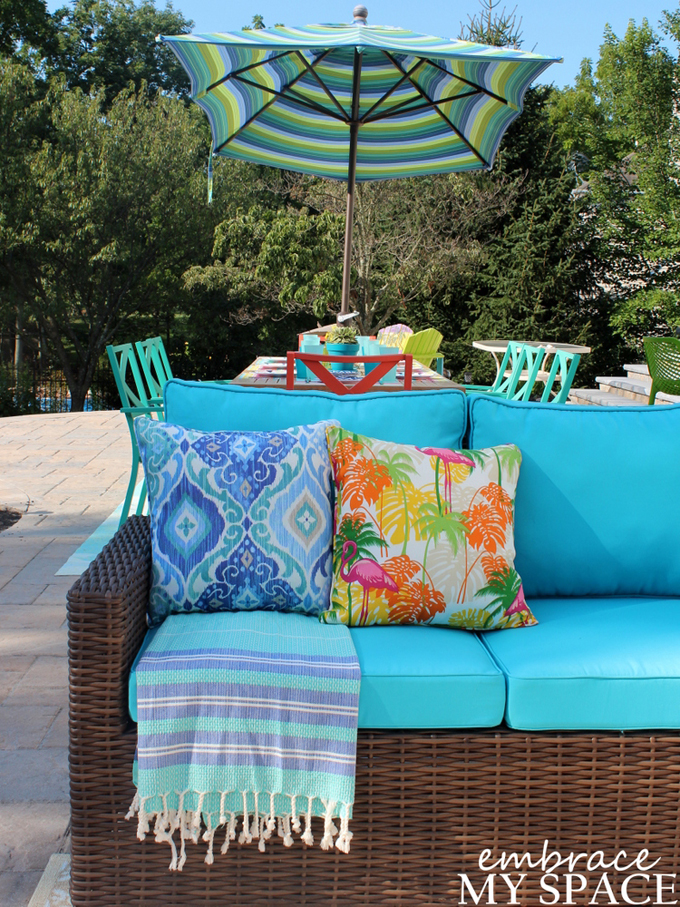 This is a very recent addition to our home, so the outdoor space is still a work in progress! Although it's sad summer is coming to an end, I'm looking forward to enjoying cool evenings roasting marshmallows over the new fire pit!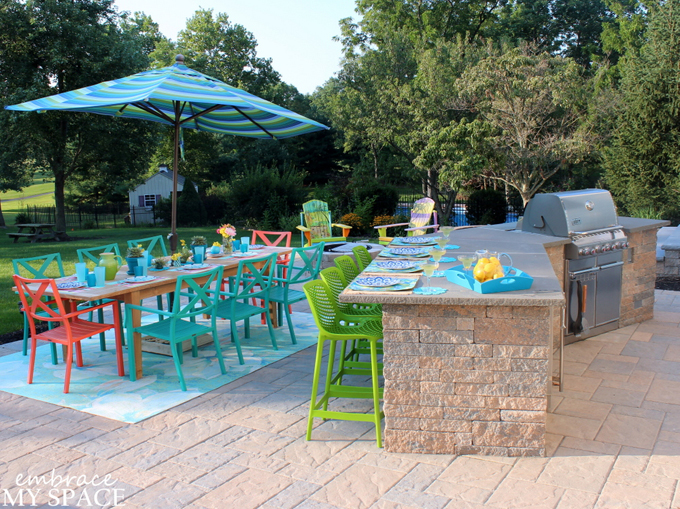 Thank you so much for taking the time to tour my very own house of turquoise. I hope to see you around Embrace My Space soon!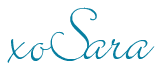 Love turquoise? Visit my shopping blog Everything Turquoise…updated several times throughout the day! Check out Decor by Color for even more color-themed shopping!