Hi, everyone! I'm Gabbi, the blogger behind RRR. While my day job may consist of numbers and spreadsheets, my real passion is for all things home design, décor and renovation.
I started my humble, little blog after my husband and I purchased a 1950's fixer upper. I'm 110% sure my hubby thought I was nuts when I fell for our home. He saw a nightmare and I saw potential. Thankfully, with a bit of renovating, creative thinking, budget fixes and DIYs, I've created a place we are both so happy to call home.
I'm incredibly honored to share our turquoise-loving-space with you guys while Erin enjoys vacation. I've always been a big fan of her blog and can't believe I get to share our home's transformation here with you guys. I hope you like the progress we've made!
Removing walls, adding lighting and refinishing the original hardwoods was a must. Plus, a minty-blue front door doesn't hurt. 😉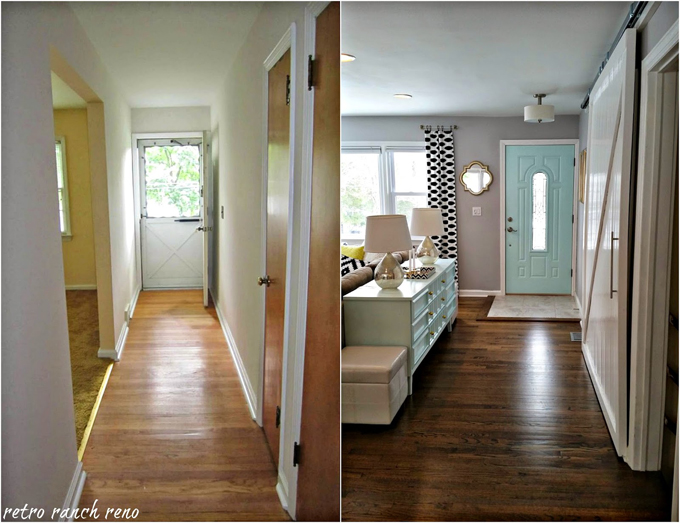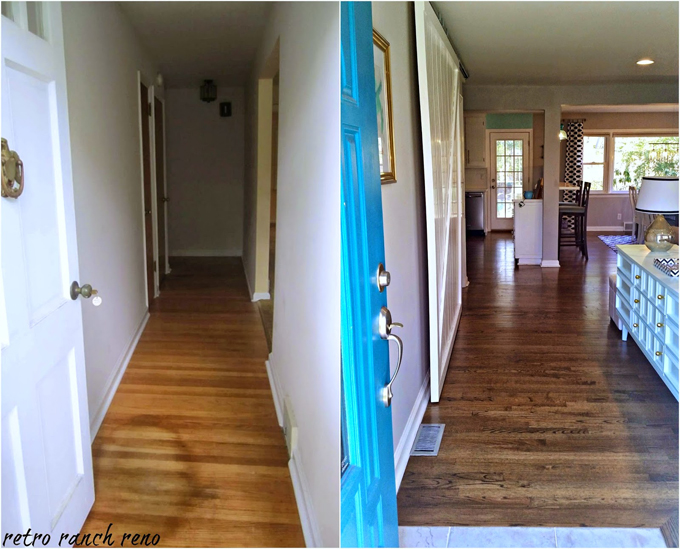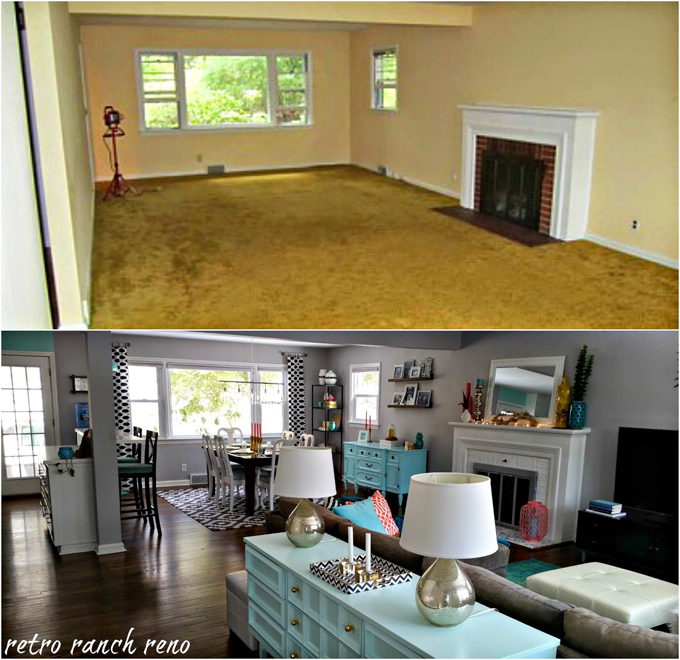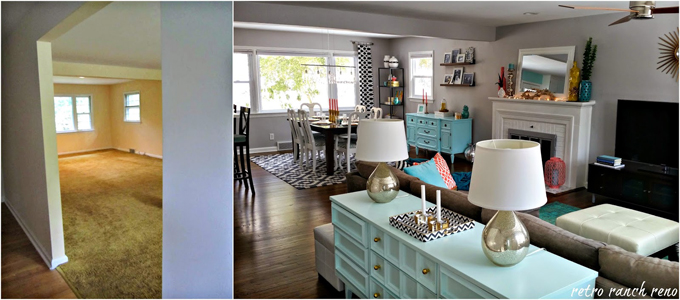 Our barn door addition really makes a statement on our long entrance wall.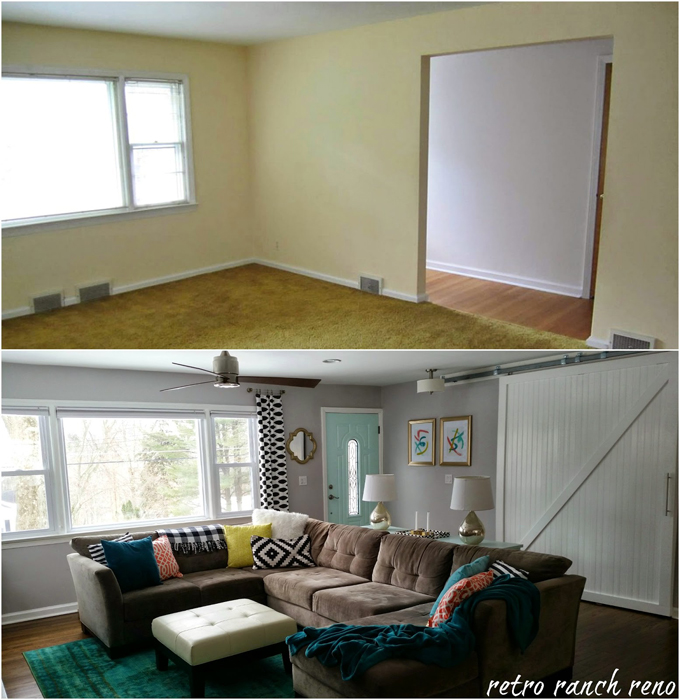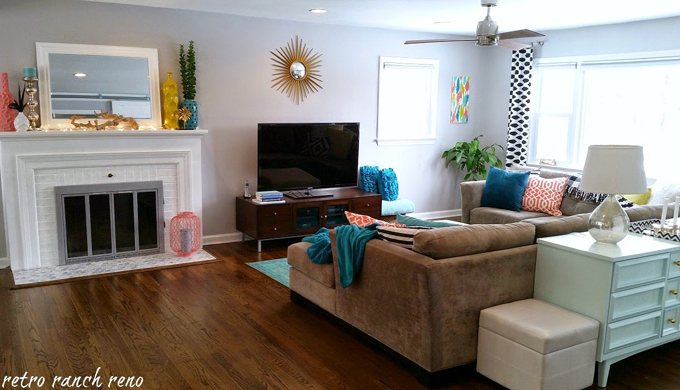 After purchasing and renovating our home, there wasn't a whole lot left in our bank accounts to decorate. I quickly became a Craigslist-furniture-painting-pro in no time. I love creating a fun space using DIYs and very little money. The dresser-turned-console behind our couch is one of my favorite pieces to date.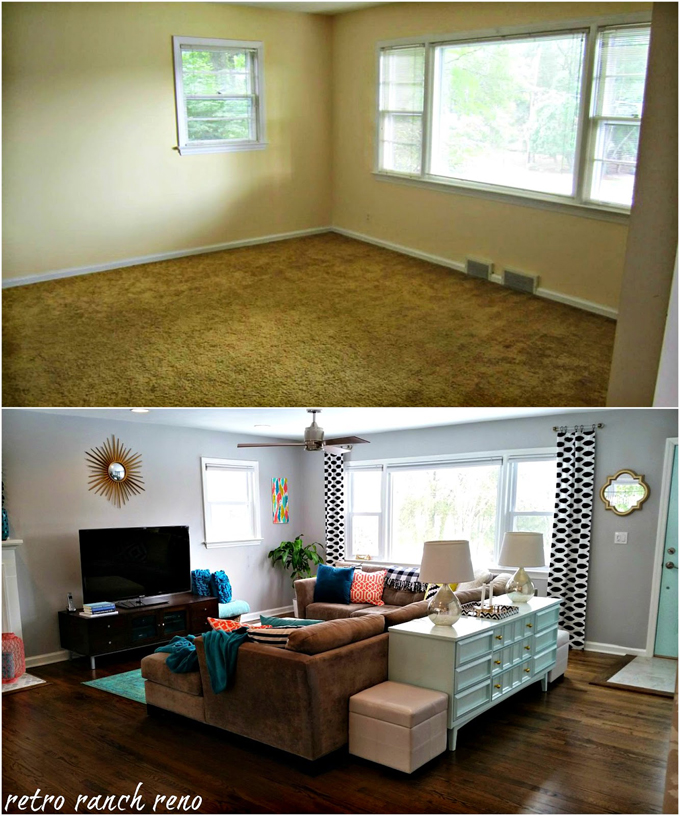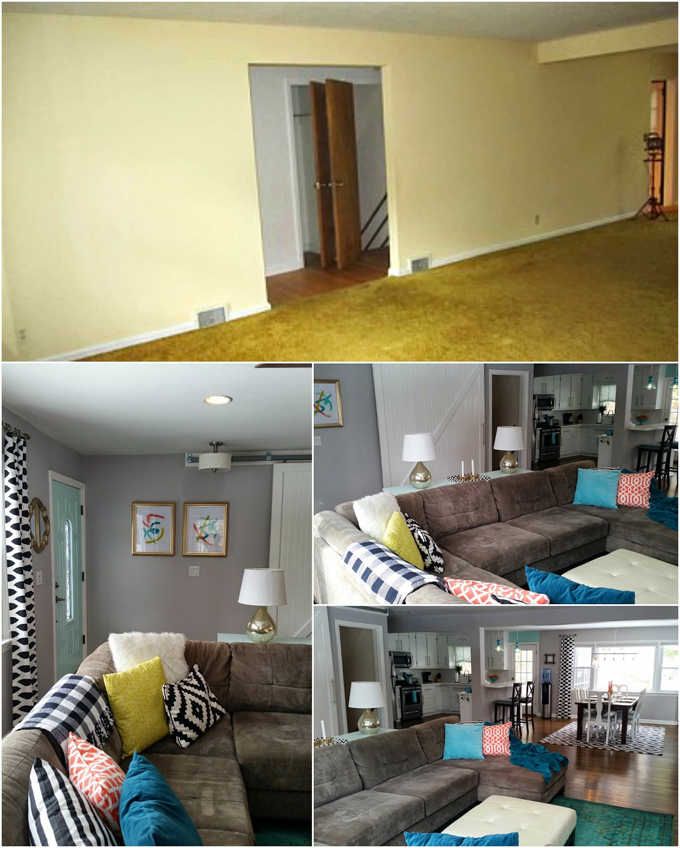 Our fireplace is another makeover I cannot get enough of. It was my first ever tile job. #proudmoment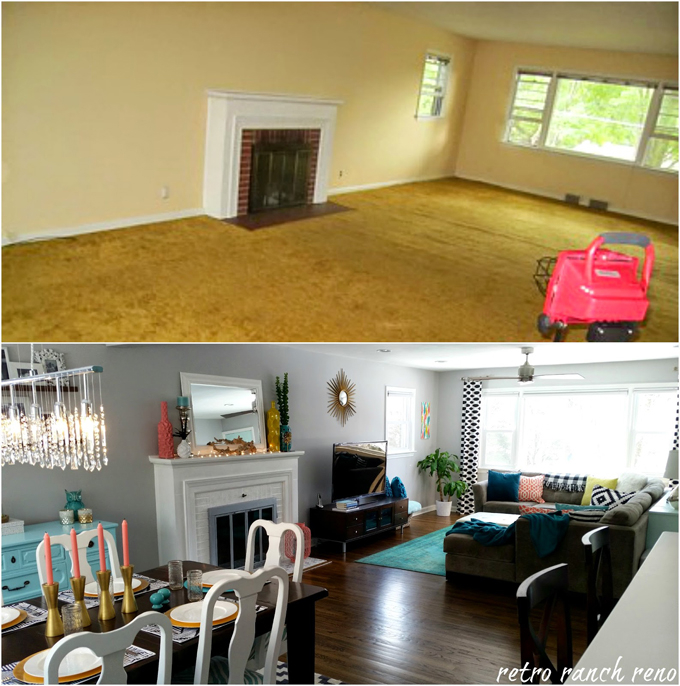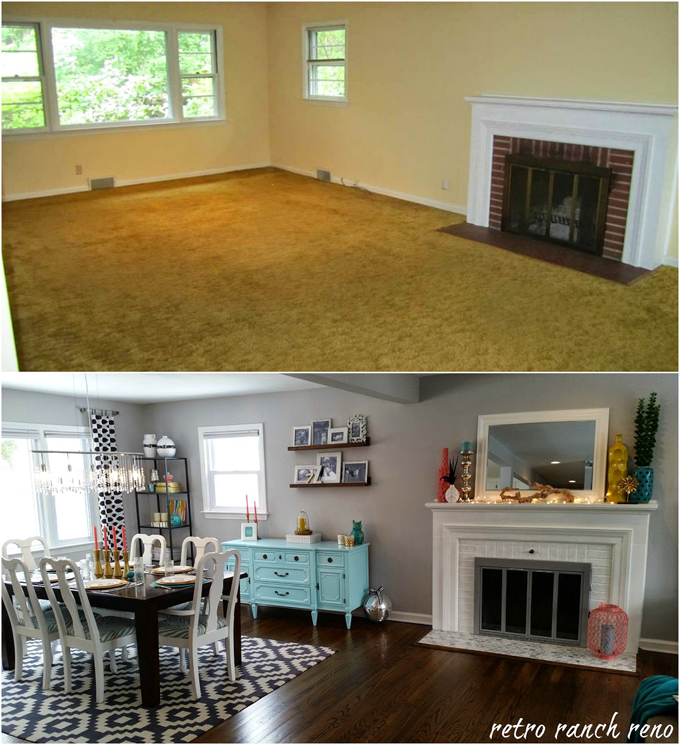 Like our "console table", I found our dining room chairs and buffet on Craigslist, too. After covering them in new fabric and paint, I was smitten!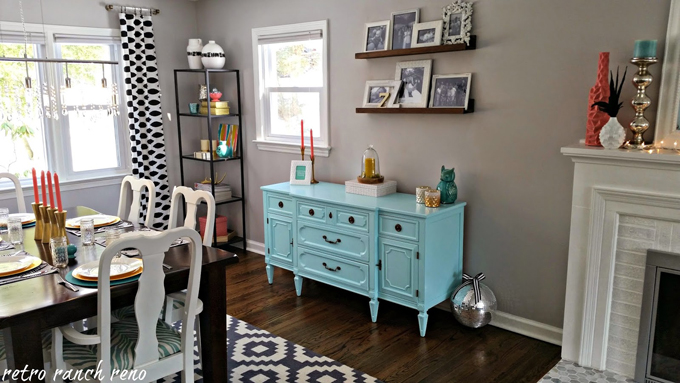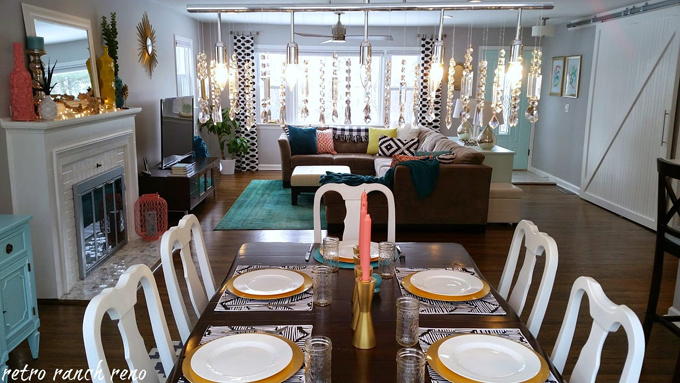 Our kitchen has come quite a long way from it's dark, closed-off and dreary days. We couldn't afford to gut the whole thing and lose the original 1954 cabinets, so we made the best of them with a lot of paint and new hardware.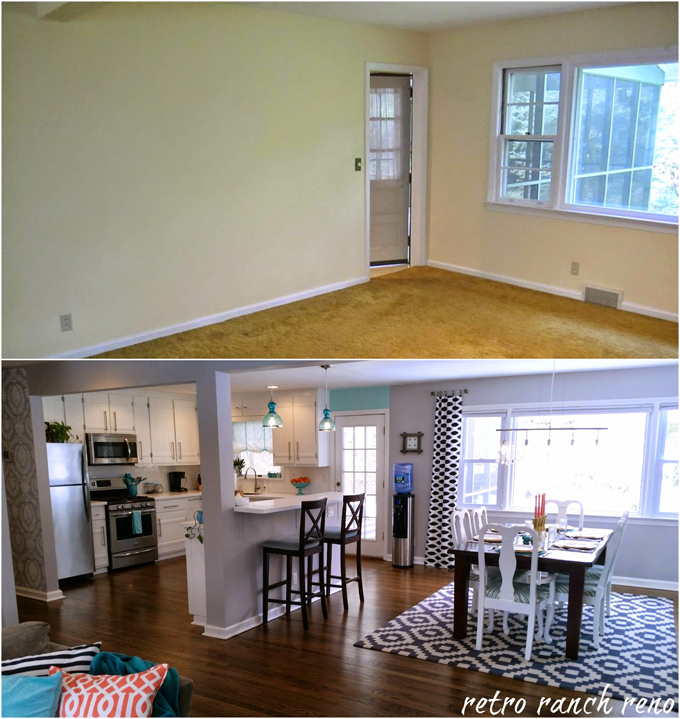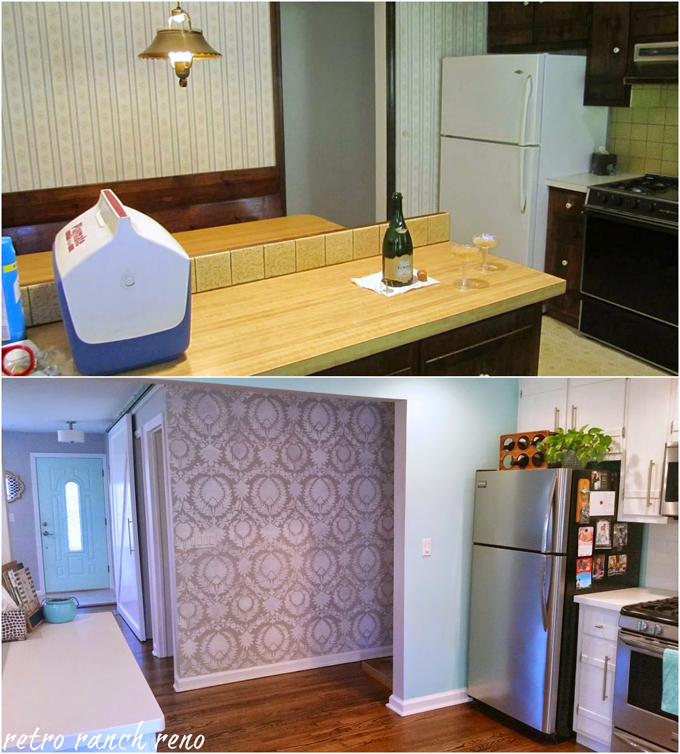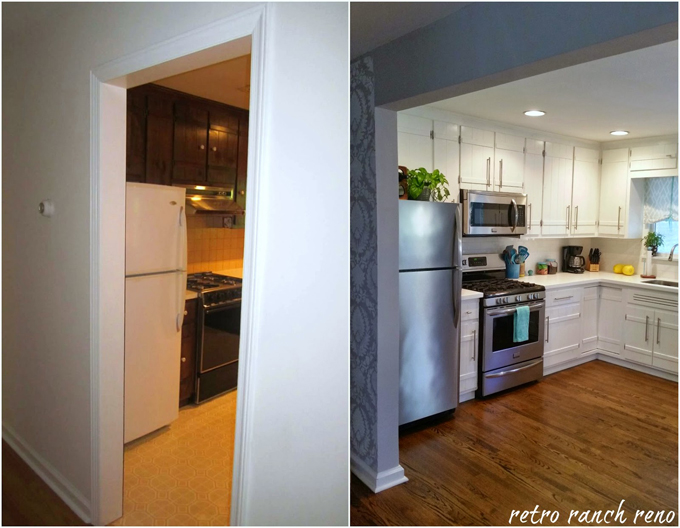 We even re-purposed the cabinetry on the back of the restaurant booth to create an island.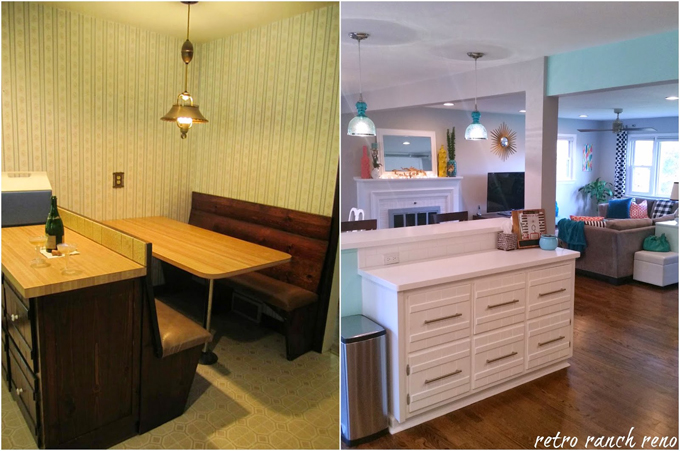 I hope you've enjoyed taking a peek at how far our home has come. I've had a blast sharing and can't thank Erin enough for having me! If you want to stay in touch, and see our master bedroom refresh in the coming weeks, follow along on my blog, Instagram and Facebook! 🙂
Love turquoise? Visit my shopping blog Everything Turquoise…updated several times throughout the day! Check out Decor by Color for even more color-themed shopping!