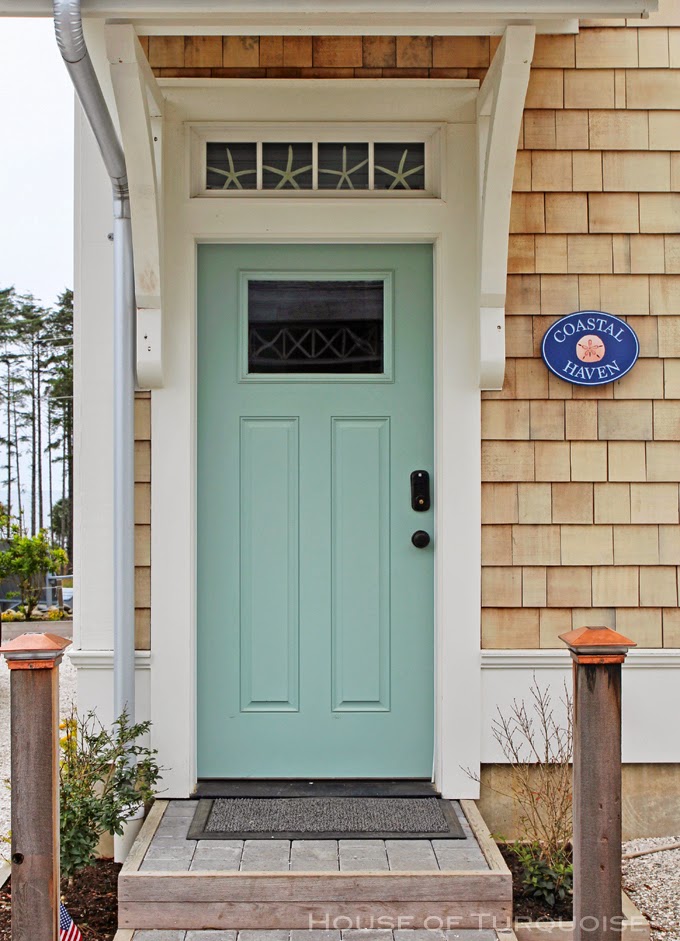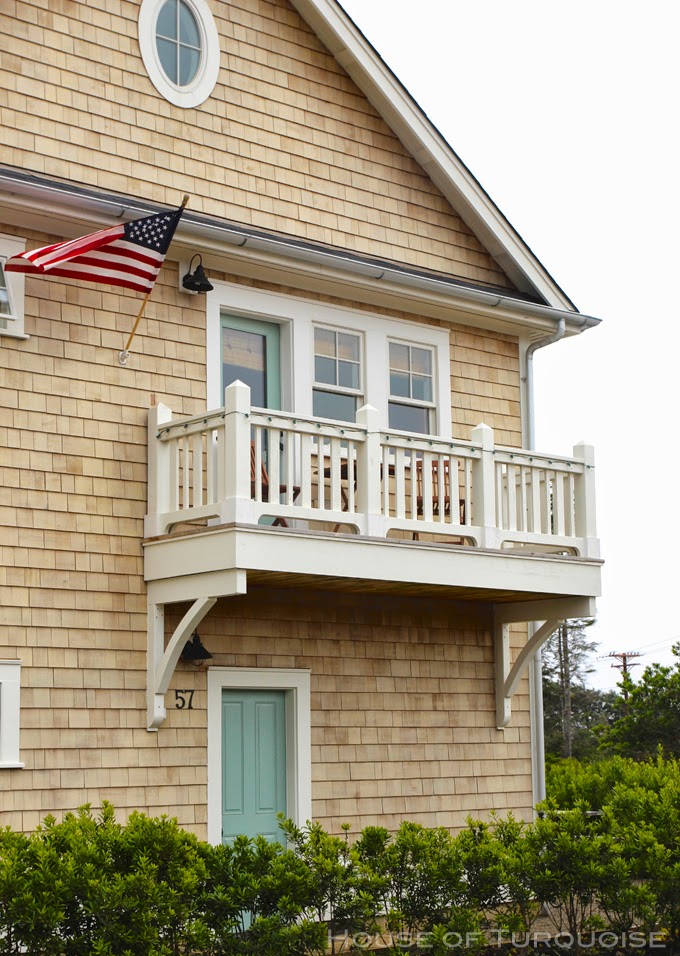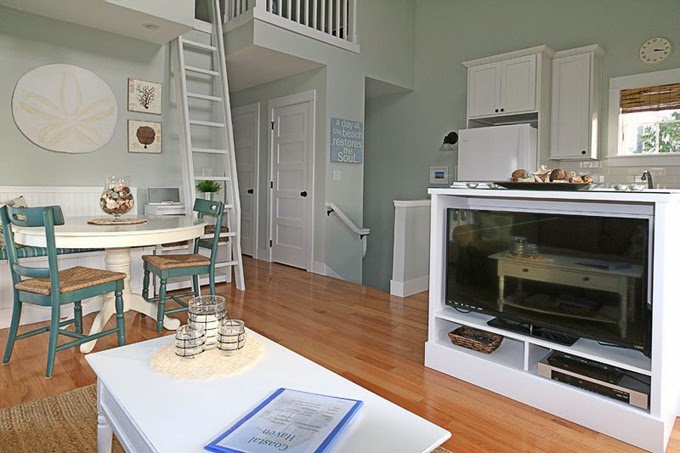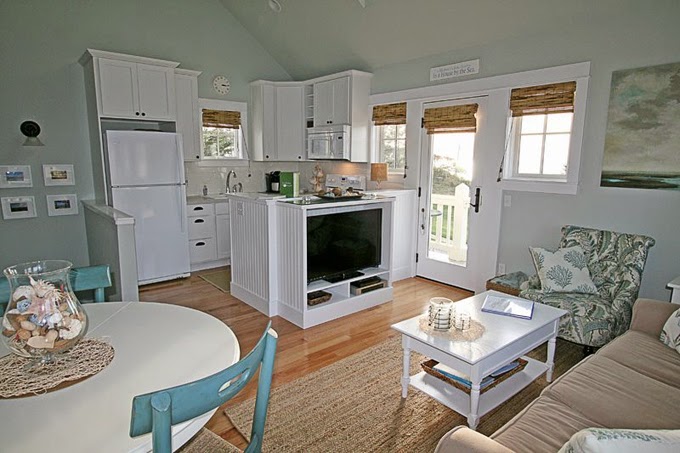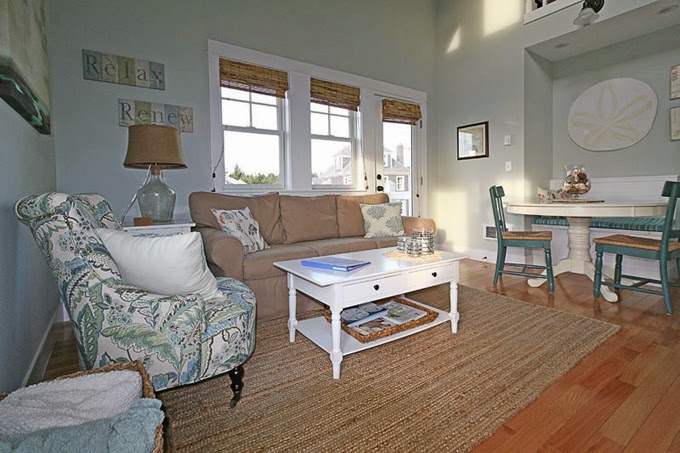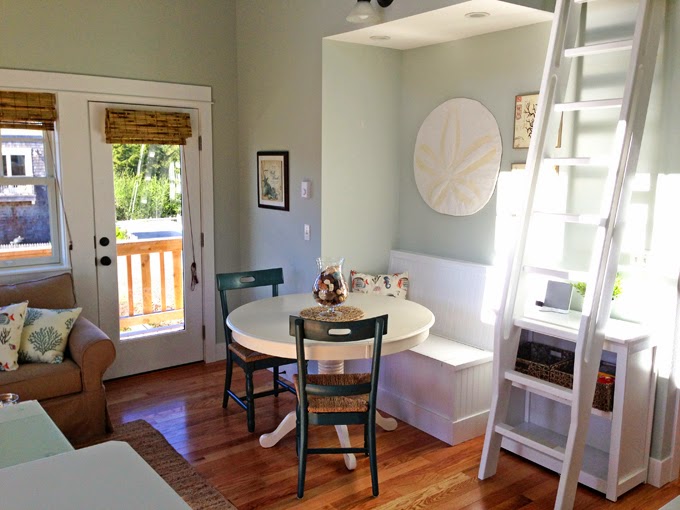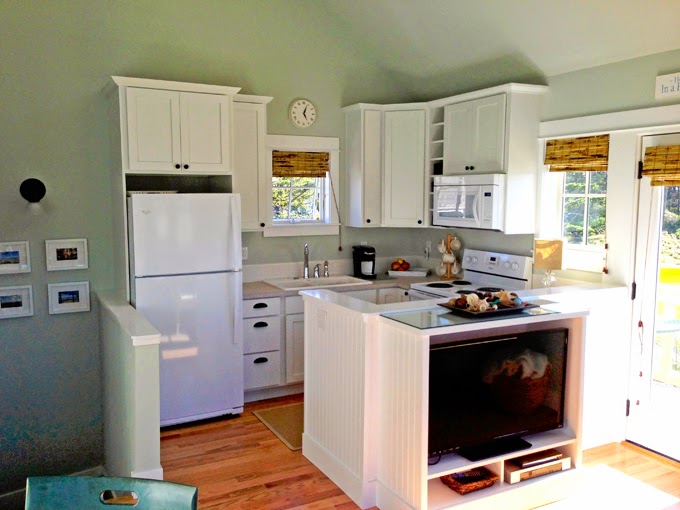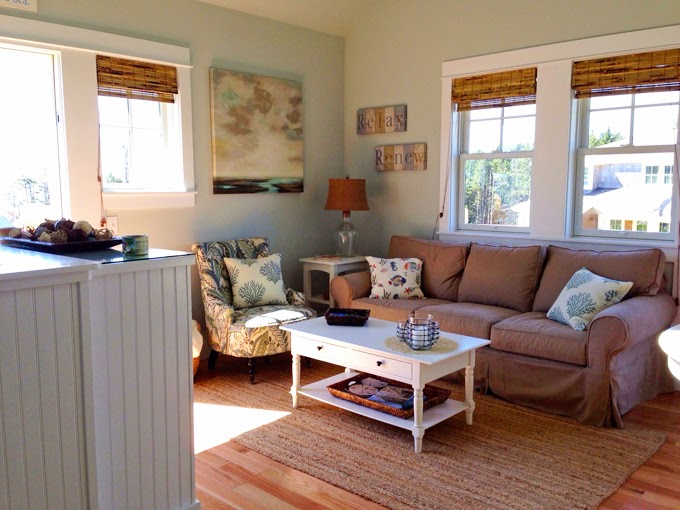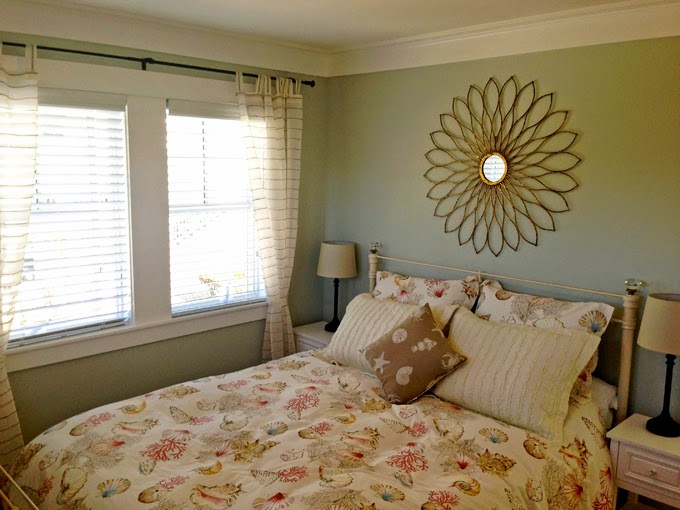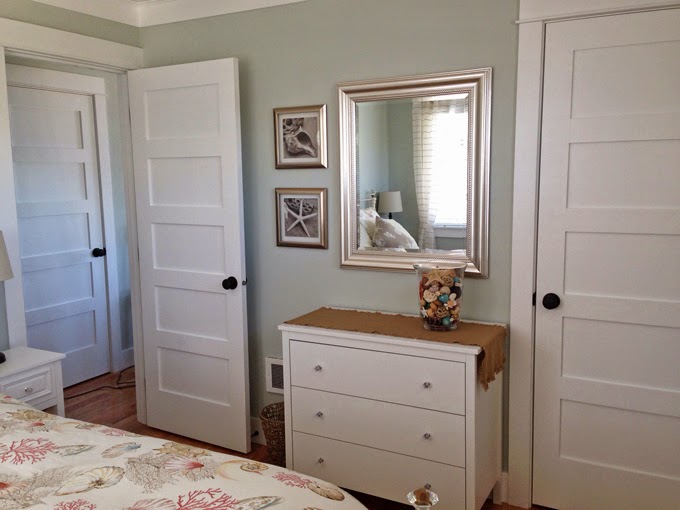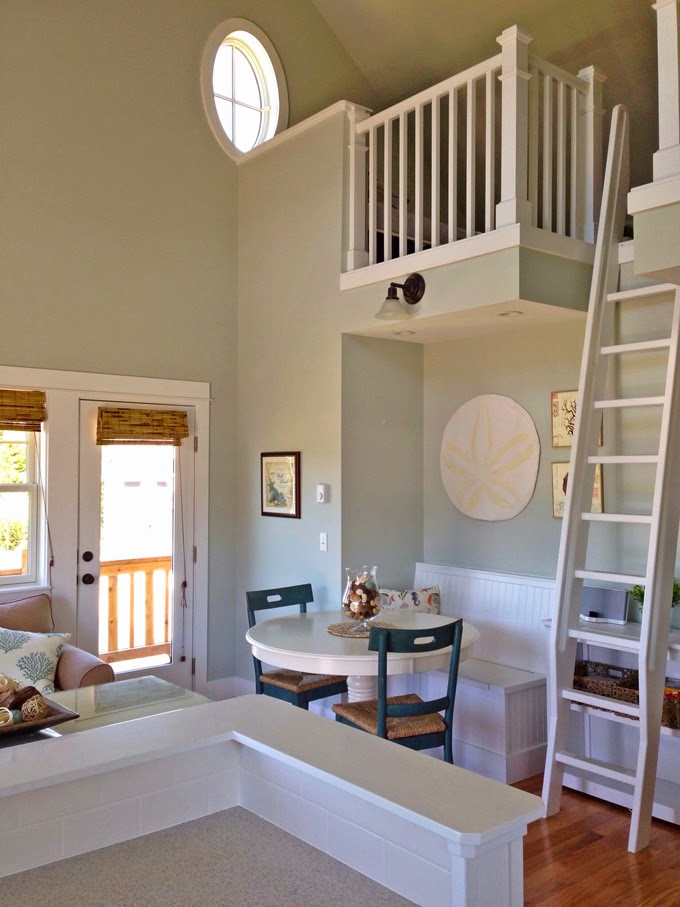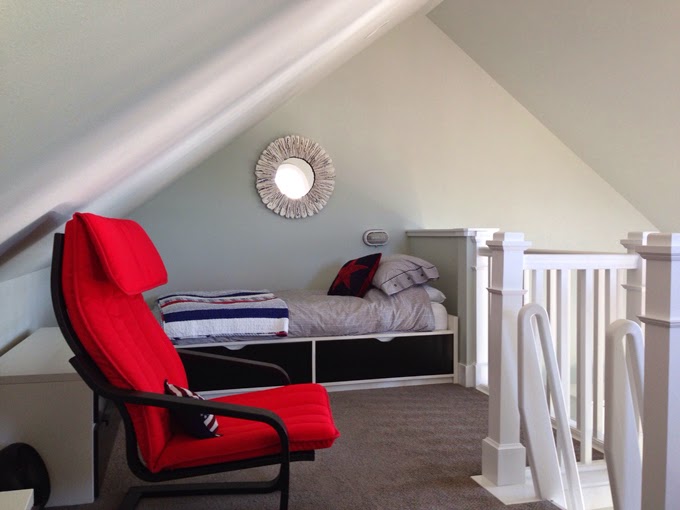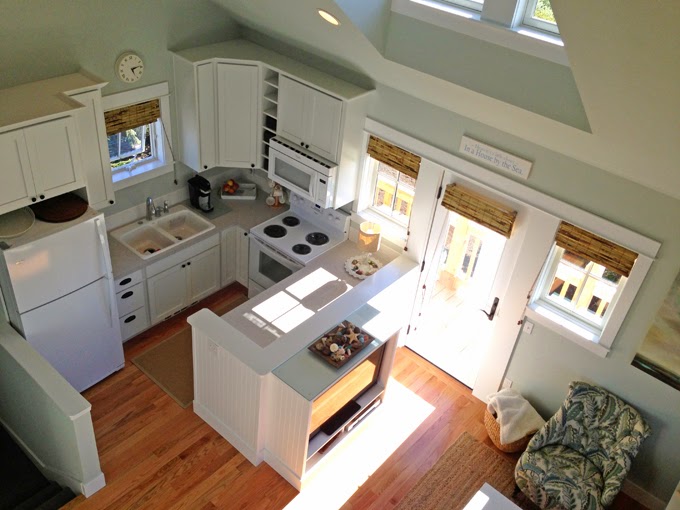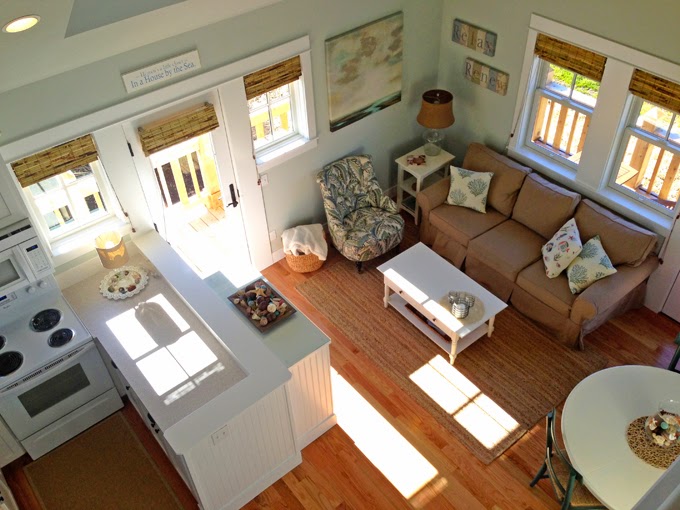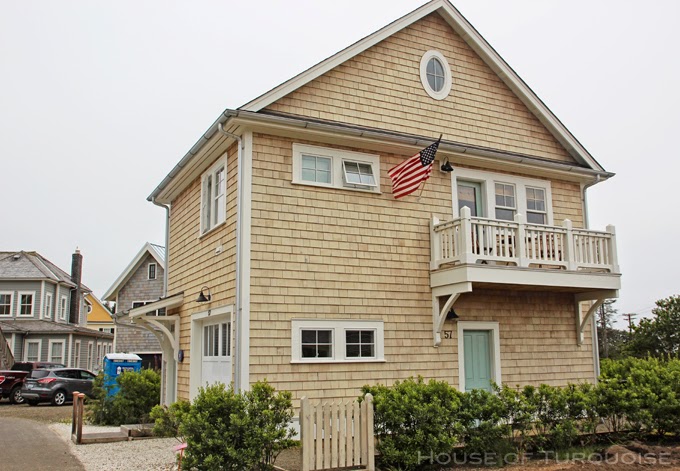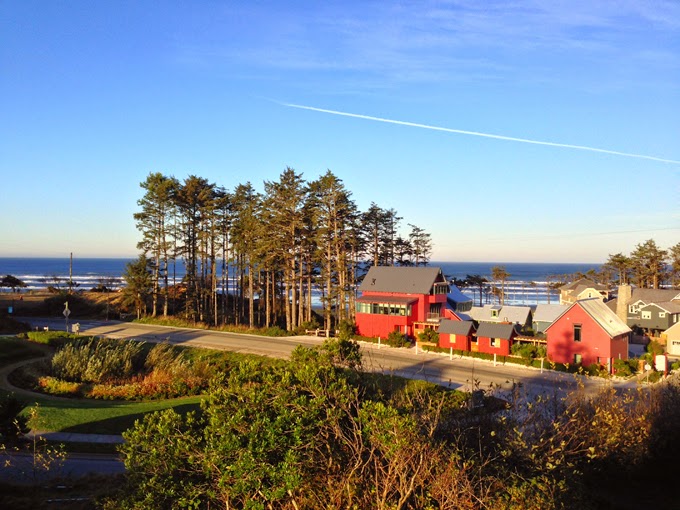 I love what a small world it is! After my first post about Seabrook, Washington, I got an email from someone saying "You showed my house in your tour!". What made me even more excited though was I'd actually been inside her house too, she didn't even know it! My friend's mom (the mother-of-the-bride) rented out her home, Coastal Haven, and let me tell you guys, it was one of those places you just didn't want to leave. Susan (who happens to have a blog too called The Confident Mom) and her husband Don live outside of Seattle, but own the cute coastal home as a getaway for their family (and rent it out when they aren't there).
First off: Location. The location of this home is awesome…it has a view of the ocean, is right next to a park, right down the street from the town center, and a few minutes walk to the beach. You can't beat that! I know my friend's mom loved her time there, especially sitting out on the balcony enjoying the view!
When I walked inside the home I immediately fell hard for the paint color and thought it might be Sea Salt (it was!). Susan told me she loves the light colors and open feel to the home. Even though it's relatively small, it feels much larger and open. Too add to the that feeling, they had a lot things built in–like the tv and seating bench…definitely keeps it from feeling cluttered!
The home was decorated on a limited budget, so Susan stuck to shopping at places like Pier 1, World Market and Ikea, while splurging on a couple of Pottery Barn pieces. (If you want to know the source for something, just ask, but I'll share the paint colors and select sources below.) I was excited to learn that she found inspiration online, even selecting her exterior colors based on one of my favorite homes I've blogged about! Like I said, small world!
You can get all the details about Coastal Haven and see more pics right here! And for more things Seabrook, check out my turquoise tour of the town, Fish Tales–the rental unit we stayed in, all of the other amazing cottages for rent, and the Seabrook website for tons more!
And lastly, I told you guys I was there for my friend's wedding…you have to see the video the amazing photographer Krista Welch of Love Song Photo put together with all the photos! I think you'll like the wedding colors….and the cameo of my bow tie-wearing little man! 😉 (The beautiful song is by Butler & the Maid!)
A Seabrook Wedding from krista welch on Vimeo.

Paint Info
Exterior Doors – Benjamin Moore Wythe Blue HC-143
Exterior Trim – Benjamin Moore White Dove (OC-17)
Exterior Stain – Sherwin-Williams Custom Color: 8548-16402
Interior Wall – Sherwin-Williams SW6204 'Sea Salt'
Sources
Giant sand dollar – Pottery Barn
Floral living room chair – World Market
Sofa and bed – Pottery Barn
Sofa – Pottery Barn
Coffee and end table – Amazon
Dining Table – Pier 1
Dining Chairs – World Market
Lamp – Home Goods
Bed Frame – Pottery Barn
Bedding – Pottery Barn
Mirror in Bedroom – HomeGoods
Nightstands – Target
Dresser – Ikea with added decorative knobs
Love turquoise? Visit my shopping blog Everything Turquoise…updated several times throughout the day! Check out Decor by Color for even more color-themed shopping!