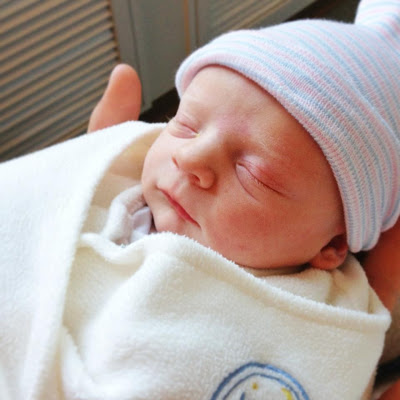 You might have guessed by my lack of posting that this cutie decided to arrive a little early! Meet Wesley Alan, born on Tuesday 8/20/13 at 8:30 pm. (It was even a Blue Moon that night, what are the odds?!) 6 lbs 14oz, 20.5 inches long and perfect in every way–we can't stop staring! Life is beautiful!
It's going to be a big ol' cuddle-fest in my household, so I'm not going to be spending much time on my computer here. I do have some great guest bloggers who've been ready and waiting to stand in though and I'm excited to share their turquoise spaces with you! (Once we unload our camera, I'll be sure to share some more pics too! And then there's the nursery of course!)
Lastly I just want to say a huge heartfelt thank you for all of your thoughtful comments, emails and well-wishes during the home stretch and throughout the entire pregnancy! Your support and excitement mean the world to us!