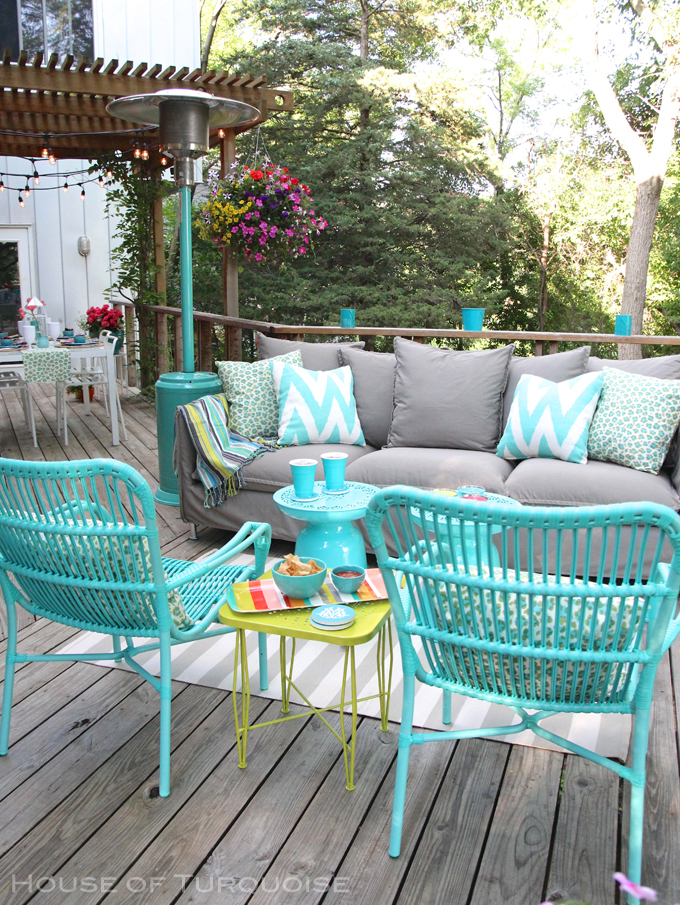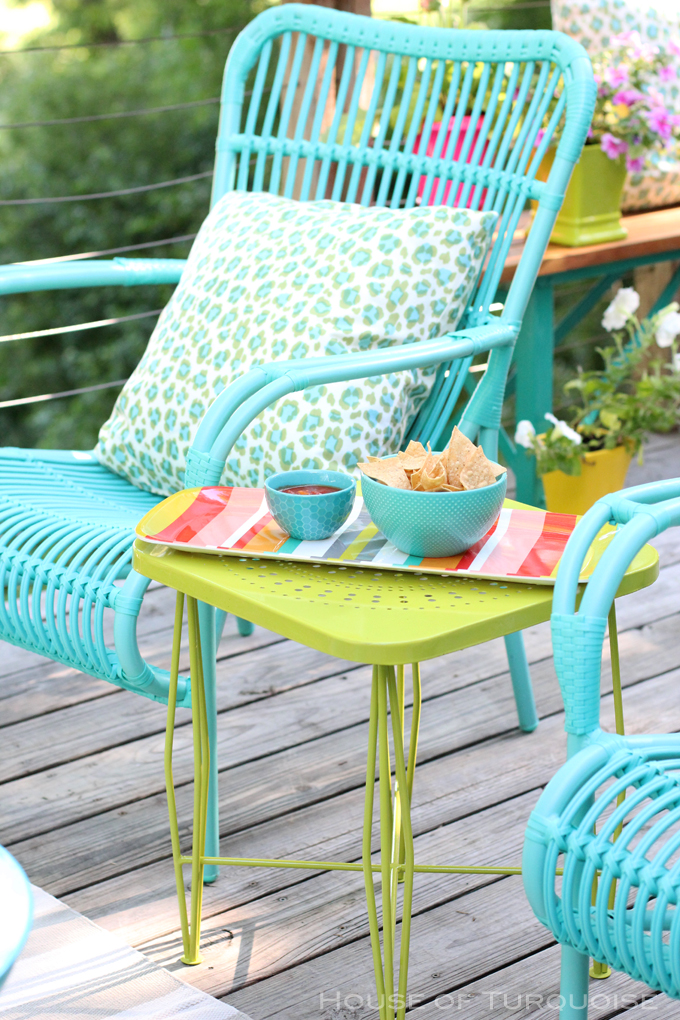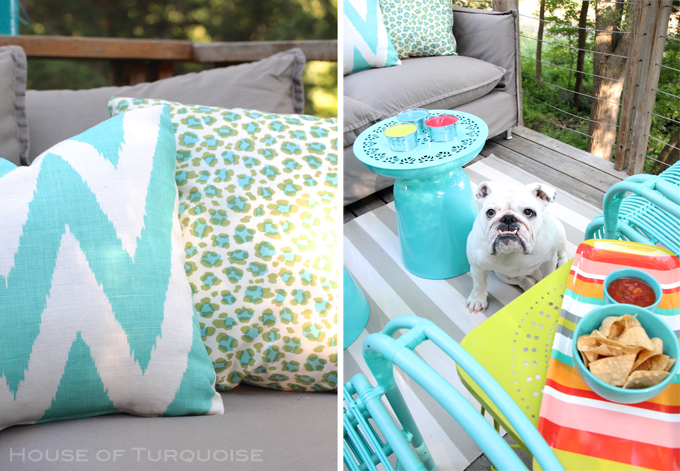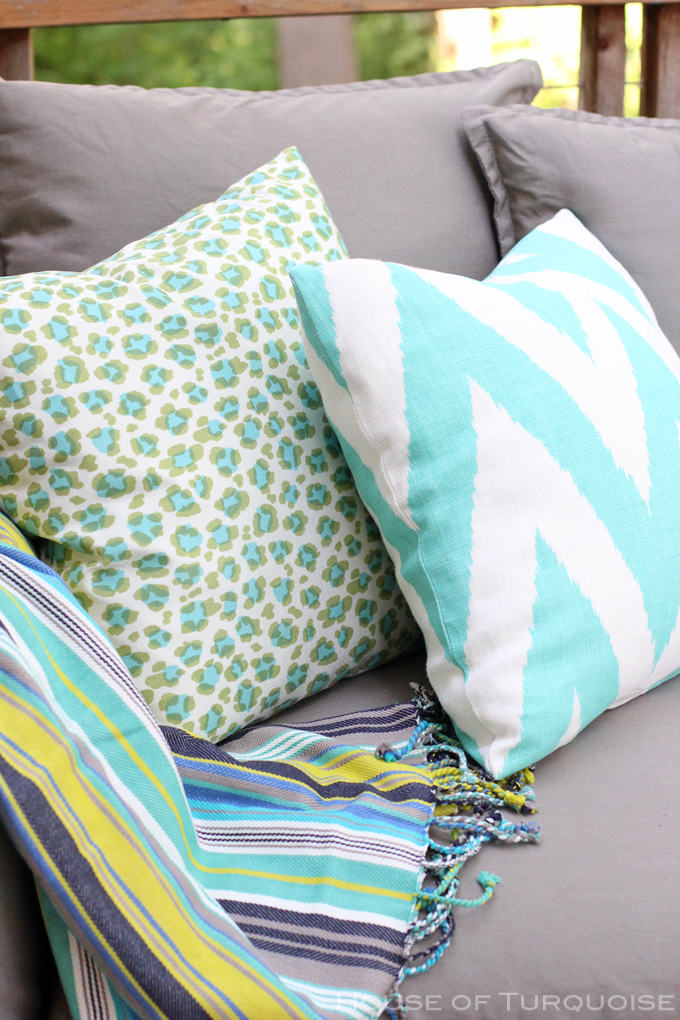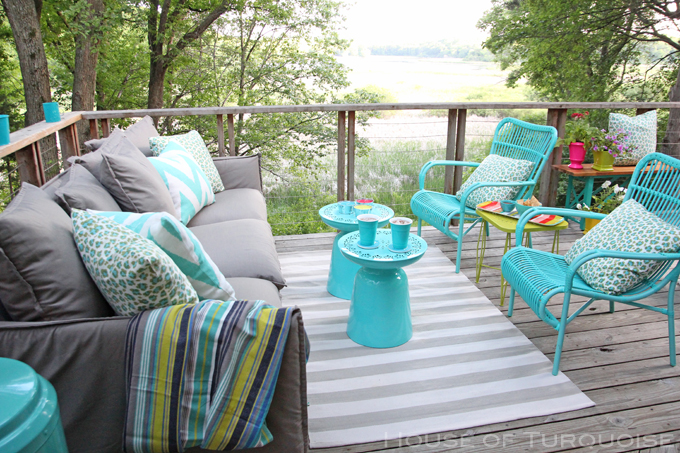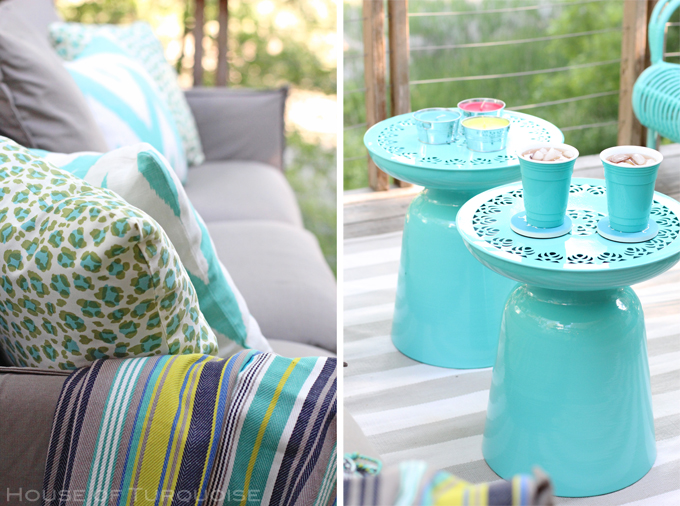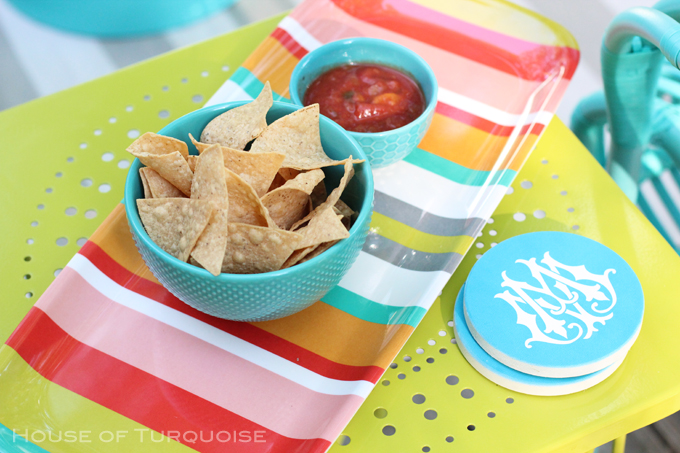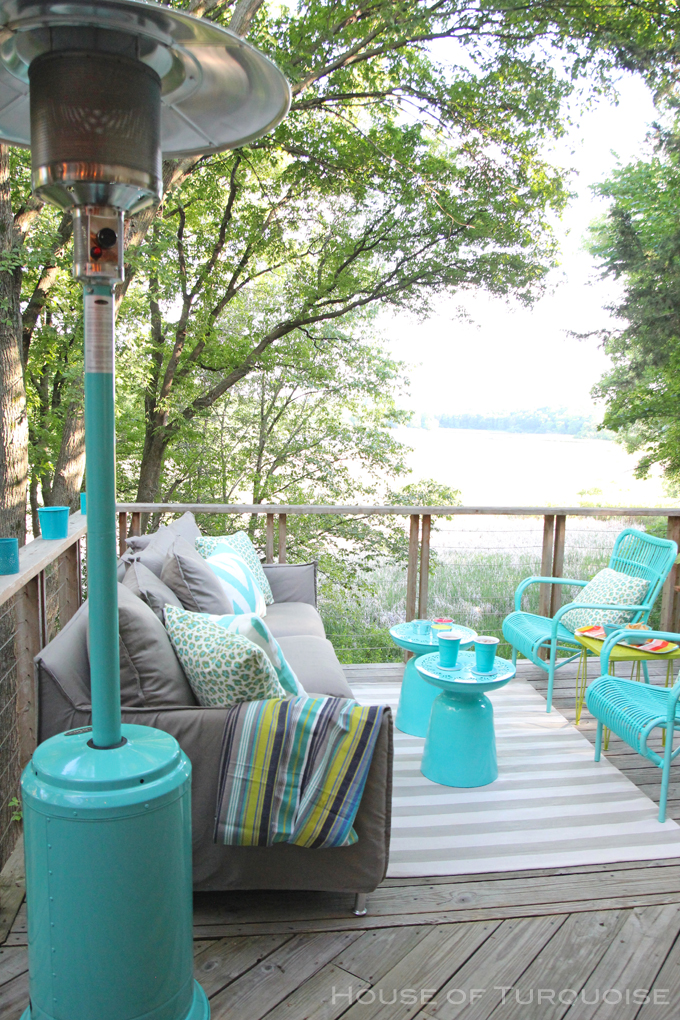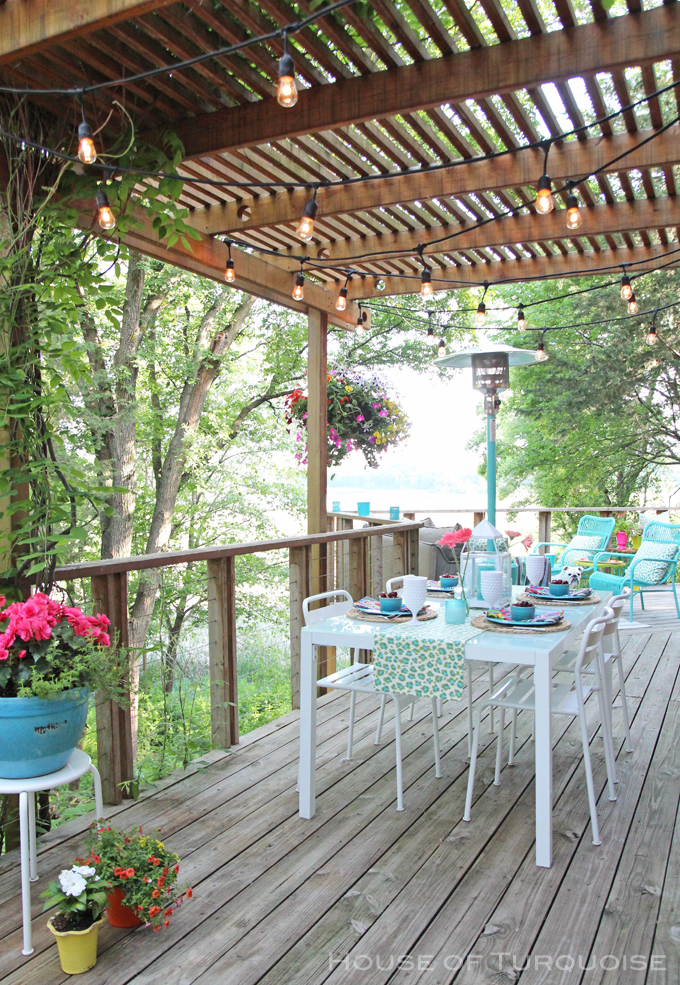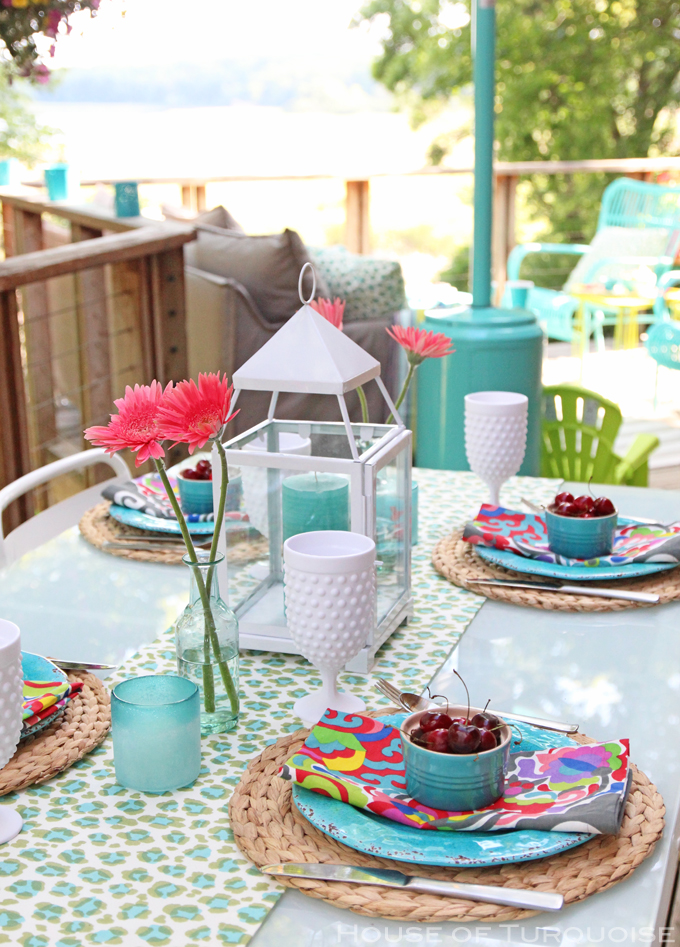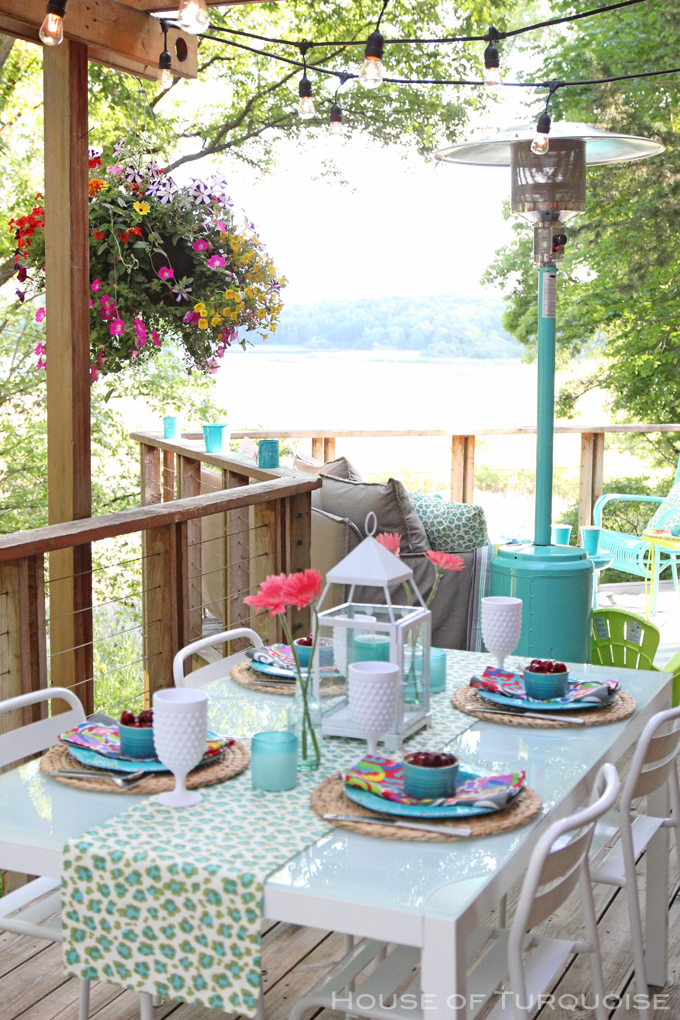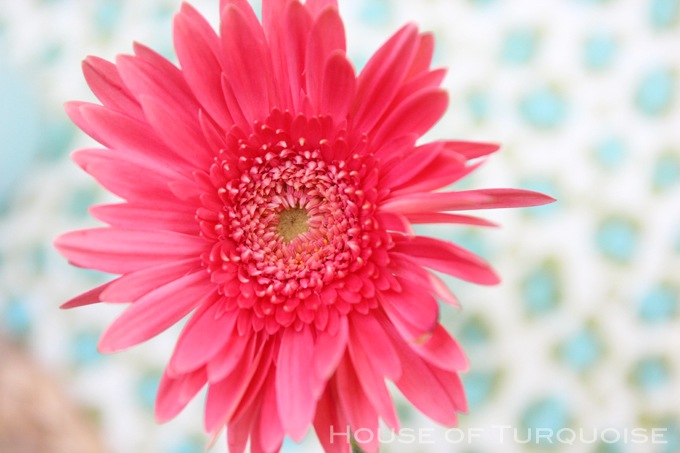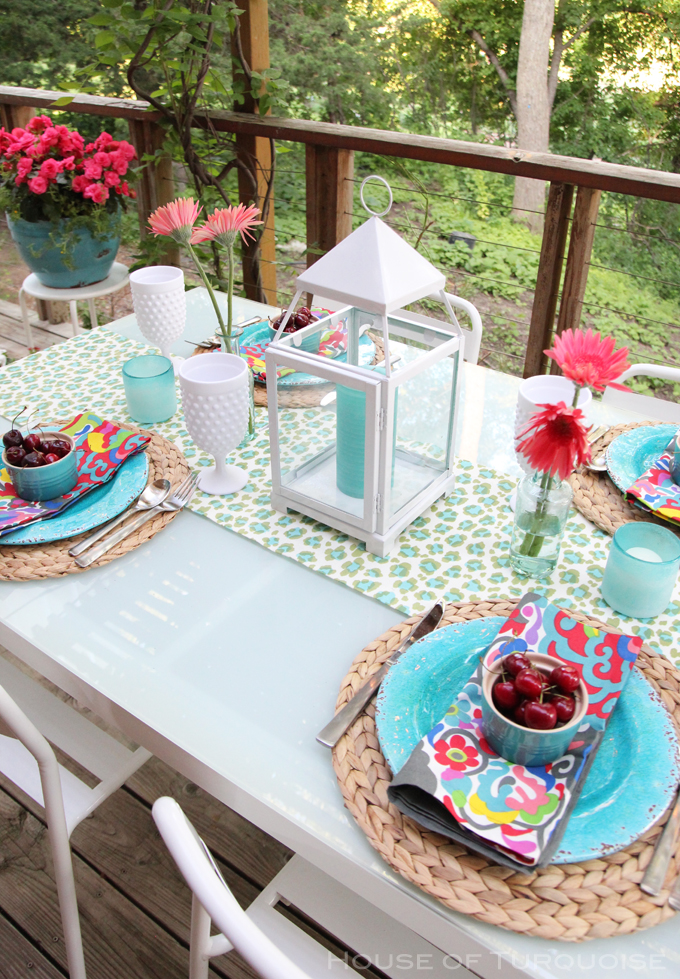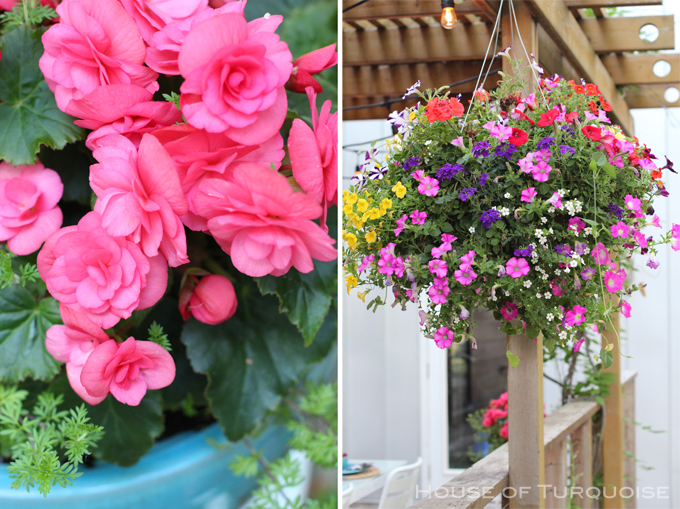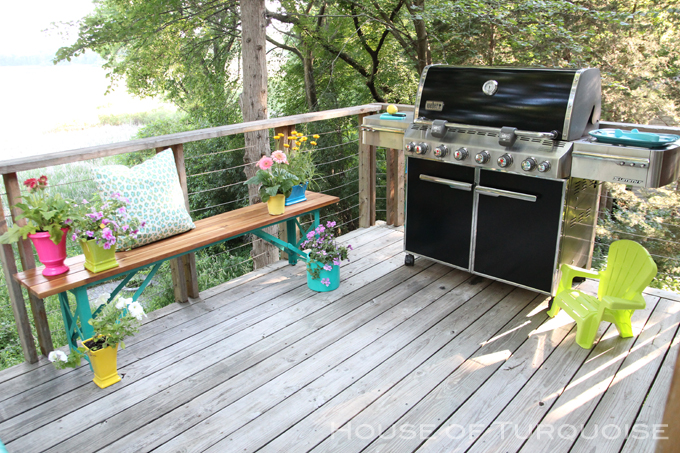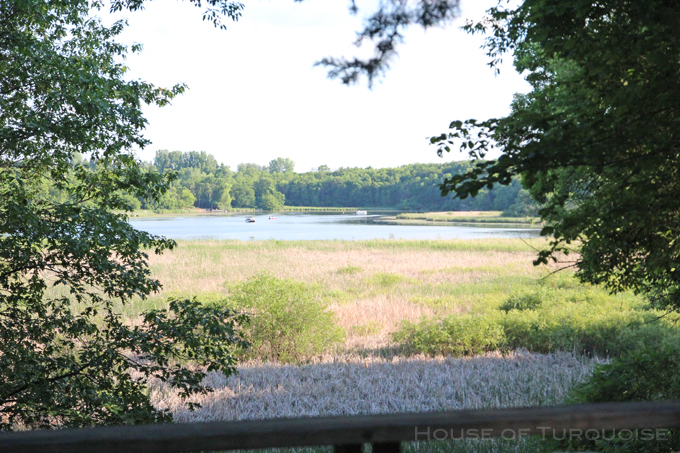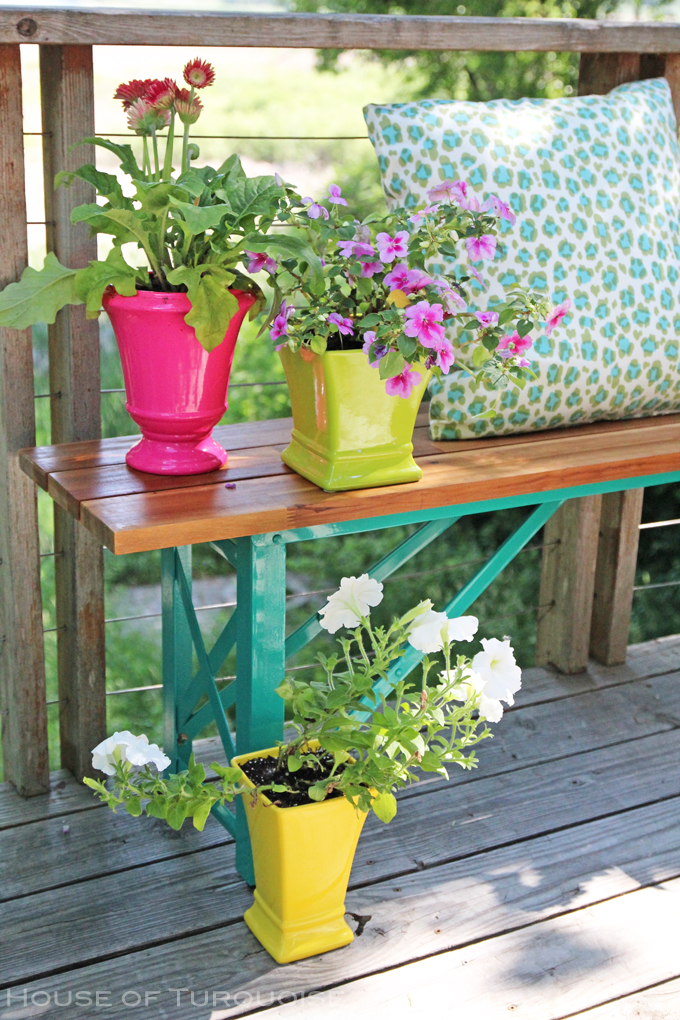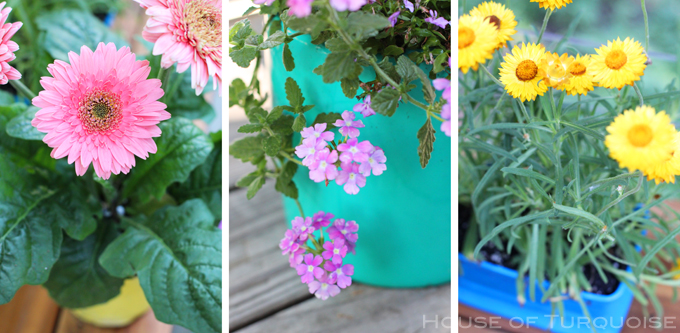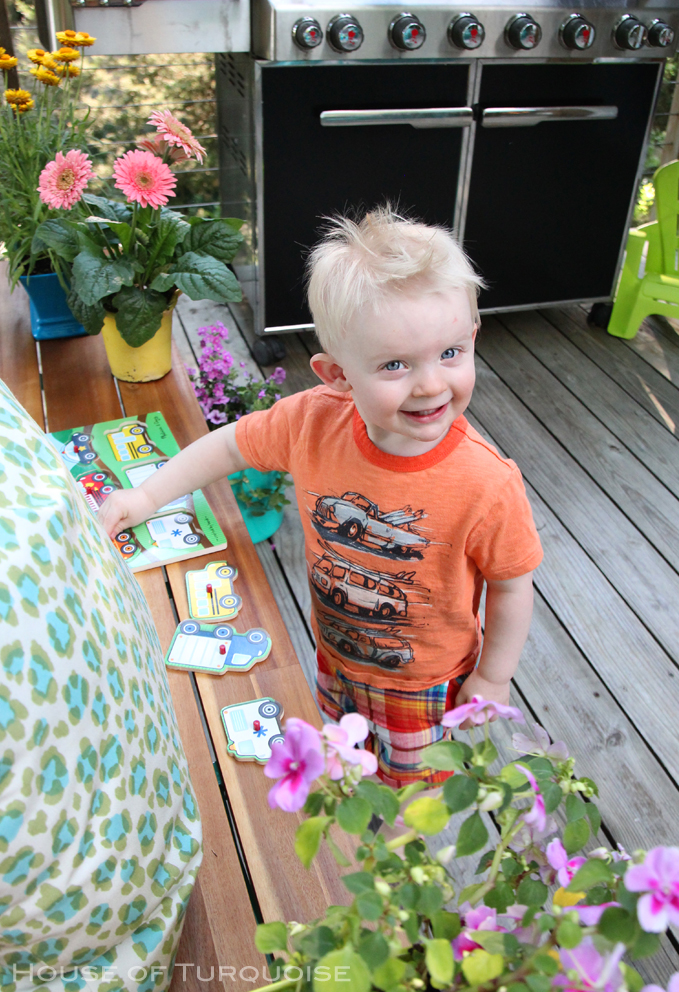 Summers go by so quickly here in Minnesota, it's really a shame to have such a great outdoor area and not put it to good use! After we had a new sliding door installed this spring (one that actually opens!), we were more determined than ever to fix up our deck! We already had the super comfy outdoor sofa sitting in our basement (an outlet score from a few years ago) and the white dining table/chairs, but we brought in some fun new pieces to make it a colorful, happy place where we could take full advantage of the nice weather and beautiful view!
My jumping-off point was the fabulous fabric on the throw pillows. I've been dying to use the China Seas Conga Line leopard print fabric somewhere somehow ever since I saw it on Simply Seleta forever ago. Lucky for me, New York Designer Fabric Outlet had it available in a durable outdoor fabric! It was fate! They also had Quadrille's Tashkent turquoise chevron fabric, another favorite of mine. While not outdoor fabric, I thought it'd be perfect in our living room or on the deck when we had company. (Or really anywhere in our home since it's the perfect shade of turquoise!) Both are just so beautiful in person. Definitely check out NYDFO.com if you're looking for awesome deals on designer, normally "to-the-trade" fabric; it's a great resource! (Right now they're actually having a big sale too…their whole store is 50% off!)
On to the turquoise chairs! I've seen Jane Coslick use them in her designs, so I knew they had to be good. They're from World Market, as are the fun turquoise stools (and a lot of other stuff…I love that store.) The craziest thing was how perfect their Lagoon color this season matched the turquoise patio heater I found online. Can you even believe that heater?! Deck season is so much longer in Minnesota with a heater…I'm SO excited to have it! I still can't believe I found a turquoise heater.
The dining table was really fun to put together; I had a blast mixing colors, patterns and texture. The turquoise melamine plates are fantastic! I bought them a couple months ago and we've been using them for every meal. Again, the perfect shade of turquoise. And I was excited to have just enough of the Conga Line fabric left to have a runner made. And the fact that it's Suncloth material has already proved to be beneficial when Wesley managed to spill his dinner on it! (Is he not the cutest, by the way?!)
I'll post the sources below, but if you have any questions–just ask!
Sources
Pillow fabric – c/o New York Designer Fabric Outlet
Sofa – Room & Board
Rug – Dash & Albert
Turquoise patio heater – Target
Chairs, stools and green table – World Market
Turquoise party cups – Amazon
Throw – World Market
Colorful outdoor candles – HomeGoods
Stone monogram coasters – Emily McCarthy
Turquoise bowls – West Elm
Striped platter – World Market
Dining table – CB2
Dining chairs – Ikea
Runner fabric – NYDFO.com
Turquoise plates – Pier 1
Le Creuset ramekins – Amazon
Seagrass placemats – World Market
Napkins – Crate & Barrel
White goblets – HomeGoods
Turquoise votives – West Elm
Lantern – HomeGoods
String lights – Costco
Bench – World Market
Colorful planters – Bellacor
Mini adirondack chair – Kohls

Love turquoise? Visit my shopping blog Everything Turquoise…updated several times throughout the day! Check out Decor by Color for even more color-themed shopping!