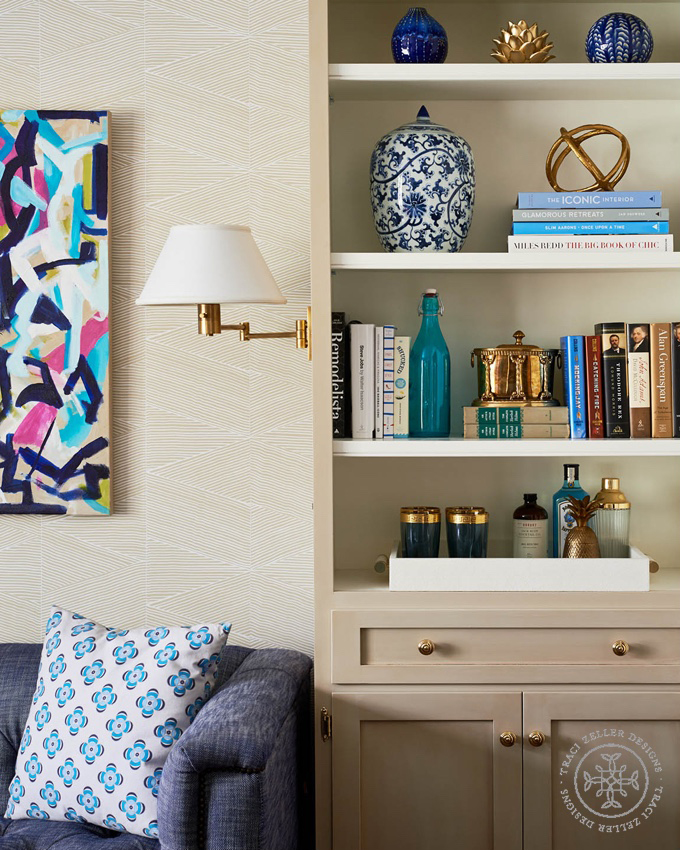 Hi, House of Turquoise readers! I'm Traci Zeller, an interior designer based in Charlotte, North Carolina, and I create crisp, classic and chic interiors and products that make family-centered lives simpler and more stylish. As a busy wife and mom to twin boys, I understand the challenges of today's active lifestyles and I develop solutions that are both beautiful and functional. What fun to guest-post for Erin while she and her precious family enjoy their vacation! I adore Erin, and I adore turquoise, so this is truly a treat.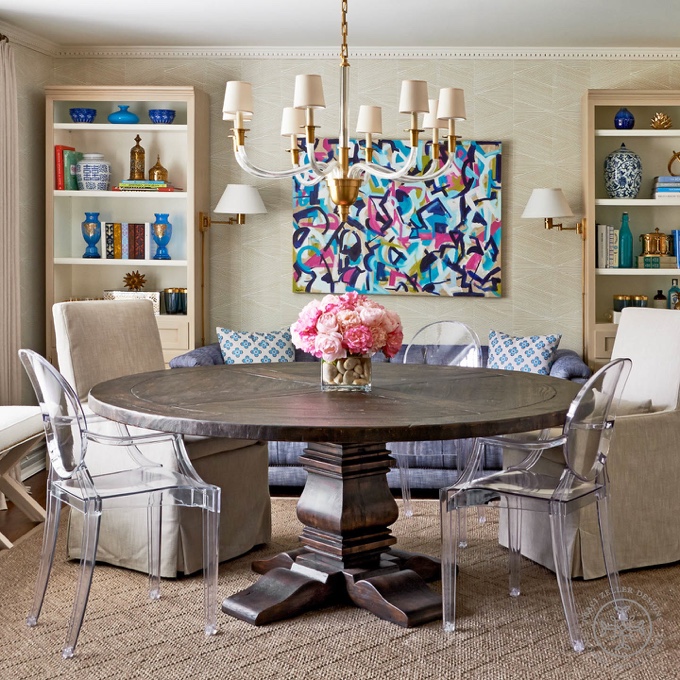 Today, I'm sharing one of my favorite projects – because adorable triplet boys, a precious little girl and their devoted parents call this home! With four children under five and not a lot of square footage, we packed this home with style and function. Oh, and the mom used my innovative Double Day Design service, which is such a fun way for me to work with clients.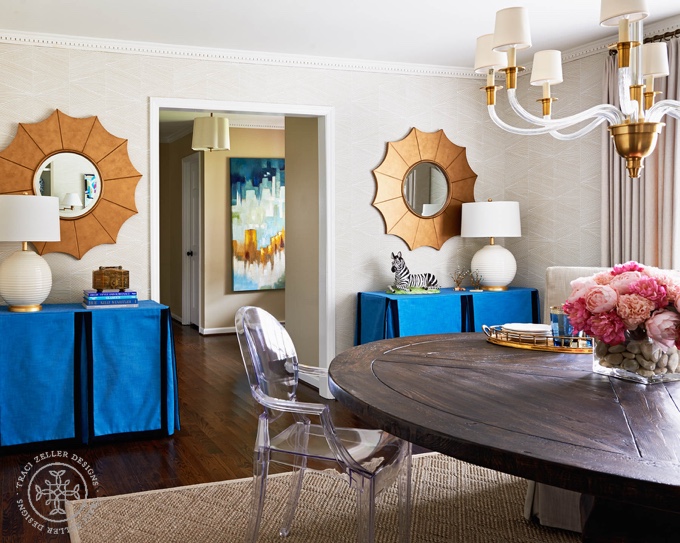 Let's start in the dining room, which doubles as a library and homework station – making it a perfect space for everyday use. A sofa nestled between two bookcases provides a comfortable spot for reading, plus great storage. A large pedestal table, with wipeable lucite chairs, keeps the room from feeling crowded. I'm crazy about the navy, turquoise and hot pink color palette, and the homeowner commissioned Kerry Steele to create that painting especially for this room. And don't forget the killer wallpaper and light fixture!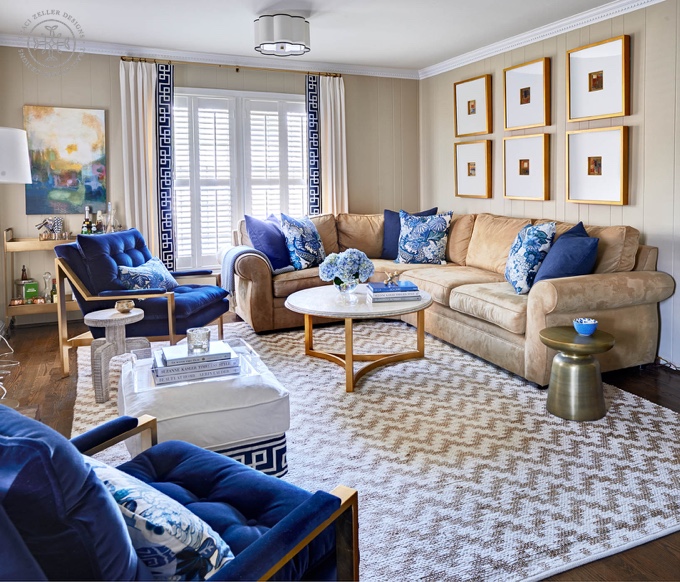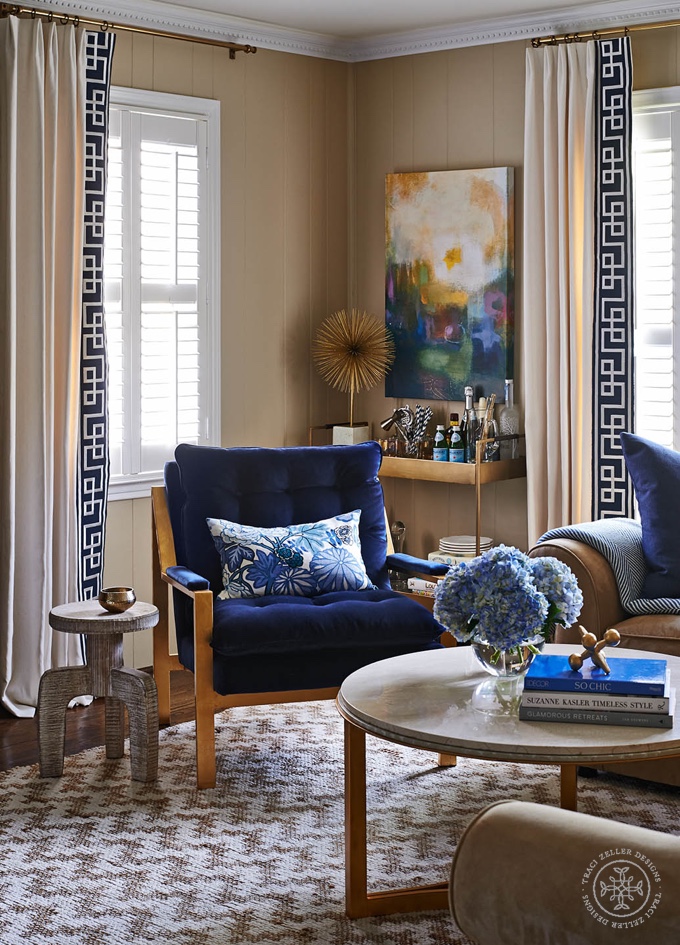 Moving into the living room, the homeowner kept her existing sectional – perfect for family movie nights – but upped the chic factor with a marble coffee table, navy and gold chairs and incredible Greek key trim on the window treatments.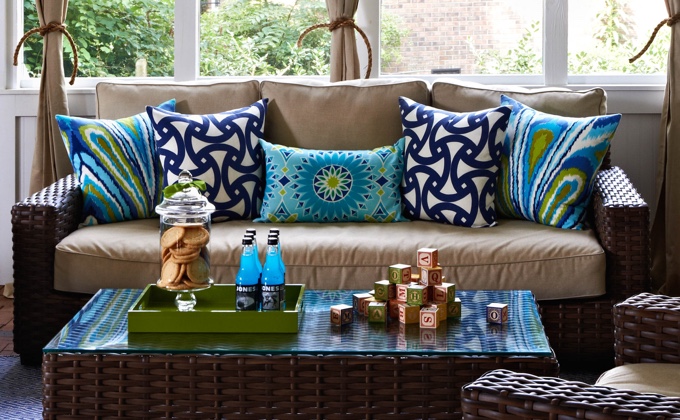 Charlotte's moderate climate means screened porches get three seasons of use, and we all know how much kids love to be outside! This porch is a favorite for family dinners … and watching the kids while they play in the backyard.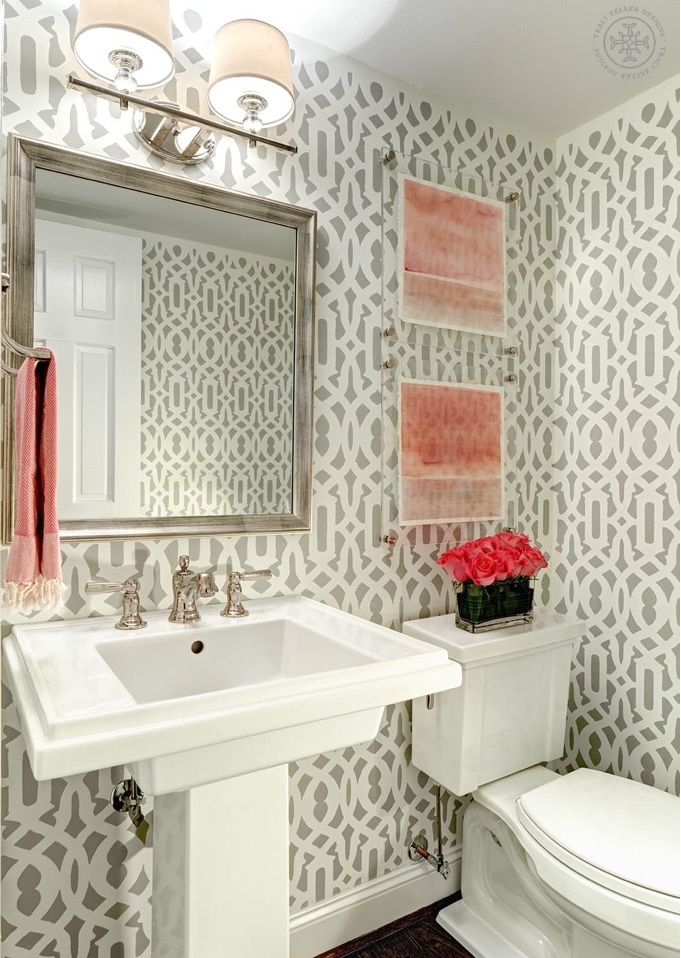 As the only bathroom on the first floor, the powder room sees a lot of use – but it's still gorgeous. There's no blue here; we indulged a little bit of girliness!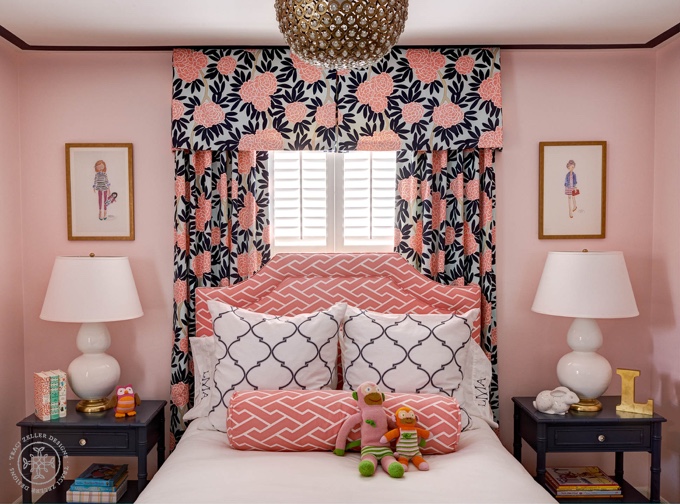 And speaking of girliness, their little sweetheart got a "big girl room" that anyone would adore. There's pink, pink and more pink (with a hint of coral), but plenty of white and navy keeps the room from being overly sweet.
So what do you think? I hope you love it as much as I – and the homeowners – do. I'll be unveiling another turquoise-filled project soon – this one, a 5,000 showhouse on Charlotte's HomeArama tour – so follow along on my Instagram for sneak peeks of that! Of course, I'll share final photos on my blog and website. Erin, thanks so much for having me, and enjoy your vacay!!
Love turquoise? Visit my shopping blog Everything Turquoise…updated several times throughout the day! Check out Decor by Color for even more color-themed shopping!