The time has finally come!! Here we are at the end of the One Room Challenge! I'm so grateful to Linda of Calling it Home for asking me to participate–we are thrilled Wesley's entire room is now finally finished! As a reminder, I have been decorating the loft area in his room, as well as putting the finishing touches in his nursery below. See Weeks 1, 2, 3, 4 or 5 to catch up! I'll try to source things as I go along, but if you have any questions, just leave a comment!
This is what the room looked like when we moved in:
And here it is now!!
This is definitely the most colorful, fun room in our home! And we love it! I'll show you the loft area first, since that's where the majority of our time has been spent for this challenge.
I'm so happy with the Jenny Lind bookcase, which we decided on halfway through when installing a window was no longer an option. It was fun filling it with books and other fun goodies, like the whale bookends from Anthro and new lamp/shade from Target. If the piles of books throughout our house are any indication, I'm certain these will not stay neat and pretty for long! Storage from Target and The Container Store.
We picked up this metal W from Land of Nod while ordering the shelf…a little hand-painted whale from Blue Raspberry Designs found its resting spot, as well as some shells from our honeymoon.
The first thing I chose for the space was this fantastic artwork from Minted…love the colors so much!
Cute vintage-inspired postcards from Cabocado inside a lantern from Target–love the rope handle! And below the Adventure a Day banner I talked about last week…
The lounge furniture from PB Teen is super comfy, and the gorgeous pillows from Pop O' Color add some pattern to the space! The new railing makes such a difference from below and above…it really opened things up and brings in much-needed light. Speaking of light, so excited about our new sconce from Wayfair…they really saved the day when Plan A didn't work out!
This little pirate was handmade by Mio Mucaro on Etsy…I have a thing for handmade stuffed toys! The rug from PB teen is oh-so-cozy. Normally I'd want a bigger rug, but I'm all about seeing that gorgeous new floor!
Best of all?! The little guy LOVES his new space!
Now I'll take you down the ladder and show you the nursery area:
The fabulous Little Whales wallpaper from Pottok was the first thing we chose for the room and inspired the theme. Love doesn't cover what we feel for it! The aqua blue on the walls (BM Sonoma Skies) and the blue chevron rug are supposed to give off a water vibe. The sailboat mobile from Flensted is another favorite!
Isn't this chalkboard art amazing?! My uber-talented friend Nikki of Lovely Scribbles made it for us after Wesley was born!
These little softie pillows are made from fabric by French artist Nadja Petremand…found them on Etsy (of course)! The lantern is another Etsy find…it used to be a kerosene lamp but was upcycled into an electric lantern–complete with a flicker flame bulb!
What would we do without this comfy glider chair from Crate and Barrel?! Love the cute pillows too…pirate from Land of Nod, ikat one from the Etsy store Pop O' Color–best fabric selection around!
The whale artwork is another Land of Nod find. If it's not already obvious, I love that store! We actually got the red pouf, changing pad cover, bedskirt and crib sheet there too. The changing table and crib were from Pottery Barn Kids. And there's those rope pulls we put in a few weeks ago! Which reminds me, remember the newly-painted chalkboard closet and new knobs?? I'm still on the hunt for the perfect knobs. These little turquoise ones from Anthro will just have to do for now. (Although to all who mentioned Hobby Lobby, you weren't kidding…they recently opened up here in MN and I didn't even know! SO many great knobs there, totally worth the hour drive!)
We finally got around to hanging some additional artwork too…a sailor boy I found at a flea market, a little porthole mirror and Sugarboo artwork. (Life is Beautiful by Keb' Mo' is one of my favorite songs and I always sing it to Wesley when I'm rocking him to sleep.)
Isn't this whale quilt perfect for the space?! My step-mom made it for Wesley, obviously inspired by the nursery!
Spot the cute whale night light?
The one thing you can't see in the photos is the view out the window. Which is why the chair is right where it is. And another reason we wanted a window in the loft!
Definitely not a bad thing to look out at when rocking a little one! (P.S. Where did fall go??)
Most importantly, Wesley loves being in his room and the cheery space definitely matches his personality!
Check out those teeth! Cute drool-catching faux bois bandana from Simply Stitched by Sara on Etsy.
So there you have it! This has been quite the challenge for me! I'm not a designer and am not used to decorating in a limited time frame…it blows my mind thinking of what some of the other participants are accomplishing! But it's all worth it and has been so fun! Thanks again to Linda of Calling it Home for inviting me to participate, and to you guys for all of your ideas, support and enthusiasm! And thanks to Minted and Wayfair for being sponsors too!
Like I said, if you have any questions about the source of anything I didn't mention, just ask!
Now what I've been waiting patiently for, everyone's reveals!!! This is going to be amazing!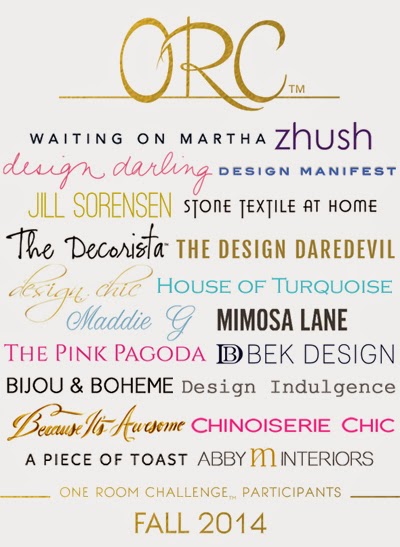 Love turquoise? Visit my shopping blog Everything Turquoise…updated several times throughout the day! Check out Decor by Color for even more color-themed shopping!
Shop the Post: