Here we are three weeks in! For those of you just joining, I'm decorating the loft area in my son's bedroom. (See Week 1 and Week 2.) I really appreciated your advice last week regarding the window situation. Sadly it looks like a window is not in our future, but a skylight just might be our solution!
The most exciting part of the week was the arrival of this: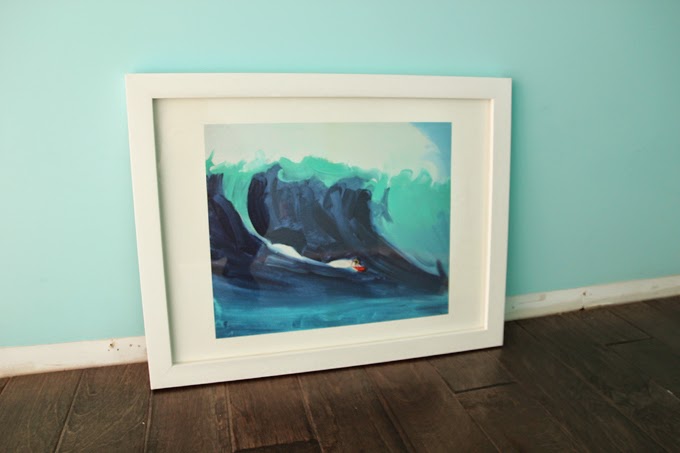 (I know, still no trim!)
I'm thrilled about this artwork! I actually picked it out a while back when I learned that Minted was going to be a sponsor of the ORC and have been using it for inspiration for the rest of the space. It's a limited edition print by Annie Seaton, who painted it for one of her best friends who surfs. I love all of the shades of blue with the pop of red! Still not sure where it's going to hang, with the window not in the mix, everything is still up in the air.
The good news with the window falling through is that we now have more room on that wall, so I've been thinking about using this Jenny Lind bookcase that I've long loved: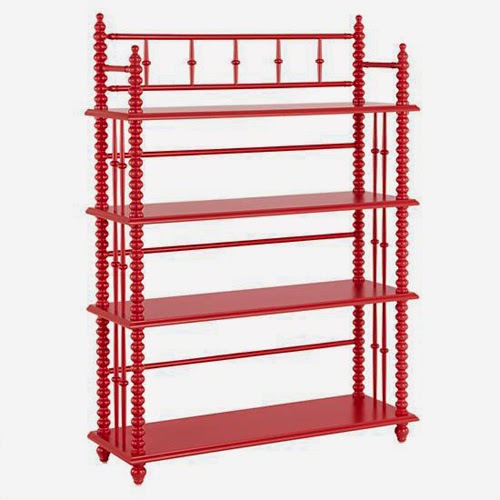 Just waiting on a paint sample to make sure this "raspberry" color is not too pink. Fingers crossed! We did pull the trigger on the lounge furniture this week though. There's not a whole lot out there from what I've seen that matched what I had in my mind. First off I wanted something versatile that would grow with Wesley and something relatively light and small that fits up the loft ladder. But I also wanted something that two adults can sit on together, that sits low on the ground while being comfy. I have bad memories of beanbags and Benadryl, and really like the "sofa" look (hello throw pillows!). I narrowed it down to these three:
This is actually two of the Your Zone Flip Chairs from Walmart pushed together. The chairs have good reviews, and I liked that it can covert into a bed for sleepover fun!
Above is the Double Flip Floor Lounger from Pottery Barn Teen, which also clicks down to be a bed. Doesn't it look super comfy?? Unfortunately they don't have it in navy blue anymore.
Then we have the Cushy Lounge Sectional, which doesn't convert but the pieces can all be moved around. I've heard good things about this set around the blogosphere too.
So what did we choose??
We decided to go for the last one, the cushy lounge sectional, but without the base. It's definitely a splurge, but we liked the flexibility the pieces offer and how it can be arranged different ways. Bonus: PB Teen is having a Lounge Seating Event so it was 20% off! Can't wait to find pillows for it!
In other ORC news, we decided to go with chalkboard paint for Wesley's closet doors. I may be the last person around who has yet to paint anything with chalkboard paint, but we thought it would be a fun way to update the old doors. I actually wasn't sold on the idea until I ran across this pic…
We still need to paint the trim around the closet white, which I think will frame everything nicely. So hopefully next week, among other things, we'll have the doors hung back up and have found some cute new knobs!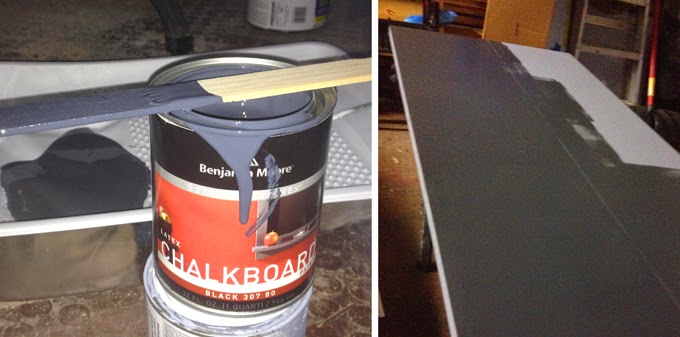 And with that, I'm excited to go check out all of the progress from the other ORC participants this week–they are seriously blowing me away so far!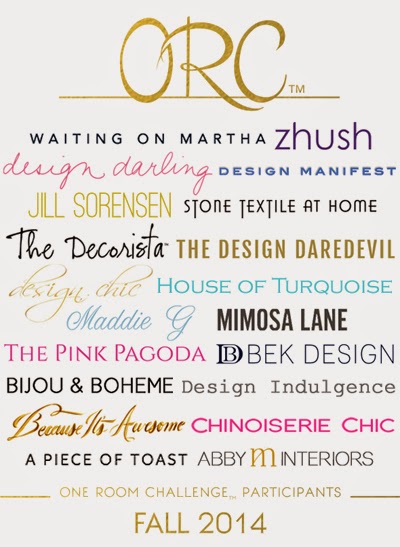 Love turquoise? Visit my shopping blog Everything Turquoise…updated several times throughout the day! Check out Decor by Color for even more color-themed shopping!