We had a productive week here in One Room Challenge land! I cannot believe there are only two weeks left in the challenge….I'm feeling the pressure! Still so much to do and things up in the air. As a reminder, I'm decorating a loft in our son's bedroom, turning it into a little play area/reading nook. See week 1, week 2 and week 3 to catch up!
One major accomplishment this week was selecting a light fixture for the area. We thought mounting one above the lounge furniture would free up some space, and a two-arm version would direct the light for reading time. And lastly we love the look of a library light…
These are the ones I found to choose from:
In the end, we went with the RH double sconce. A more budget-friendly option over the beloved Boston Library Light, especially since they are having a sale right now. The fixture should arrive at the end of the week and we have an electrician coming over the weekend to install. Very excited!
Another fun decision was picking out knobs for the closet. We headed out to Anthropologie, my favorite place for knobs, and spent way too long trying to decide which we liked best. (Fact: 14-month-olds do not like shopping for knobs.)
We ended up going with the Simmered Glass Knobs, in turquoise of course. I thought the turquoise would stand out nicely against the dark gray chalkboard paint. And a little more turquoise never hurts either! To be honest though, we don't love them…wish they were a little bigger. Anyone have a good resource for knobs other than Anthro?? What kind do you think would look best?
I also decided on fabric for the throw pillows this week, which is always my favorite part of any project! When I was decorating the nursery part of the room, I had bought a pillow cover from an Etsy shop called Pop O' Color. If you guys aren't aware of it, it's definitely one to bookmark. The owner Katie has SO many fabulous fabrics to choose from, in a variety of budgets, colors, styles, etc. (Organized by color, which I love!) But I also love that she offers designer fabrics like Schumacher, Quadrille, etc. More expensive yes, but so worth it.
I emailed Katie and asked for a little help coordinating pillow covers since she knows the fabric best and she sent me back a ton of fantastic combinations. Keeping in mind my inspiration artwork and slight nautical theme, I went with this fabric combination:
I love the shades of blue with the pop of red in there…just like my artwork from Minted. Here's an updated board. (I'm no Olioboard pro by the way…!)
Which reminds me, I also snagged a couple Rugby Stripe Bins from The Container Store to stash toys and whatnot (had a 15% off coupon…bonus!) as well as the cozy Ultra Plush Rug from PB Teen (on sale…double bonus!). And the sample of the red paint from the Jenny Lind bookcase just came in and I love the color, so I'll be ordering that as well!
Things may look like they're coming together smoothly, but we cannot for the life of us find anyone to install a skylight…apparently right now is the busy time for that sort of thing here in Minnesota. We are also still waiting on our loft railing that is being made…not sure when that will be done and installed…hopefully in the next 2 weeks, right?!
There we have it! Now time to check in with the other 19 ORC participants!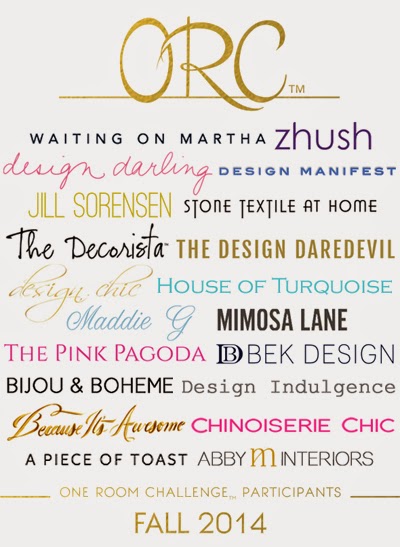 Love turquoise? Visit my shopping blog Everything Turquoise…updated several times throughout the day! Check out Decor by Color for even more color-themed shopping!