We are Ann and Hooper of Birds of a Feather Design. We are longtime friends, designers and moms. Our blog is about our projects, lives, and finding the humor in it all! One of our favorite daily doses of design comes from House of Turquoise so of course we are thrilled to be visiting today.
BIG CONGRATS Erin & Chris on your new arrival! As your world has changed and all things baby will potentially take over your house the need for a peaceful master retreat is right up there with sleep.
We were lucky enough to have one of our favorite master retreats featured in the October issue of HGTV magazine. You can see the rest of this mountain house by visiting our blog. Run out and grab a copy of one of our favorite design mags on stands now! (after you read this of course)
Our client wanted blue so we decided to cover all shades of the color from pale aqua (ceiling) to saturated indigo (floor) and everything in between — including turquoise, of course…..
The bed is layered in texture and prints and a perfect spot for a new mommy or in this case busy mom of three to catch a few zzz's.
We wanted the client to own this bed and she wanted a canopy. This Noir "Ferret" bed comes as a four poster so our go-to carpenters at Soundside Carpentry converted it into a canopy. The branchy fabric was the perfect way to add one more layer of pattern and create a modern take on a bed fit for a queen!
What are 2 designers to do when they can't find lamps they like for a space? How about buy 2 vases from HomeGoods and have them turned into lamps! These bedside vases beauties mimic the lines of the bed and were the perfect solution to our lighting dilemma. We added scalloped shades and brass bases to finish them off.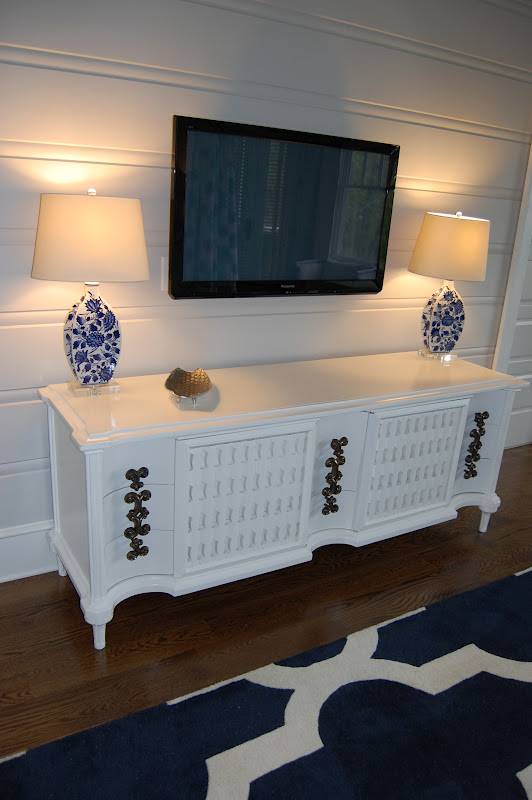 We found this little jewel at a local auction and had it lacquered in a creamy white. Of course we did not touch the hardware! It's a fun piece that fancies up the room a bit and perfect for storage.
We love a good deal and often search auctions, junk shops, CraigsList and Overstock for affordable pieces to mix in a space. We picked up these linen and driftwood chairs for less then $400 each from Overstock – Score! The simple fabric and low profile doesn't distract from the stunning mountain view.
We skirted an existing table and added a mirrored top to create a work space for this busy mom.
The master bathroom integrates organic materials and carries the colors of gray, cream and pale aqua into a serene spa-like bath.
A master retreat is very important and at the end of the day you need a space where you can unwind. I am sure Erin and Chris have a lovely spot to unwind and we're guessing it's turquoise!
We can't sign off this post with out a little advice for the new parents…
(because all new parents love advice)
#1. Create a master retreat get away for just the 2 of you. Trust us, the kid will get the rest of the house..
#2.The "5 second rule" is bogus… you have at least 5 minutes before the cheerio that hits the floor contracts anything really harmful and can't be eaten
#3. Never wake a sleeping baby or a sleeping dog
#4. Your babies feet aren't really cold, perhaps the older woman that stopped you to tell you your baby needs socks is just cold herself…
#5 When people say dumb things and you want to roll your eyes, just smile, mutter (to yourself) "what an idiot" followed by "bless her heart" and move on. Works for us in the South!
But seriously… Thanks for having us and best of luck Chris, Erin and Wesley!
Bye, bye birdie,

credit to HGTV, David Land, Matthew Gleason