Hi everyone, I'm Virginia! Like Erin, I'm totally obsessed with turquoise. I'm a new homeowner in Seattle who's still in the "paranoid and broke" phase, but I was determined to create a soothing space to meet with clients now that I finally have a home office.



Isn't the chair darling? It's from Pottery Barn Teen! I love how it complements the wall color… which is actually SEVEN different turquoises mixed together, free from a local paint drive, and I only paid $15 for painting supplies. That made me way more willing to take a risk by putting a very bold shade on the walls.

I'm probably a bit geekier than most of the amazing interior designers Erin features. I have a home business offering online dating consultations, and I do a lot of translation, writing, editing, and freelance work for tech and video game companies. I have like seven different blogs (OK, technically five), and I'm always working on nerdy side projects like a podcast, an iPhone app and an eBook about online dating. But I like to think I'm a bit more design- and décor-minded than your average technophile!


Yep, I even buy turquoise-colored tech accessories whenever possible. I couldn't find an iPad smart cover in a satisfactory shade of cerulean, so I bought a cream leather case and dyed it using Rit Aquamarine. My hunger for Caribbean tones will not be denied! Plus I use my tech regularly and it's always visible, so it might as well look awesome, right?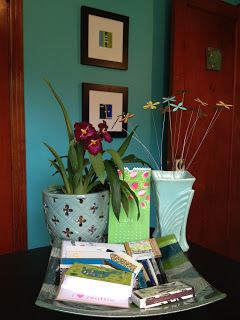 Friends and relatives definitely choose gifts that enable my turquoise obsession, and I occasionally splurge on affordable bits and baubles from local artists. (A couple of these paintings were even done by my craftier friends.)

And as you can tell, I adore houseplants—I seem to be collecting turquoise vases and flower pots in cute, eye-catching designs and textures, and I have a particular affinity for orchids. Lots of plants make my office feel like a healthier little space when I'm holed away in here for twelve-hour stretches.


I'm also kind of a stationery junkie; I like keeping a tray of cute cards, stamps, pens, wax and seals on hand so I can write proper old-fashioned thank-you notes and such. (I love looking at the fancy cards I buy, and having them on display helps me remember to actually send them.) I save old cards and calendars to create DIY backgrounds, like this little owl.


My biggest design challenges in this tiny space are managing cables, toeing the line between beautiful and ergonomically practical, and of course, keeping the clutter at bay. The corporate eyesore I can't get around is my sit/stand GeekDesk—a necessary evil since I need to type comfortably for long periods of time. Standing desks are becoming more and more popular for health reasons, but I sure wish they made 'em prettier. Maybe someday I'll replace the top with a gorgeous antique door that has a bit more character, or wallpaper the top of this one in a fun pattern. Does anyone have an attractive standing desk solution in their home or office? How about a magical formula for minimizing cables?


Oh, and I can't figure out what to do about the floor or the sad windows! Yes, I admit it, I still have those horrible stock beige metal blinds on there. What a faux pas. It's because I can't decide on a good window treatment option! Sheer gauzy whites, a bold patterned pop, or what? Corner windows are hard! I also need a cute anti-fatigue mat for when I use my desk as a standing workstation. Or, I could get a bold rug with a cushy pad underneath it. Decisions, decisions… Erin features so many gorgeous polished spaces, I'm kind of amazed with my own restraint since I haven't run out and bought every rug and pair of curtains I see featured here. Don't even get me started on lighting.

What do you think, HoT readers? Should I focus on the floor or the windows when I go for my next office upgrade? Will anything patterned compete too much with that busy desk chair? I'd love your input on how I can improve my turquoise on a budget. Thanks for letting me share my humble little office with you!

-Virginia

Artsy links: