I'm so excited to have Lindsey Bonnice of Live Sweet Photography on today as a guest blogger! You may remember her (and her super adorable daughter and piggy!) from their fabulous turquoise kitchen! I knew you guys would adore her cute loft area that she just finished decorating too–see below for her big reveal!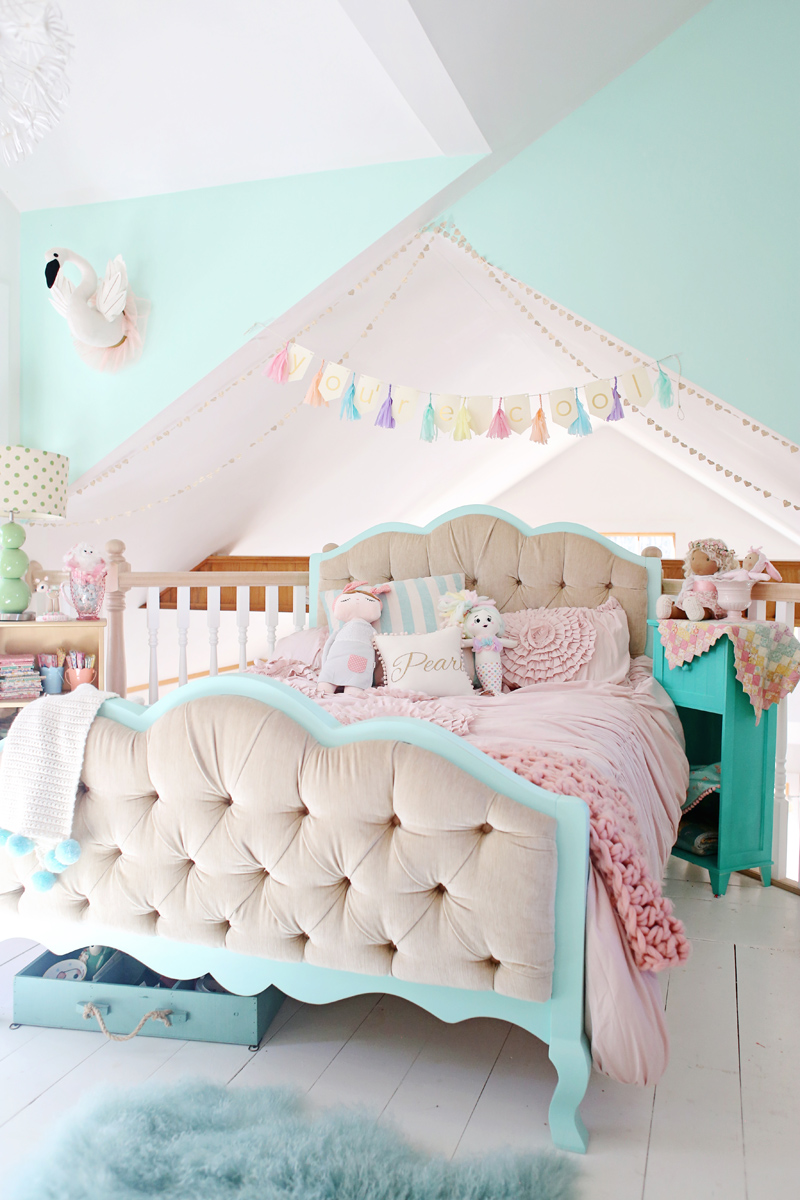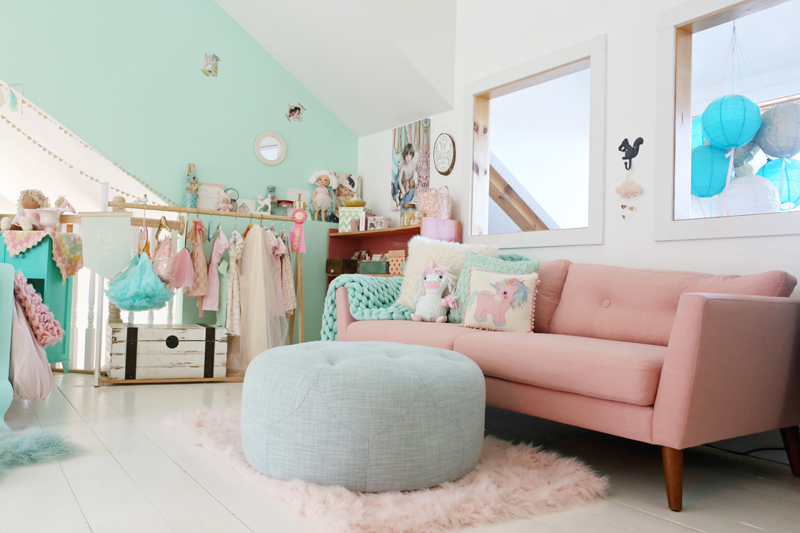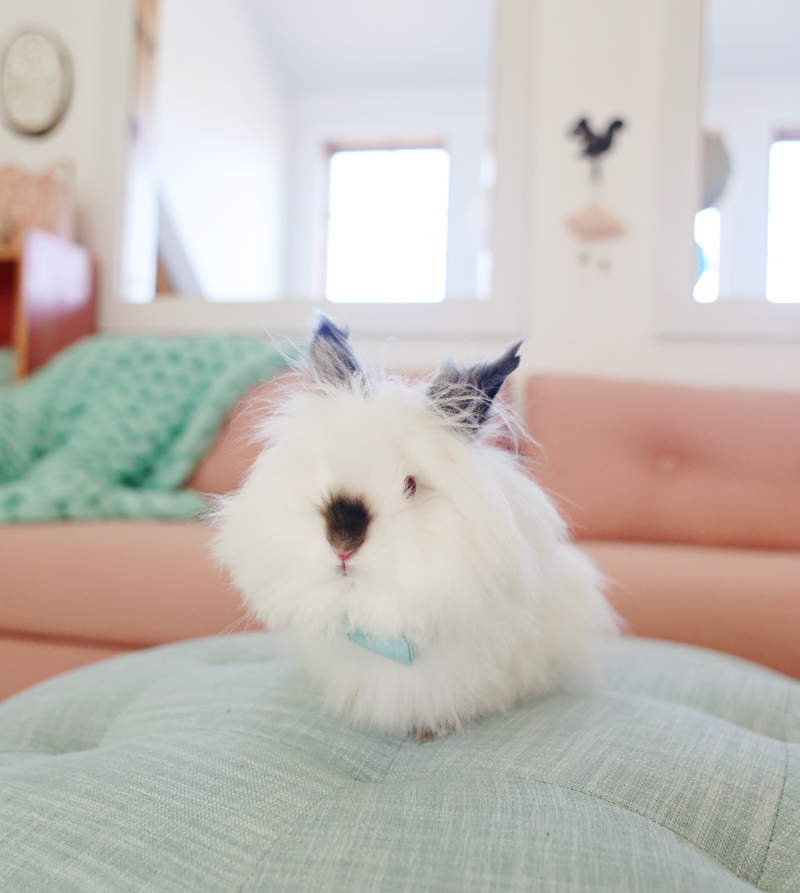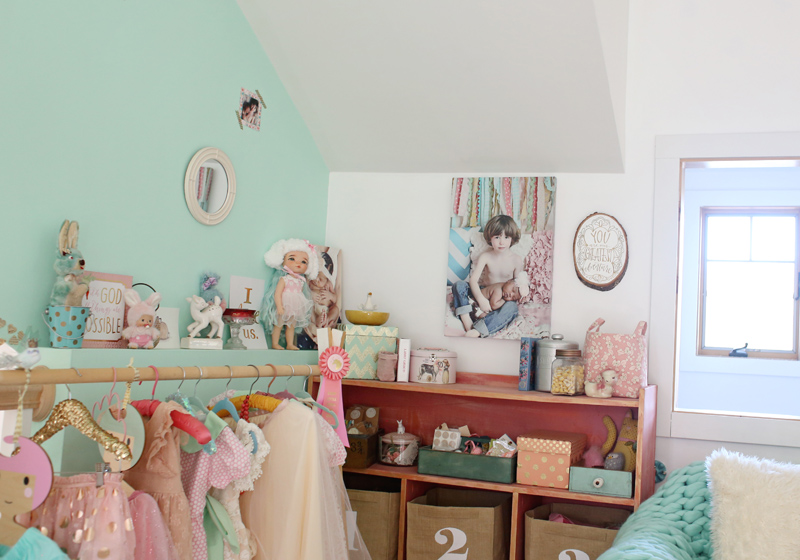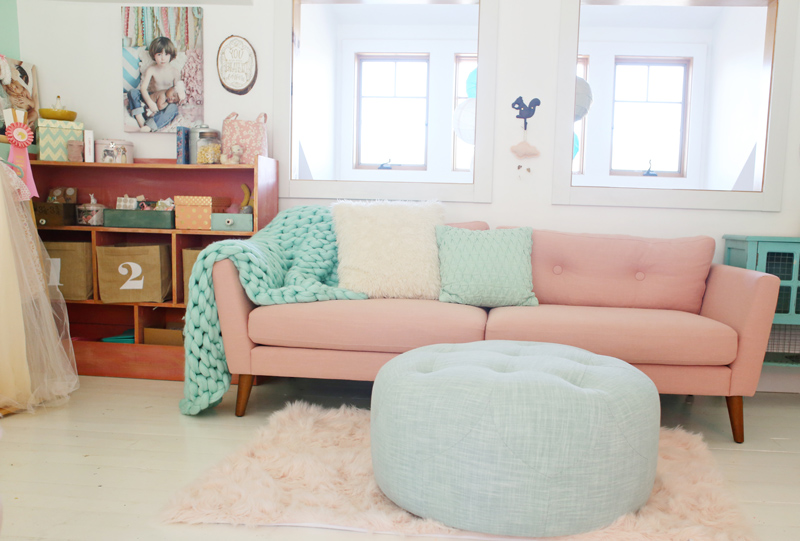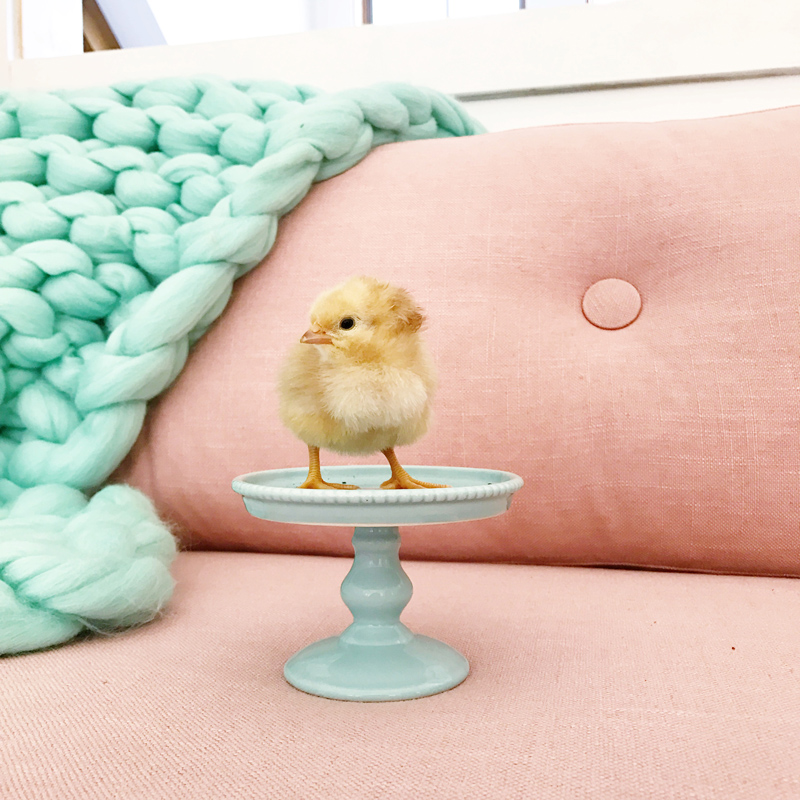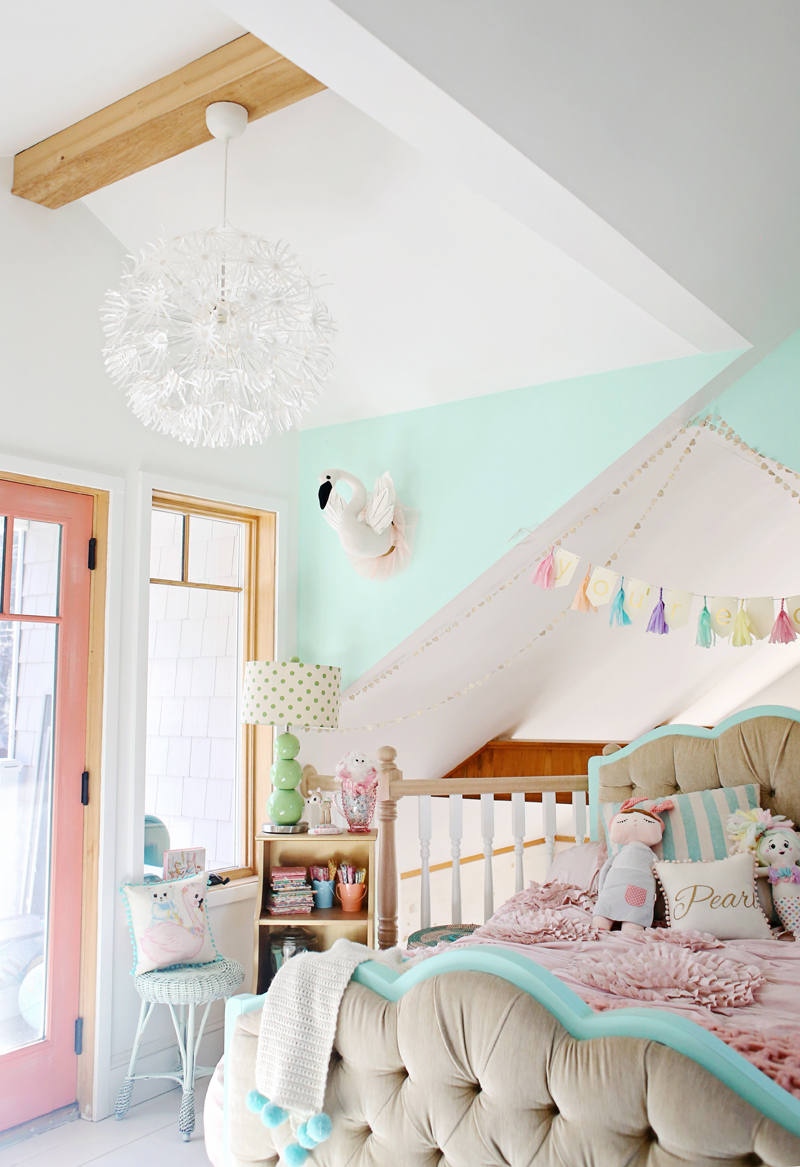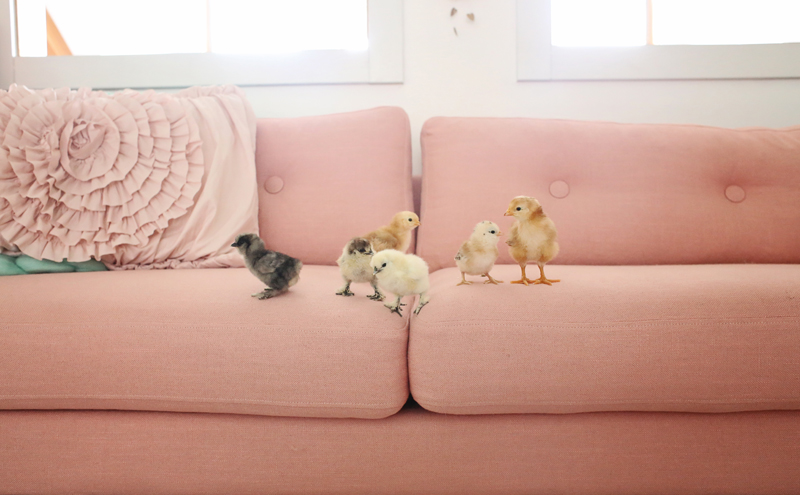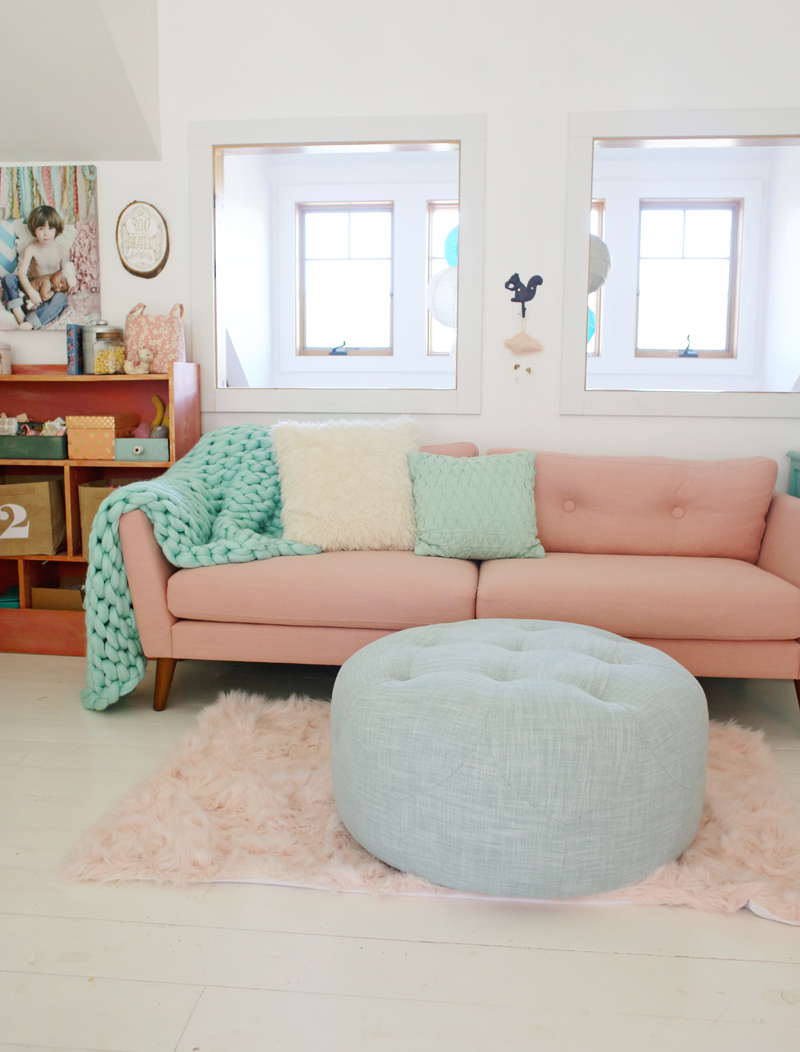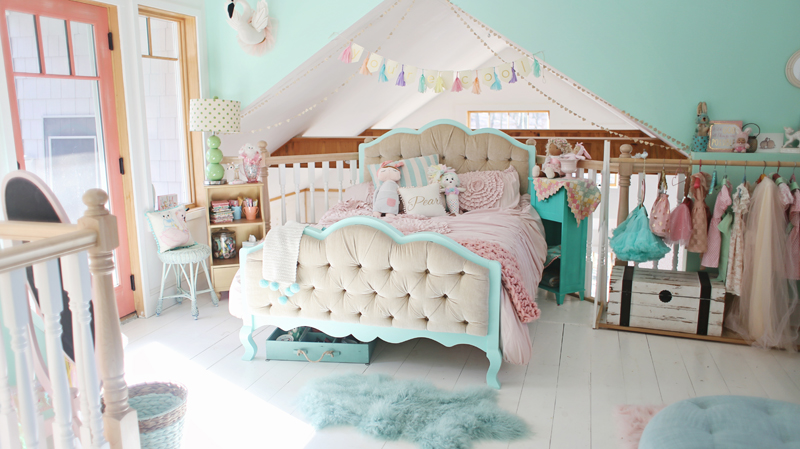 Hi everyone! I'm Lindsey from Live Sweet! I have been having so much fun working on our sweet little guest room, slumber party, shooting space up in our loft! This loft area is one of my favorite spots in the house but we weren't hardly using it so I decided to give it a little facelift and look at how sweet it turned out!! Since it's not a main living space I've had to opportunity to go overboard in the cute decorating and making it as "me" as I want. That means lots of pillows, ruffles, pinks, mints, dolls and anything else cute I can find! My favorite addition to the space is this gorgeous mid century EMIL Quartz Rose sofa from Article! I have always dreamt of having a pink sofa and now my dreams have come true! It's so feminine with its angled legs and classic button-tufting but also so sweet and comfortable, the perfect spot for me to sit and work or cuddle up with my honeys.
I've been slowly collecting vintage vases and favorite prints and other decor items to decorate this space. I love how each piece has a story and means something special to me and my family. When I decorate I not only want things to be functional and pretty but I also want a room to make me feel happy when I enter it and this room certainly brings a smile to my face! It's super eclectic with things varying from extremely vintage to extremely modern which makes for a lot of fun. We also added the TIMPANI Ice Aqua ottoman by Article which is an amazing pale aqua color and is perfect for putting our feet up on or using as extra seating or as a makeshift coffee table. I love furniture that serves many purposes and looks good while doing it.
I created this entire space to be very multi-functional and it has already served us well. Guests can stay up here and have a little privacy away from the bustle of the home. The kids and I love to have slumber parties up here on special nights and of course it's the perfect spot for photographing all sorts of styled shoots. I also envision me having business meetings in this sweet dreamy space. I feel like when I really put myself into a space and let my creativity run wild is when a room really comes to life and turns out just right!
I hope you have loved taking a peek into our dreamy loft space and that it inspires you to put more of yourself into the next room you decorate!
XO Lindsey
www.livesweetblog.com
www.instagram.com/livesweetphotography/

Love turquoise? Visit my shopping blog Everything Turquoise…updated several times throughout the day! Check out Decor by Color for even more color-themed shopping!