Hello, and greetings from the beautiful southeast coast of NC! I am Angela Crittenden, the owner and lead designer of Teal Interior Design. I have followed Erin on her blogging and mommy journeys for years now and am so privileged to be included in the wonderful arena of designers she has featured.
Here at Teal, we take pride in creating beautiful spaces for our clients that are timelessly chic and present a fresh take on modern glamour. Our company is based in beautiful North Carolina with two locations – one in Raleigh and the second in Wilmington. The business name is an acronym for our designers and four-legged office managers: T – Tess the Golden Retriever, E – Elizabeth our main designer in Raleigh, A – Angela (me!) designing out of Wilmington, and L – Lila the Dalmatian. It just so happens we also share the same love for our color-namesake Teal as our friends here at House of Turquoise! I couldn't think of a more perfect place to share some of our projects!
Taking inspiration from life here on the coast, we love to incorporate an array of teal and turquoise accents in our designs. This positive palette provides a multitude of auras ranging from the fun and energetic to the the peacefully serene. It always lends itself beautifully to the coastal lifestyle many of our clients lead. Having a 2 year old, 6 month old and 2 dogs the performance of a space is just as important as the look. Sunbrella fabrics are used in most all my projects. I'll admit, there's nothing quite like being fortunate enough to have the shimmering blue ocean as a job site backdrop, of course we have to think about the sand and other elements coming inside, too.
Along with creating the perfect home atmosphere, our goal is to always pay attention to details! The small touches are really the transforming magic that bring a room to completion. I tend to focus on words such as balance, scale, and visual weight with my clients. These elements, along with plenty of others, are great guidelines when putting together a space. My best projects are when our clients work with us and lend their trust and honesty to the process, we love to approach projects together. The following are some of the visions we've been able to see to completion using these steps and always just the right touch of turquoise!
For the Lancelot project below, we balanced our use of teal throughout the client's home by strategically placing it on the floors, walls, and accessories. This combined with the correct scale of pattern creates a harmonious feel throughout the space.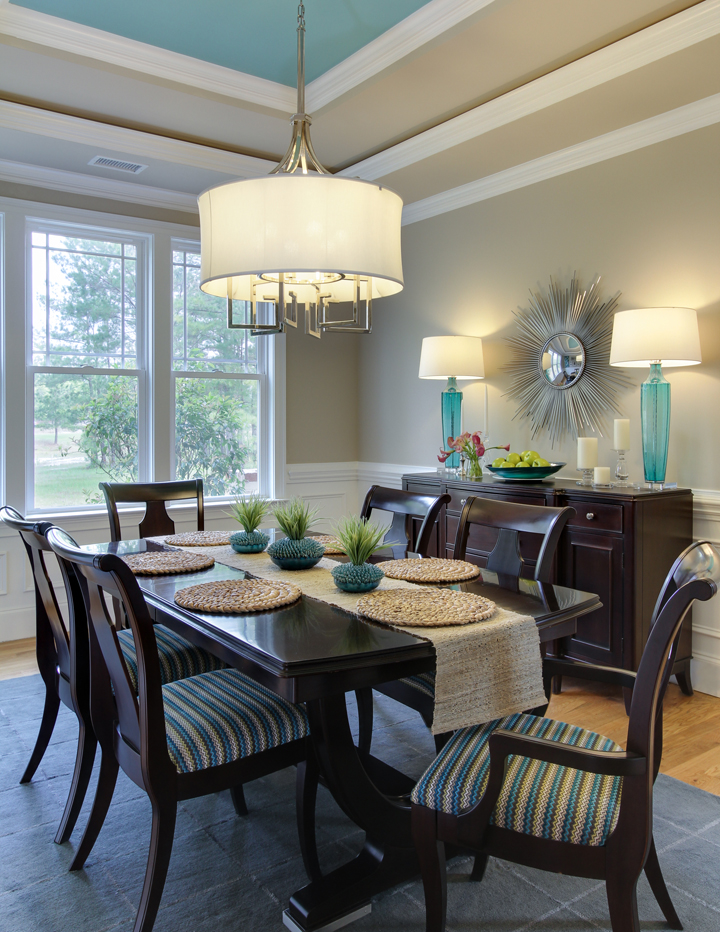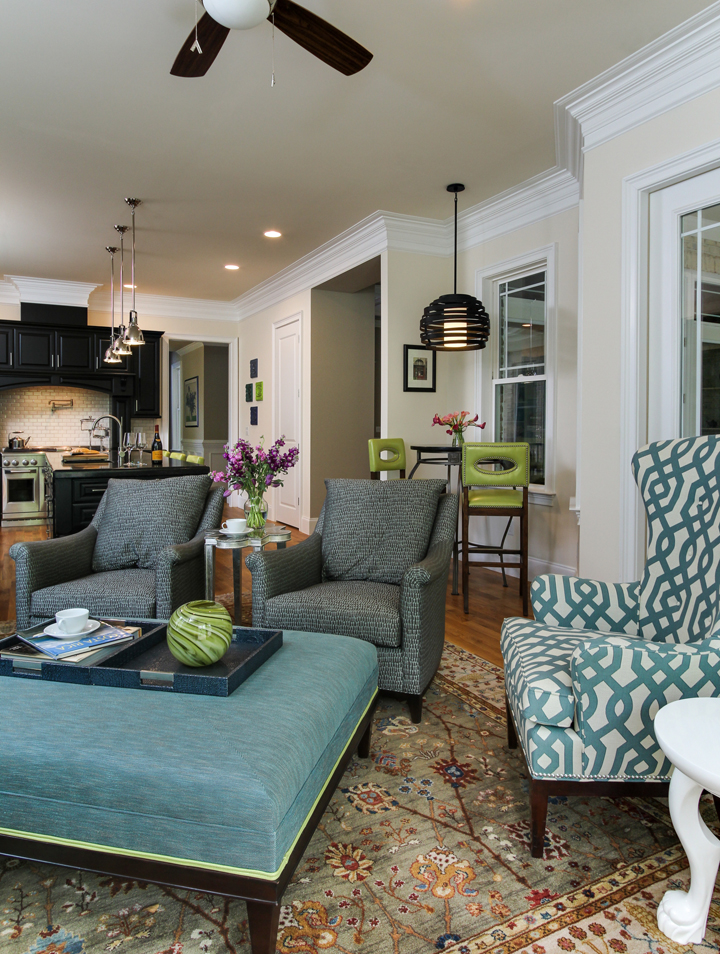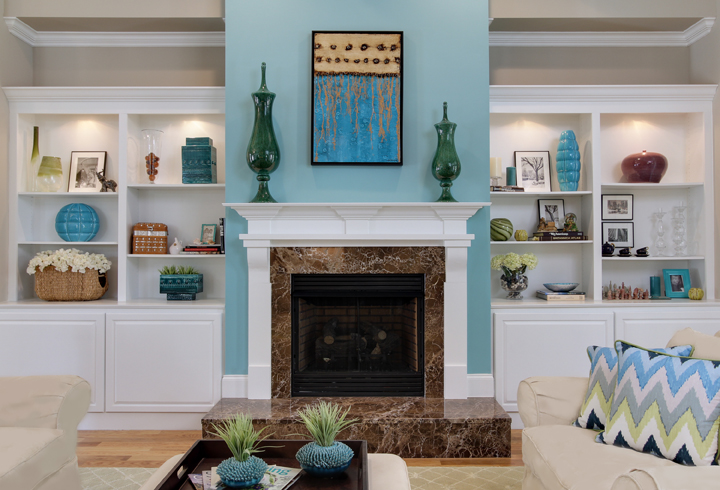 Our Bimini Townes project offers a softer approach to the aqua color palette. Gentle curves and subtle yet rich textures lend themselves perfectly to a soft, serene atmosphere. I'd enjoy a relaxing breakfast and coffee break here any morning!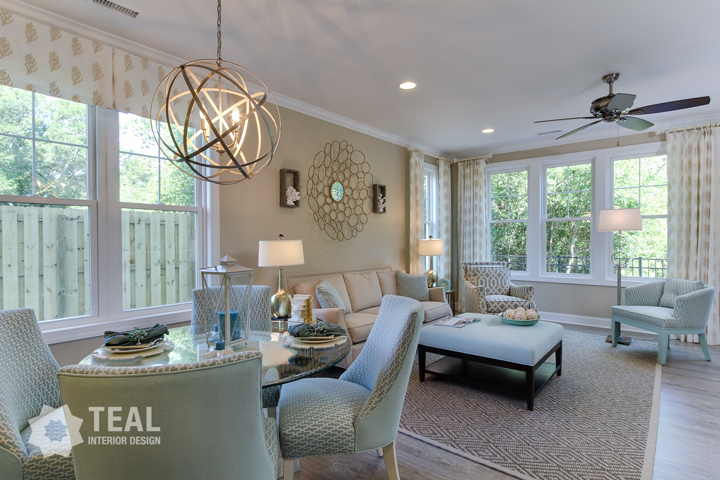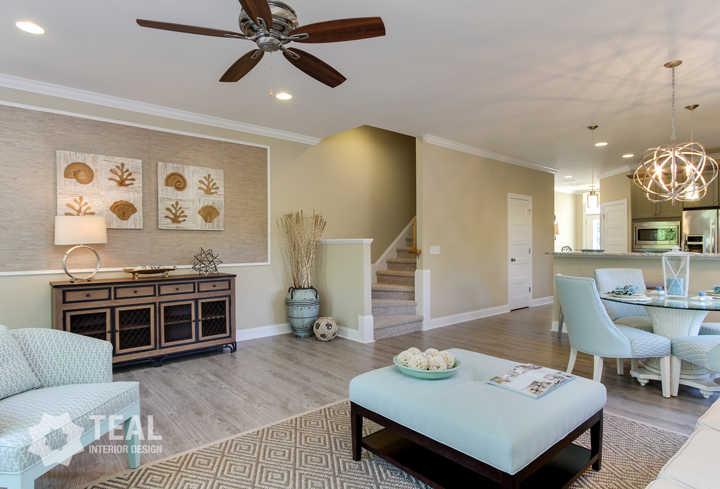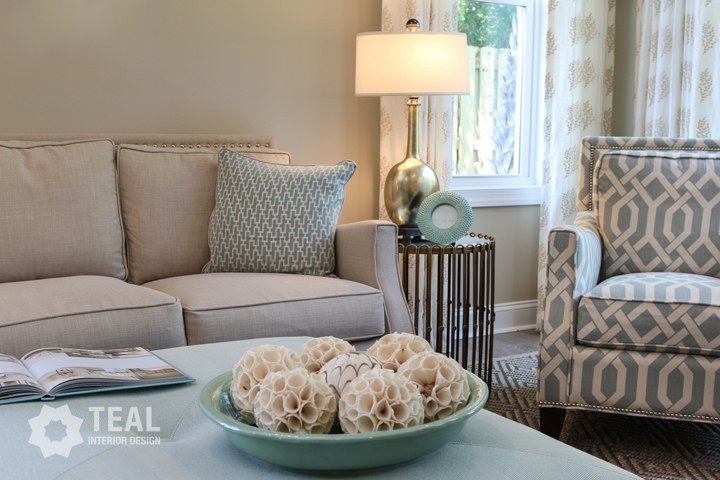 Our Wrightsville Beach photos are fun, fun, fun! The living room provides this lucky client with a fresh, ready for the beach feeling, while the bedroom opens to a calm and relaxing seaside retreat.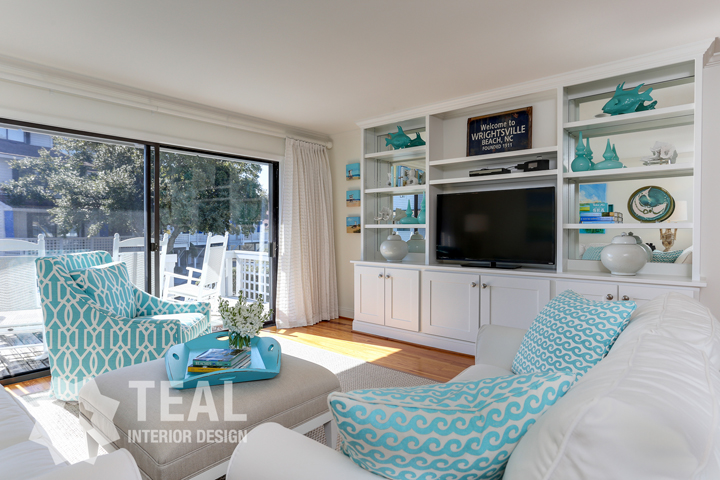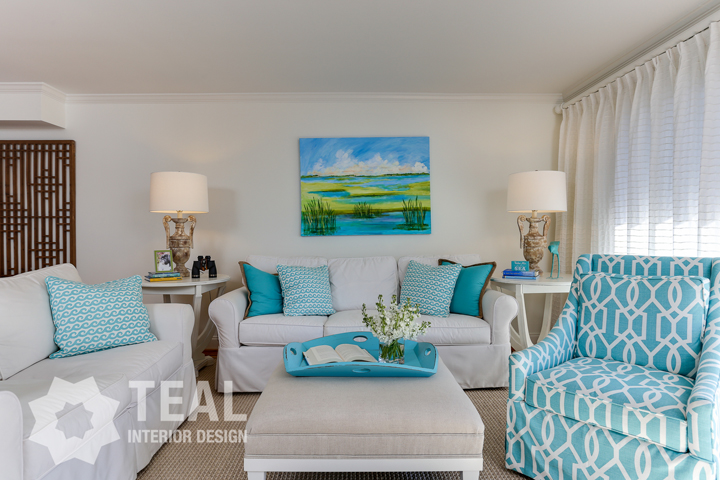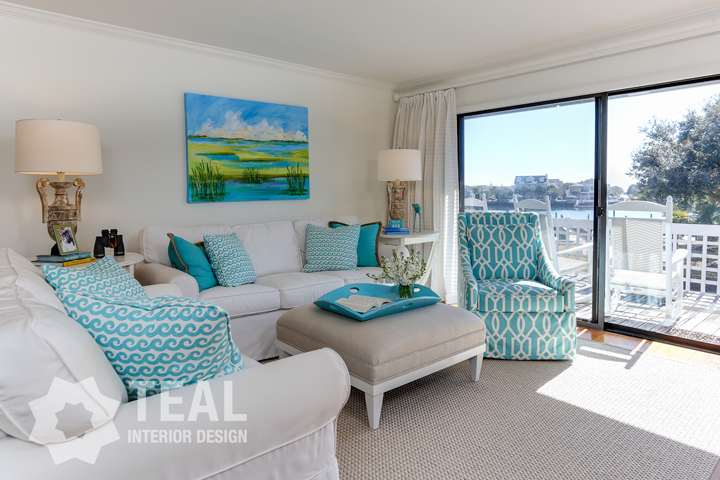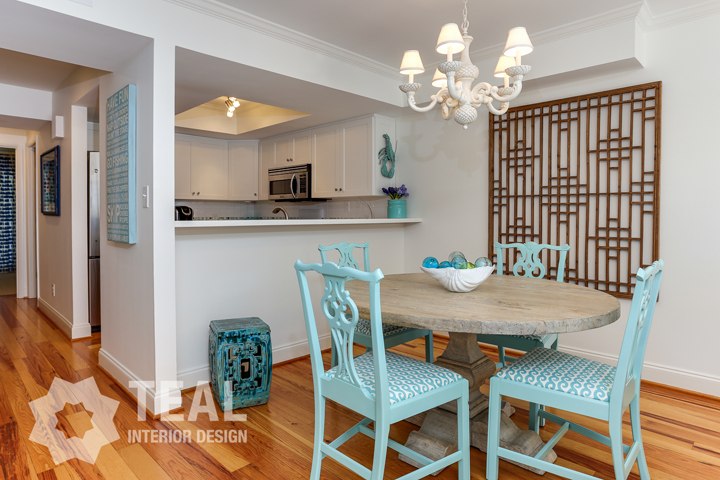 Again, many thanks to Erin for this opportunity to post! We hope you have enjoyed a peek into our world as much as we have enjoyed sharing! Our full portfolio of projects (and the occasional puppy pic) can be viewed on our website, Houzz, or Instagram. We'd love to hear from you!
All the best,
Angela

Love turquoise? Visit my shopping blog Everything Turquoise…updated several times throughout the day! Check out Decor by Color for even more color-themed shopping!