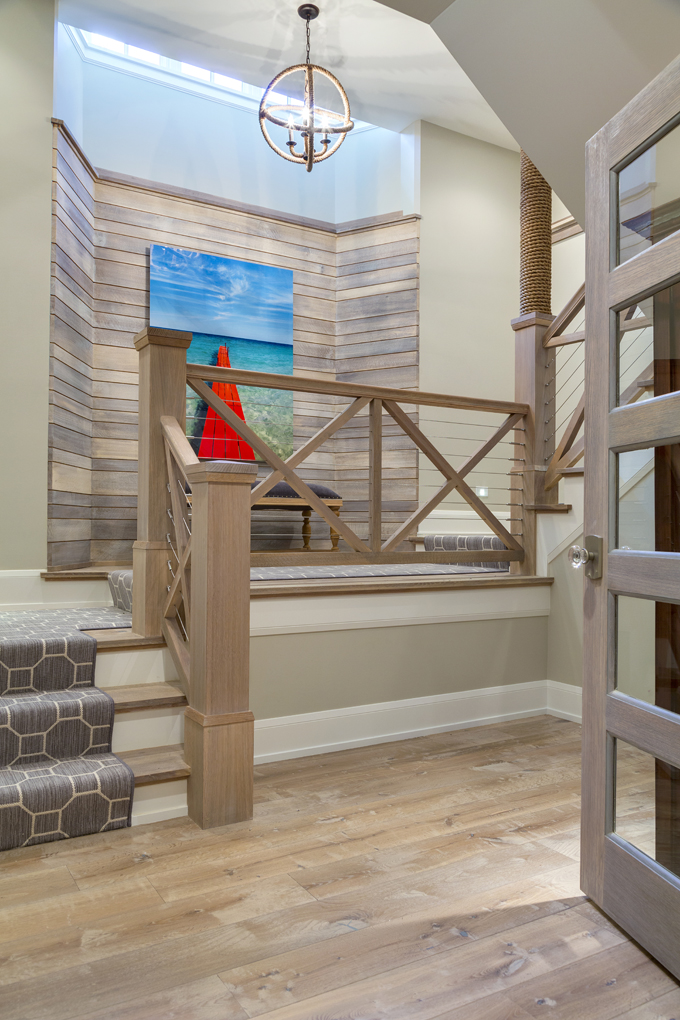 Troy Thies Photography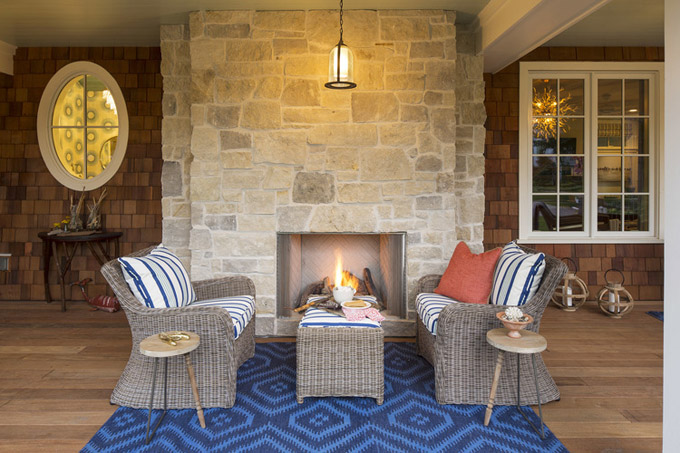 Troy Thies Photography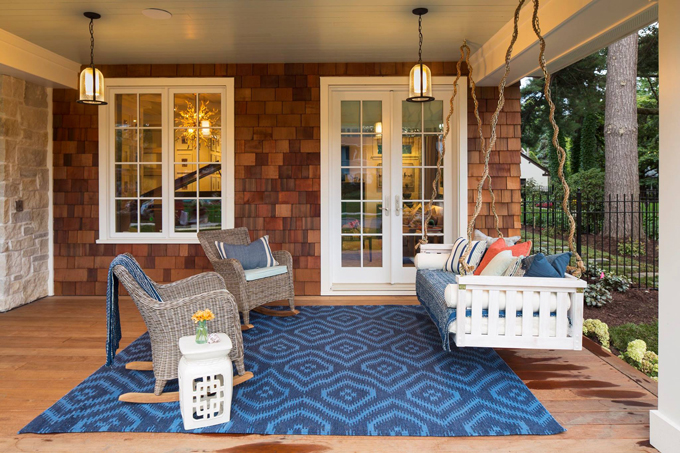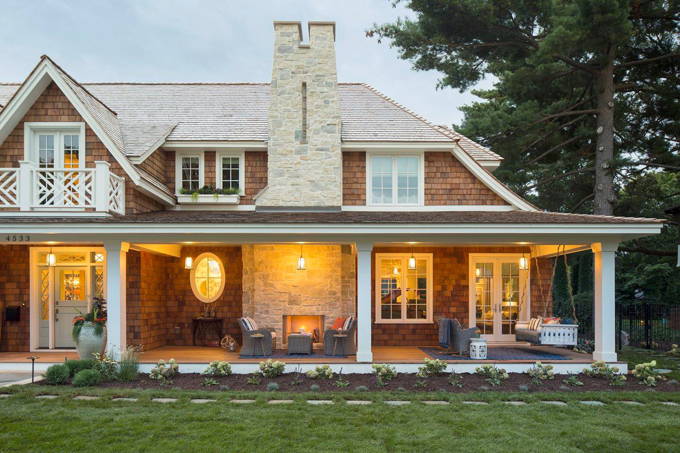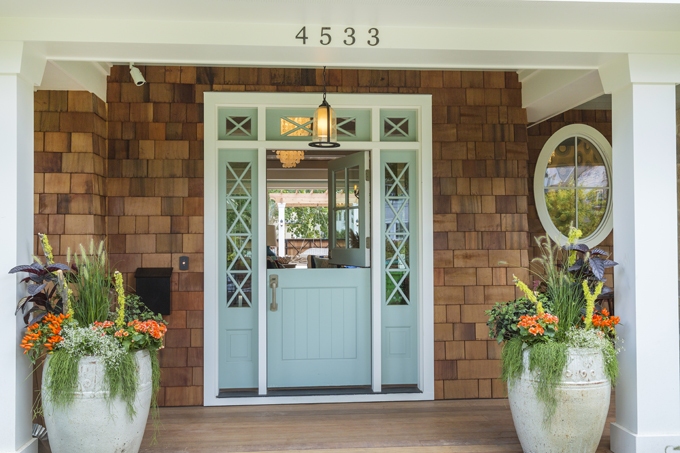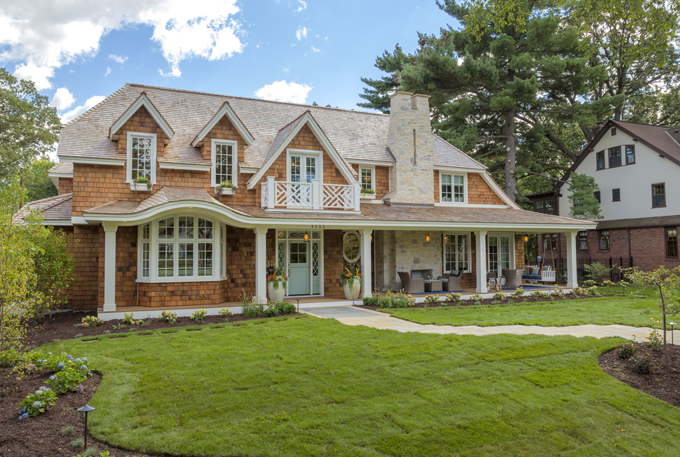 We've made it to the end of our three-day tour of this amazing coastal-inspired home in Minneapolis, Minnesota! The Mpls.St.Paul Magazine ASID MN 2015 Showcase Home was a collaboration of 27 talented interior designers, Great Neighborhood Homes, and the Lacek Family–self-described sun and water people who wanted their new home to make them feel like they were on vacation all year round!
No doubt the master bedroom (including his-and-hers master baths and closets!) would completely fulfill that requirement! Using soothing tones and cozy textures, designers Christine Frisk, Jessica Bliven, Kelsey Lahr and Angel Tilsen of InUnison Design created a peaceful retreat for the homeowners Susan and Mark to relax, read, enjoy a fire or a movie! Definitely a dream space! I especially loved the watercolor-inspired fabric from Pindler & Pindler on the pillow shams!
I don't ever recall seeing a home with two fabulous master bathrooms, but now I'm thinking that's exactly what I need! Karen McKay of Gunkelmans Interior Design created the spa-like bath and closet for Susan, while Codie Donahue designed Mark's more masculine bathroom and closet. Susan shared with me that her husband isn't the tidiest person around, so she was really looking forward to having her own space after 16 years of sharing a bath! See that sliding barn door? That closes off his area…and his mess!
The sweet girl's room belongs to the couple's twelve-year-old daughter and was designed by Christine Happel and Elsa Dean of Ethan Allen. Ally surprised the designers with her sophisticated taste, requesting a light and bright look with cooler neutrals and pops of color. I love the color palette they came up with! The window seat framed by the built-in bookcases is my favorite feature though! (Not shown is their other daughter Emmy's room, see a peek of that here!)
Next we head to the basement, one of my absolute favorite areas of the home! Designed by Lori Berg, Jennifer Ball and Jane Strom of Gabberts to be a space purely for entertainment, the lower level is filled with coastal chic influences! The turquoise and blue palette was stunning in person, and the furniture so comfortable (especially that gorgeous sectional!), my friend Michele and I did not want to leave! Right down the hall from the family room was a fun little guestroom full of travel-related books, artwork and postcards. A place to reminisce about past vacations and plan future ones too! I loved the colors and textures in there!
Lastly, no coastal-inspired home would be complete without a front porch! Interior designers Rob Edman and Laura Engen put together a beautiful combination outdoor fabrics in blues and white and paired them with durable wicker furniture to withstand the elements. Love that cozy porch swing so much! And how amazing would it be to have a fireplace right on the porch?! Those of us in Minnesota would consider that huge bonus!
So that's it! For more great photos, head over to Michele Skinner's blog. You can also read an article and see a video about the showcase home here. If you have any source questions, just leave me a comment!
Be sure to see Part One and Part Two of the home tour!
Love turquoise? Visit my shopping blog Everything Turquoise…updated several times throughout the day! Check out Decor by Color for even more color-themed shopping!