Hello friends,
Hope this blog post finds you all doing well and taking a few minutes to relax and spend some quality "me" time with House of Turquoise. I know for me, House of Turquoise always does the trick when I need a little R&R and inspiration.
I am Kim Hoegger of Kim Hoegger Home, a wife to a wonderful man, a mother of four young adults, a designer, blogger and antique collector. I am crazy busy keeping up with my hubby and my kids most of the time but when I find some down time I love designing gorgeous, family centered homes for my clients, teaching DIY workshops at my studio, blogging about design, glorious food and all things vintage.(I know…I am crazy busy and I love it!)
As you can imagine, when Erin asked if I would be a guest blogger on House of Turquoise, I was thrilled and could hardly wait to get started on a post for all of you! A BIG HUG and thank you to Erin for this wonderful opportunity to share with all of you a little piece of my world at Kim Hoegger Home.
Erin and I met a year ago at Blogfest NYC in the cafe at the Flatiron Hotel. We were both ordering bagels and awaiting our exciting day to begin with Blogfest. We had a great visit and so much fun talking about blogging and the world of interior design and the bagels were amazing! Thanks to that chance meeting, we have been great friends ever since and I always look forward to the beautiful images she shares everyday on House of Turquoise.
Today, I hope to inspire you and take you away for a few minutes to my lake house which has recently been completed. My hubby and I had so much fun working on it (still working on it, lol) and are loving the way the rooms are coming together. Hope you enjoy the images!
Custom made driftwood sculpture(love it!) and a Ralph Lauren Home settee…LOVE!
The Sunroom…a perfect view, serenity at it's best. Prior to drapery 🙂 always a work in progress!
My amazing kitchen! Built for many cooks, the kitchen houses two farmhouse sinks and a separate beverage station. Very large family 🙂
As you can imagine…this is the favorite gathering place in the house! And these barstools make it the most comfortable place in the house.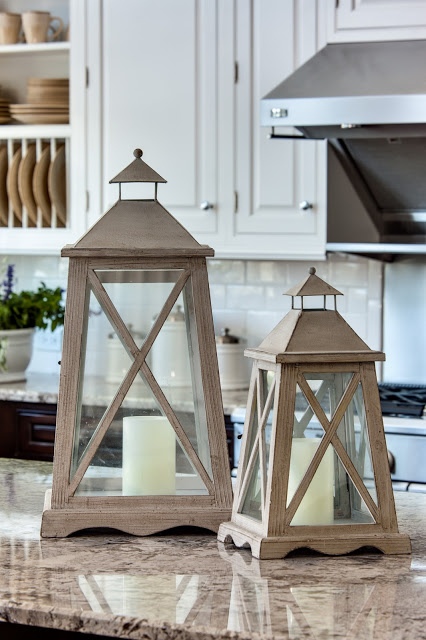 Dining room seats fourteen and most of the time we need more seating; thank goodness for outdoor dining! Custom dining chairs available through
Kim Hoegger Home
.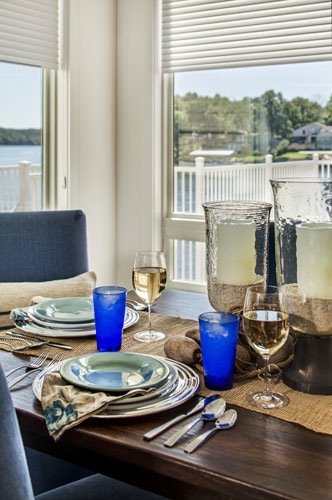 Sunrise to Sunset views from every seat in the house!
The Master Bedroom…not quite finished but getting there.
Pottery Barn
linens for extra easy care and French Side chests. So far, so good!
My daughter's favorite guest room probably because her favorite color is apple green.
Don't you just LOVE the shabby French shutters? An absolutely amazing color of blue!
Hope you have enjoyed the tour of my lake house, it's really a special place that we share with family and friends throughout the year. The house will be featured this month Lakeside Living Magazine, in the Fall in Kansas City House & Garden and then next Spring/Summer in a national shelter magazine which shall remain nameless for now. Looking forward to coming back again to share the new images with you.
Have a wonderful day!
Kim
(P.S. Visit Kim over at her blog here!)
Love turquoise? Visit my shopping blog Everything Turquoise…updated several times throughout the day! Check out Decor by Color for even more color-themed shopping!