and I am Honored and tickled teal (tee hee) to be Guest Hosting
the very first blog I ever chose to follow…
and one of my ALL TIME Favorite Blogs and Bloggers (Erin rocks!)
House of Turquoise.
As an aside..and as you know…life can change on a dime,
and yesterday I found myself on a airplane headed to my Dad's ICU bedside
(he is doing better)…
so as I sit here, listening to all the beeps…I will try to distract myself by
taking YOU on a virtual Tour of Turquoise
of My Old Country House, and let the pictures do the talking!!!
that is one of my favorite things about Erin's blog, the photos just make me weak at the knees…time after time after time…
the turquoise takes me DOWN!
I do not have to go far, in my house, to find turquoise…
in fact..it starts at the front door…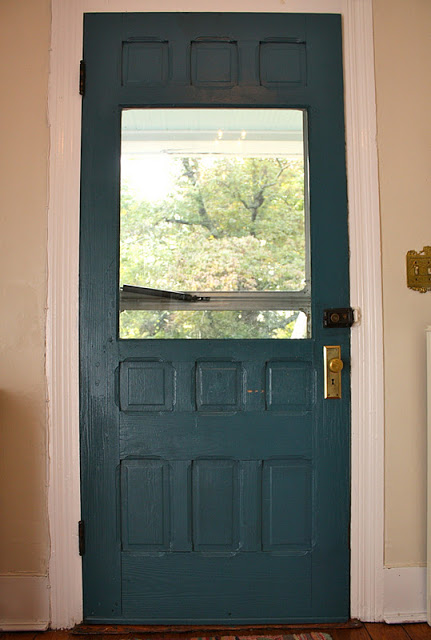 Benjamin Moore
"River Blue"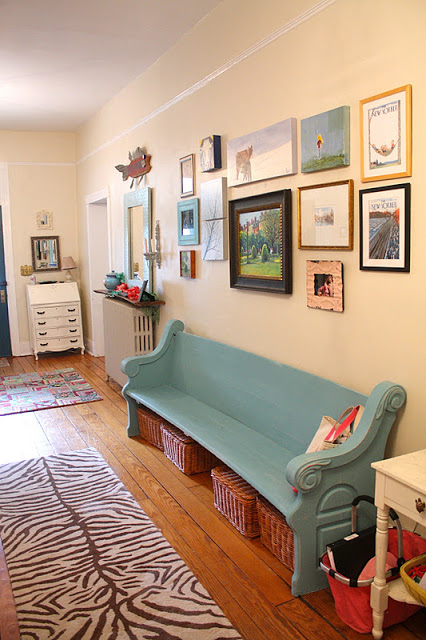 our foyer/entryway doubles as a good old fashioned "Mudroom"
and the focal pint is the first piece of furniture we bought for this house for
$50 – An Old Church Pew – painted Annie Sloan's Chalk Paint – "Provence".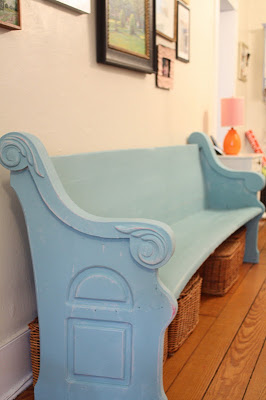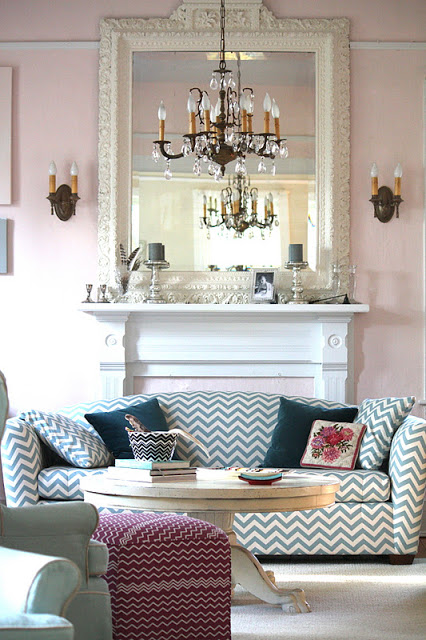 The Living Room is sprinkled with touches of turquoise…the Chevron sofa…
the pillows…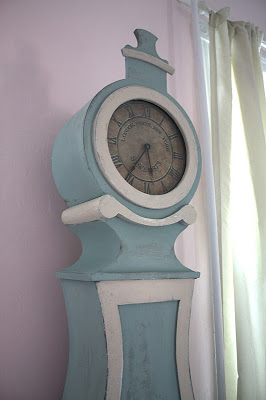 the Swedish Grandfather Clock..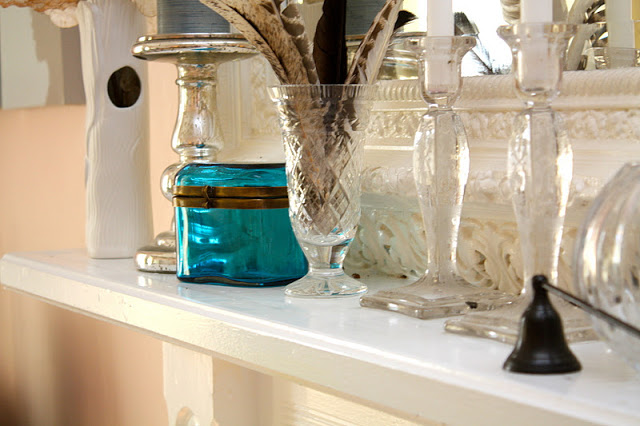 …my French glass doo-dad holder on the mantle….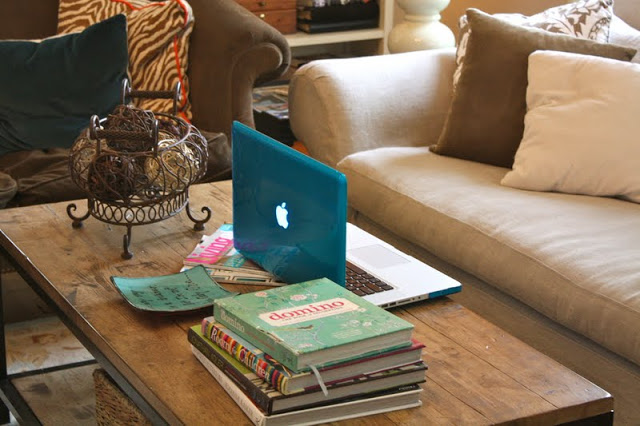 even my lap top cover…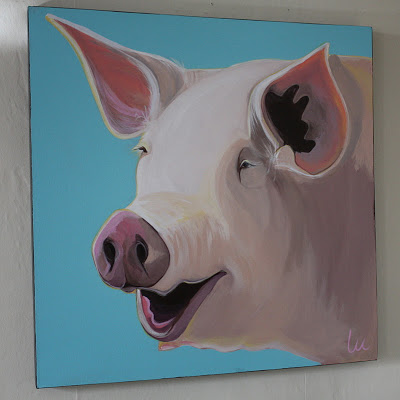 …and "Gardenia"
I use Aqua paint in almost every single one of my paintings…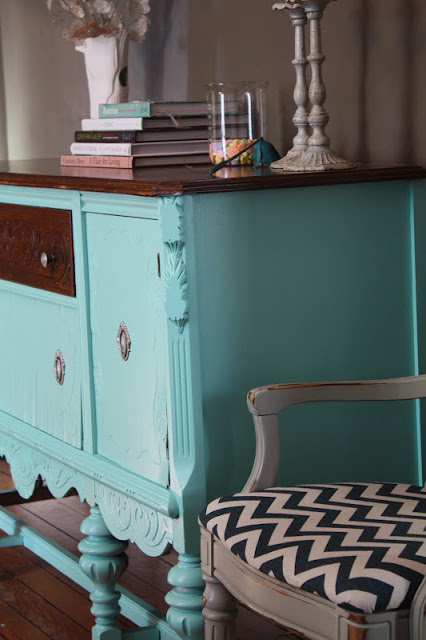 …and last weekend I scored for pocket change
and painted my new Dining Room sideboard
Benjamin Moore's
Shore House Green…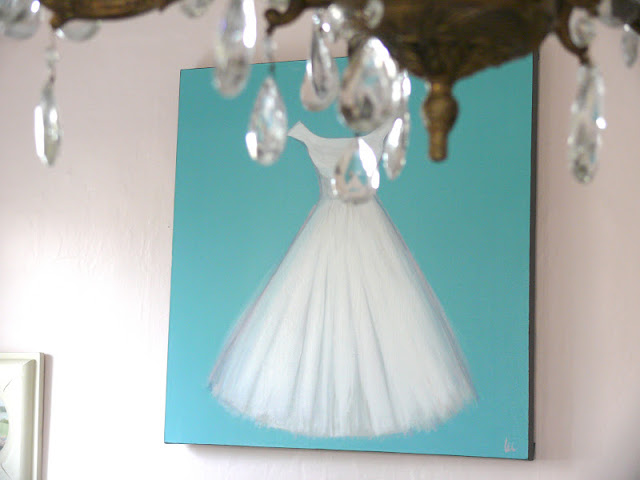 and my most recent painting "The White Dress"
The background is Martha Stewart's "Lagoon"
this color is TO DIE!
…But perhaps my favorite Aqua transformation,
…the room whose makeover made me the happiest…
is the striped Laundry Room…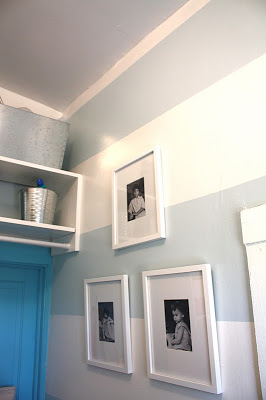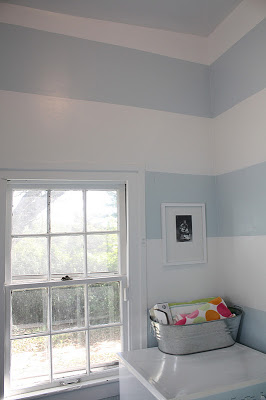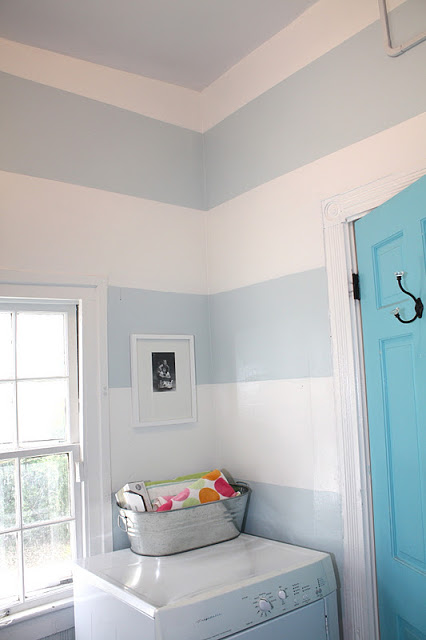 The wall stripes in the Laundry Room are
Benjamin Moore's – "Mountain Peak White", "Ocean Air"
and the Doors are "Fairy Tale Blue"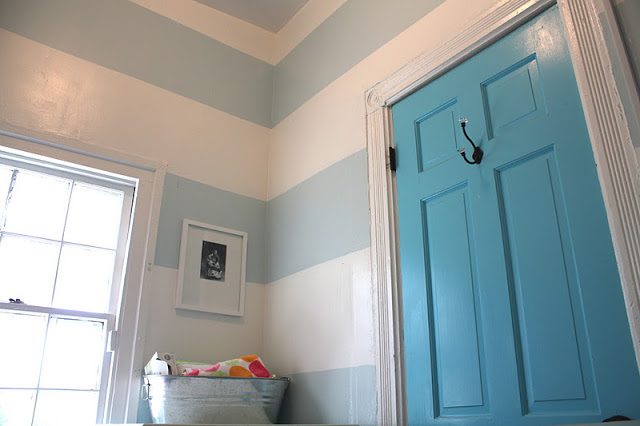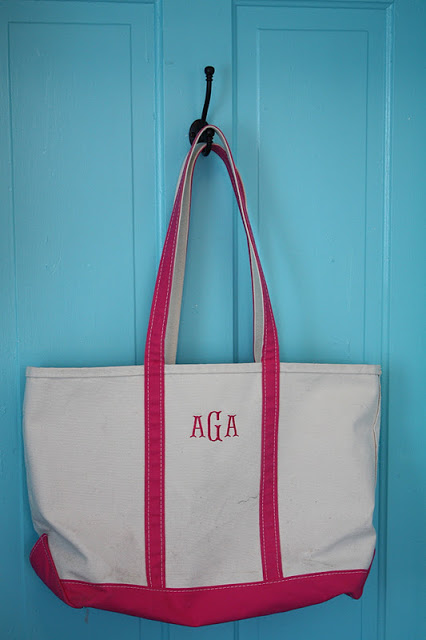 …wanna hear something funny…those aren't even my initials…
I got the tote with it's random monogram
(and about 5 others) for $7.00 at the LLBean Outlet!!!
Thank you Erin for inviting me to be a Guest Blogger on
your wonderful blog and thank you readers for taking my
Tour of Turquoise
and we did not even go upstairs!!!!
If you would like to see more of
stop by anytime!