Hello everyone! My name is Emily and I blog over at Our house now a home where I share all about my home, creating a space that works for my family of 5, and helping others find and create a dream space for their home. I like to celebrate all homes. I enjoy creating new pieces, up-cycling, and anything DIY. I am so excited that Erin is letting me guest post. I have been a fan for a long time and have always wanted to have my home featured on her site. I adore putting the color turquoise in my home, there is pops of it everywhere. I was always nervous to submit my home, but I took the plunge and Erin was amazing and so encouraging. Anyways, lets talk home decor!
I grew up in sunny southern California. I spent my days swimming, boogie boarding. I was barefoot or flip flops, sun kissed skin 365 days a year. Then when I was 18 I moved to Wisconsin to go to school. I met my husband three weeks after moving here, fell in love, got married, bought a house and had three babies. Usual story. Eleven years later we have settled down here in a small town. My husband is a Midwestern boy. He likes fishing, farms, and the country. When we purchased our home and began creating it for our family I wanted to blend the two styles together. Without throwing down and marital squabbles in the aisles of Target over a piece of furniture that only one of us likes. Make it work for him and I as well as our kids, peacefully. That means there is a lot of styles, needs, wants, and function.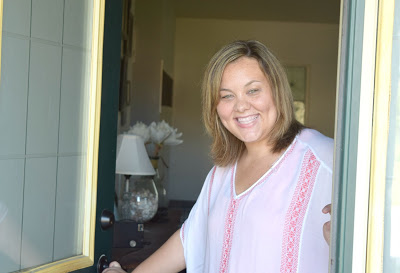 Come on into my home…
If he had it his way we would be living in a log cabin with dark wood furniture everywhere. If I had it my way we would be living in a beach cottage with painted white wood floors. See how the two are differing? I have managed to find the balance and will walk you through some of the elements that make our home work for both styles.
I had to get creative, make things on my own or flip items. creating a home for us meant there is a lot of custom pieces. That is the first and easiest way to blend styles. Finding the right piece in a store can be time consuming and expensive. Working with what you have or redoing something is the budget way of making a dream home work for all dwellers in the dwelling.
There is one thing we both agreed on when we decided to decorate our home. We wanted to make it custom. So adding wood details, new ceiling lights and wood floors was essential. Turning this builders grade, built in the 90's home into a classic but updated version.
Mixing the dark and black hardware with the light walls and white wood brings the two styles together in a way that both flows and compliments each other.
The stone fireplace is not something I would have chosen had I built this house from the ground up. My husband however adores it. This is rustic to the extreme. I softened it up by painting the mantle white.
Creating this shell display and coastal gallery wall took some effort to make it work for both my husband and I. I mean, obviously it is going to scream coastal. It is all about where I grew up and our yearly vacations back to the beach. I struggled with how to bring in some rustic elements to this. Then I found these frames, with the natural wood. They seem to have been picked up off of the forest floor and dusted off. They were just what was needed to make this a place where both of us can feel at home.
Having the dark wood floor be throughout our living area is what sets the room up to be as rustic as possible in this small space.
Wood pallets! You really cannot get more rustic than that. My husband adores everything having to do with wood furniture. This garden bench is all things rustic in the best way. The unfinished edges, uneven lines, exposed nail heads. If my husband could have wood pallet furniture in our whole home he would be so happy. Kids, and comfort can be ignored.
By adding the bright colors on the bench is what makes this stand out and pop. Giving a playful feel to this rustic bench.
Once we were able to blend these two together it has been perfect harmony. When we first began our journey together there was a lot of hodge-podge mixture. We had a bed that appeared to be actual tree trunks. Our room has a definite rustic style. The living room had all white or brightly colored painted furniture. Showing off my coastal side. But, the whole house needs to work together, in style and personally. The people, as well as the home need to flow. After 11 years together we have finally gotten it down. A little him and a little me. With a whole lot of our three kids, two dogs, and the crazy life we lead thrown in.
Thank you so much for sticking around, touring some of my home and getting the story of how I made our home work for us. If you want to follow along with my decorating journey visit me here. I like to incorporate my home and ideas as well as fellow bloggers and readers homes. I hope it becomes a place where all homes can be celebrated! Thank you so much Erin for letting me check off this humble dream of mine to be featured at House of Turquoise!
Love turquoise? Visit my shopping blog Everything Turquoise…updated several times throughout the day! Check out Decor by Color for even more color-themed shopping!