This is Jen Allyson from The Project Girl, I am so excited to be guest blogging here at House of Turquoise. This is such an inspirational blog and I can't believe that my laundry room is now part of it!
My Husband, whom I refer to as "Mr. Project" has been fulfilling all my dreams this past year as he completely gutted and renovated our new home. We've completed so many projects like our Guest Bathroom, Master Bathroom, and biggest of all our Kitchen.
Our most recent project is my new shiny laundry room. When Mr. Project suggested we paint the cabinets blue, I was giddy with anticipation of my new turquoise laundry room. And the final product was even better than I could have imagined.
Our house is 35 years old, and this is the dingy and boring laundry room that we started out with. The floor is kind of charming with the retro hexagons, but the cabinets were cheap and outdated and the whole room just felt dark.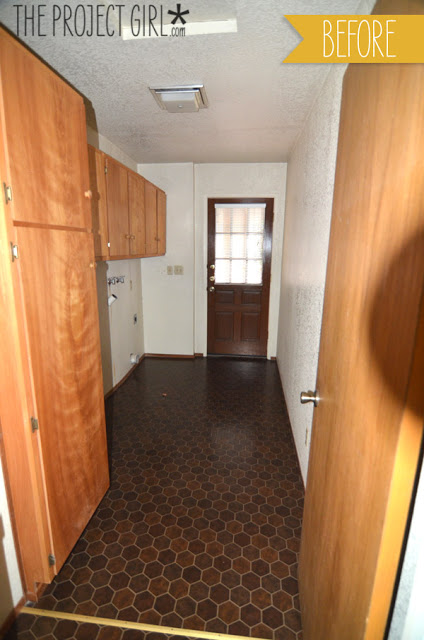 During the main overhaul renovation, we had the walls smoothed and painted SW Sea Salt as well as all the trim and casings updated. But after a year we were itching to gut it too and make a beautiful room.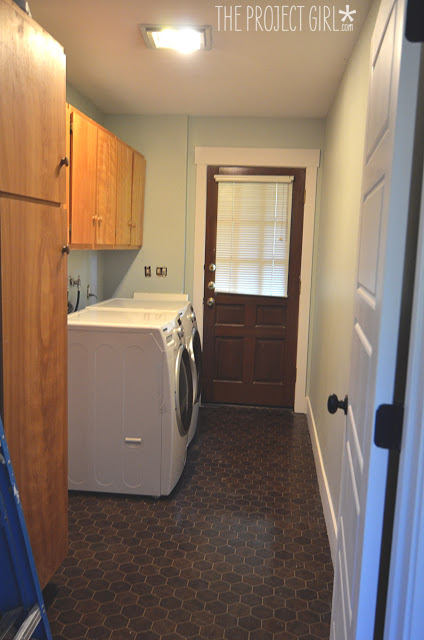 And after we got our hands on it, this is the final product: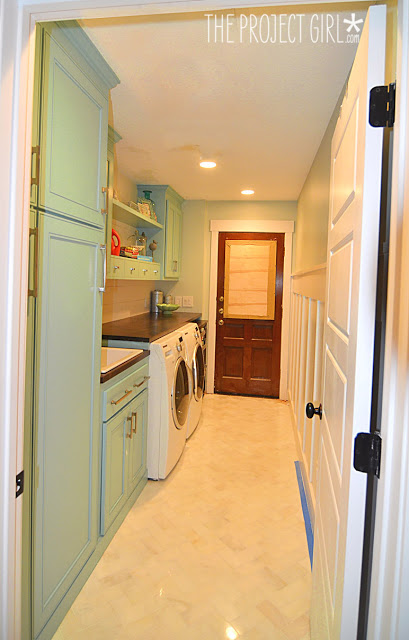 Now if that's not a HUGE transformation, I don't know what is. I know most people might have just painted the old cabinets and put on shiny new hardware, but I'm super lucky because Mr. Project has a wood shop and can build cabinets from scratch.
So knowing that the sky was the limit, I made a plan for my husband to start with. I decided on some open shelving to keep the space airy, added space for a sink, and then optimized the remaining space for storage and a big rolling hamper cart.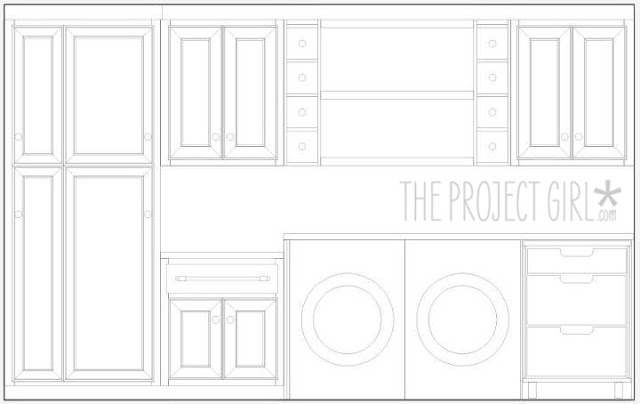 I also knew that I wanted a white marble floor in a herringbone pattern. So we found some affordable marble tile at Home Depot and had our tile guy go for it. It turned out absolutely stunning, and I wish the photos did it justice! Here's a quick close-up: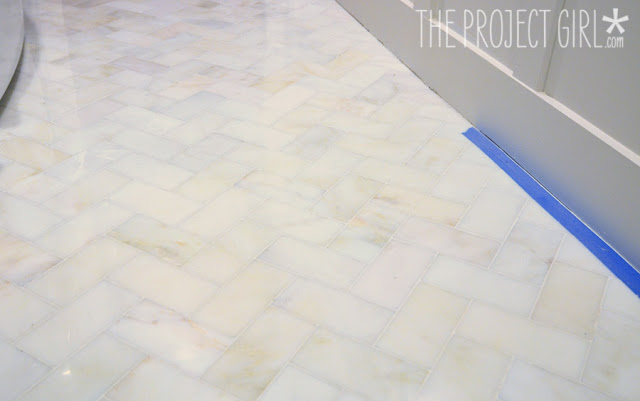 While the floor was being installed, Mr. Project built the new cabinets, doors, and countertops, and then once the floor was done, he expertly installed them all including the shelving and drawers. And when that was done he installed wood planking behind the shelves and as a backsplash.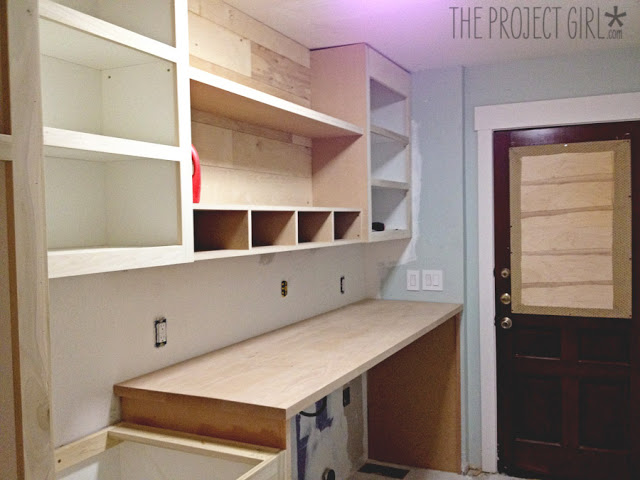 Once everything was installed, he painted the cabinets KM Acapulco Aqua, the backsplash SW Duck White, and stained the alder countertop Minwax Jacobean. It was so much fun to see the space start to come together!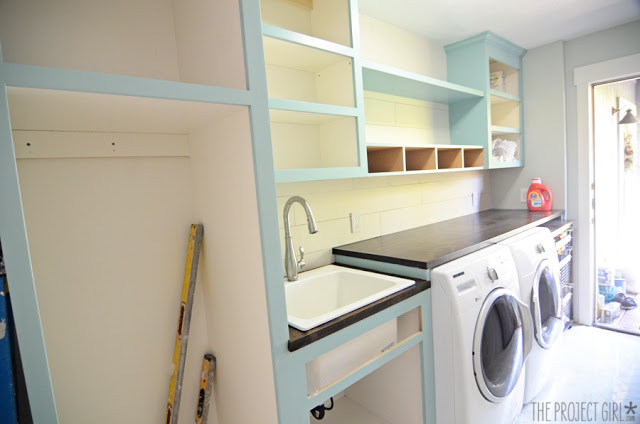 The last part was to hang the painted doors and install the lovely Strand pulls and knobs from Restoration Hardware.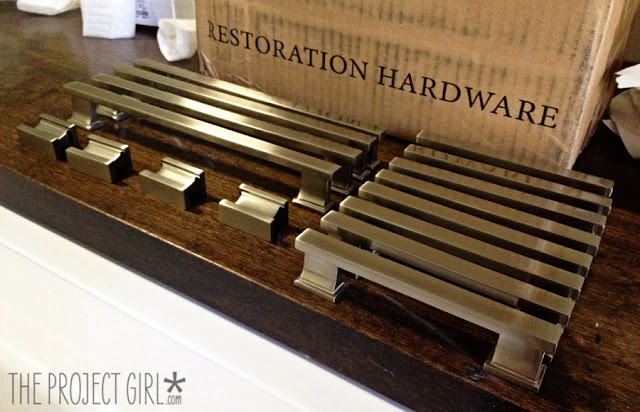 I added some accessories, and our laundry room renovation was complete!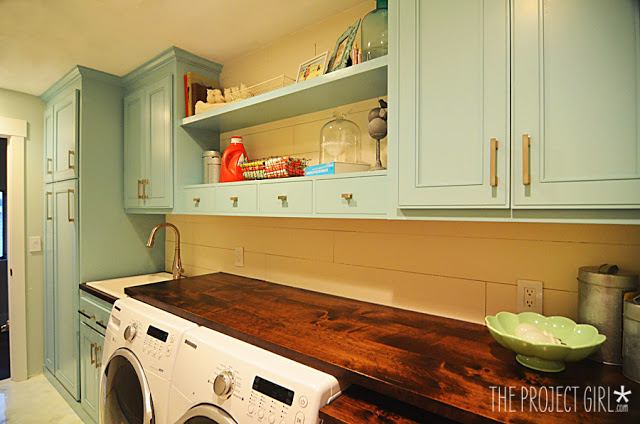 I absolutely adore this room, The turquoise is just the right shade – not to bright, not to dull, and it makes the space such a fun place to be – which is exactly what you want out of a laundry room!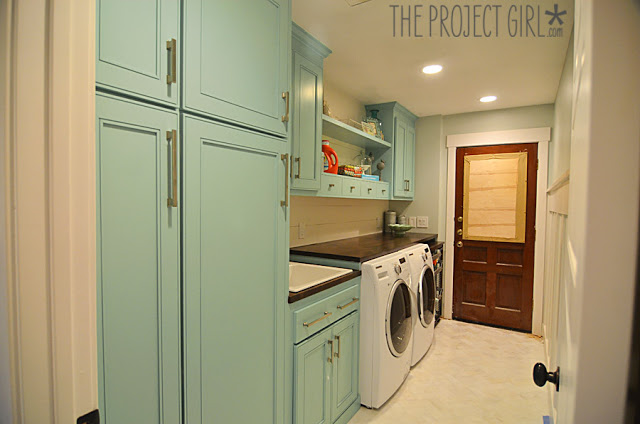 And to spice up the other side of the room we added a board & batten wall, and I'm going to frame some papers that I designed: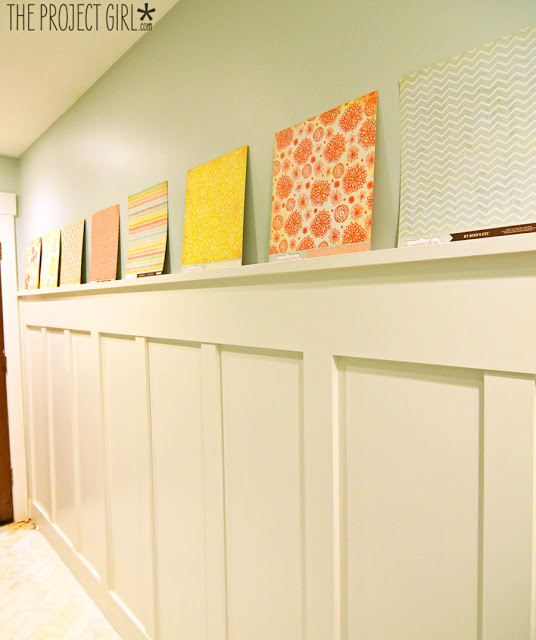 Thanks so much for taking a look at my pretty laundry room!
– Jen Allyson
Love turquoise? Visit my shopping blog Everything Turquoise…updated several times throughout the day! Check out Decor by Color for even more color-themed shopping!