Hello House of Turquoise readers, I'm Renae from Renae Keller Interior Design and author of the blog Burn the Candles, where I write about everything from painting furniture to my love of color. I'm honored to be guest blogging for Erin today, who I sincerely thank for a) allowing me to worm my way into the H. O. T. world, and b) fueling our collective passion for the color turquoise. I, like many of you I'm sure, surround myself with as much turquoise as is socially acceptable–even my logo is turquoise!
Today I'd like to talk a little about wallpaper. It's gotten a bad rap over the years, especially if you've ever tried to remove old wallpaper. How many of you can remember the madness of scrubbing and peeling, sometimes only tiny strips at a time. Infuriating! Well, the wallpaper manufacturers heard our cries for help and today most wallpapers are much more user-friendly. Hanging wallpaper is certainly a craft, however, so I recommend budgeting for a professional to do it for you.
Wallpaper is one of my favorite ways to add color and texture to a space. The color part is obvious, but did you know it can be made of vinyl, bark, silk, grasscloth, magnets, velvet, etc.? Wallpaper can cover all four walls or serve as an accent in a room, like it does in this photo. I chose this wallpaper for the built-in shelving unit because the pattern is a great scale for this area and the pop of color is just what this fairly clean, linear space needed.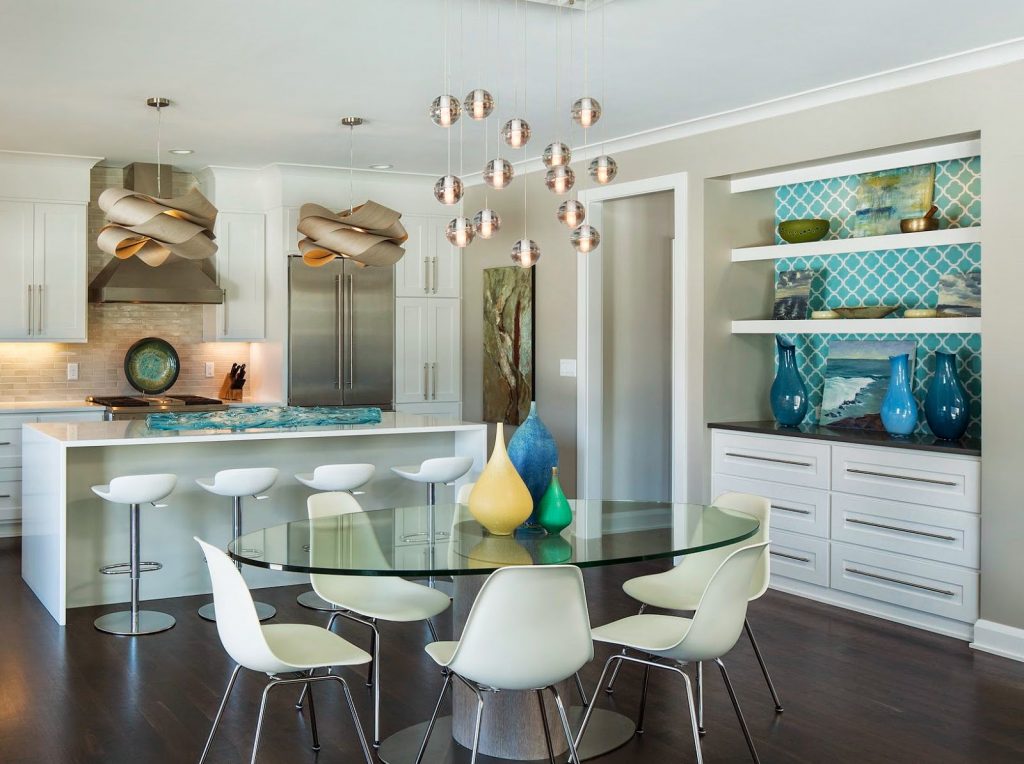 Wallpaper is F. Schumacher and Co. Morocco in Azure.
Image
I adore the juxtaposition of organic materials (countertop), contemporary lighting and plumbing fixtures, and traditional wallpaper, mirror and casework. Such a successful room!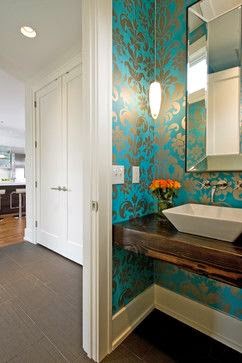 This wallpaper has been discontinued, but you can find a similar pattern at Osbourne & Little called Pegasus.
Image
This is one of my faves. If you look closely, you can see that behind these gorgeous peonies is a neutral trellis pattern that adds such a nice touch to this wallpaper. And can we talk about that palette?! It's for the client who is unafraid of making a bold statement with color. Love it!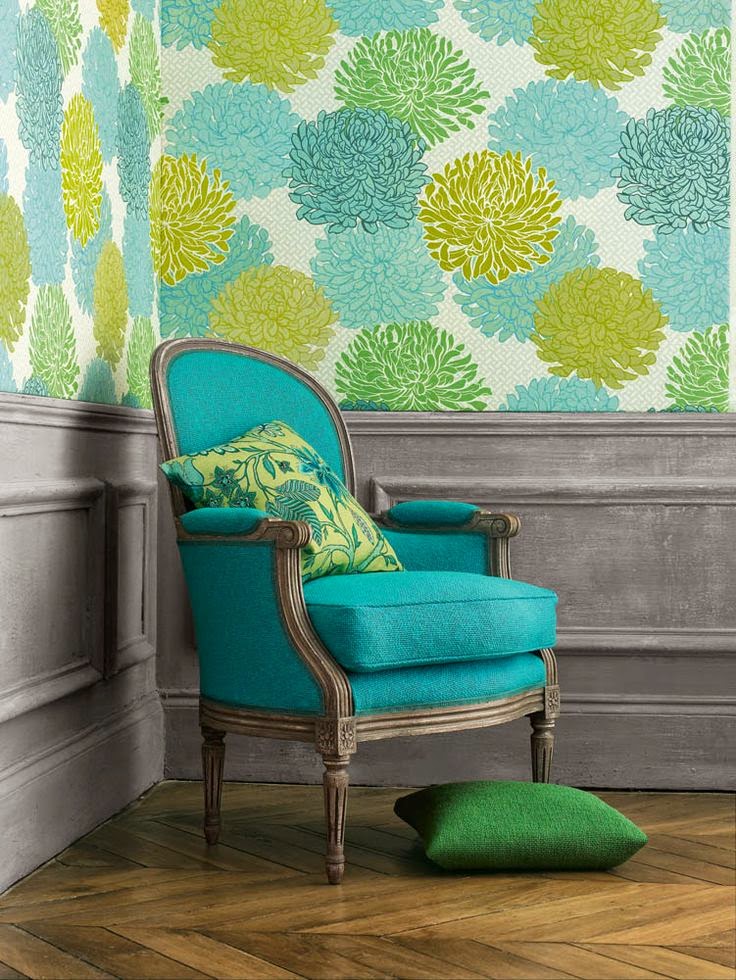 Wallpaper is Penelope in Gris/Turquoise by Manuel Canovas.
Image
I like the scale of this wallpaper. The ceiling in this particular room are very high, and this particular wallpaper helps to balance the room. The overall tonal feel is soothing and serene.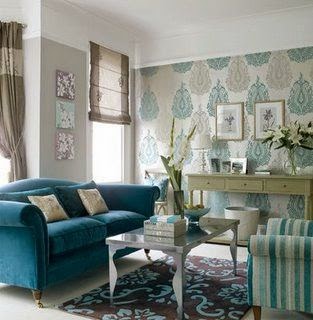 Wallpaper is Villa Nova Kamini Tiku in Turquoise Blue.
Image
I am a huge fan of wallpaper that suggests a particular style. This chinoiserie is playful yet feels like an ancient work of art. And that's what it will feel like in your room: a piece of art. This wall covering will set the stage for the rest of the design in the room.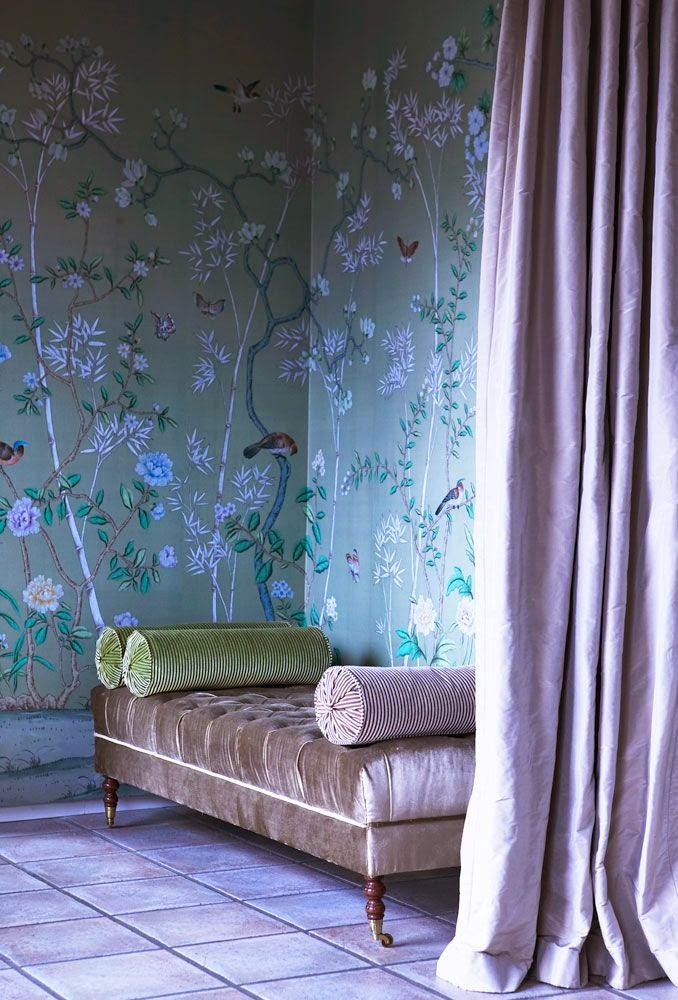 Wallpaper is de Gournay in Portabello from the Chinoiserie Collection.
Image
I love this floral wallpaper from Harlequin because the flowers and palette are both contemporary and whimsical. To me, this wallpaper says "chic cottage style"…clean and simple yet punches of color galore. And, you can choose to highlight any color in the palette, but let's be honest, we all know which one we'd choose!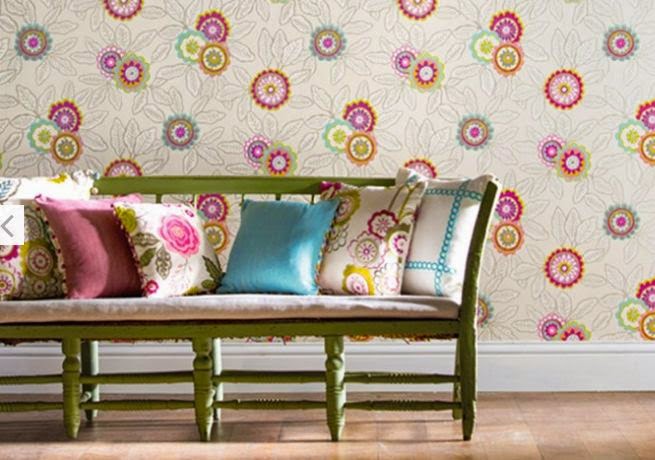 Wallpaper is Harlequin Eden in Azalea/Lemongrass.
Image
This simple trellis pattern wallpaper serves as a great backdrop when the walls don't need to take center stage. Because sometimes the
rug
or
pouf
want some attention, and really, who can blame them?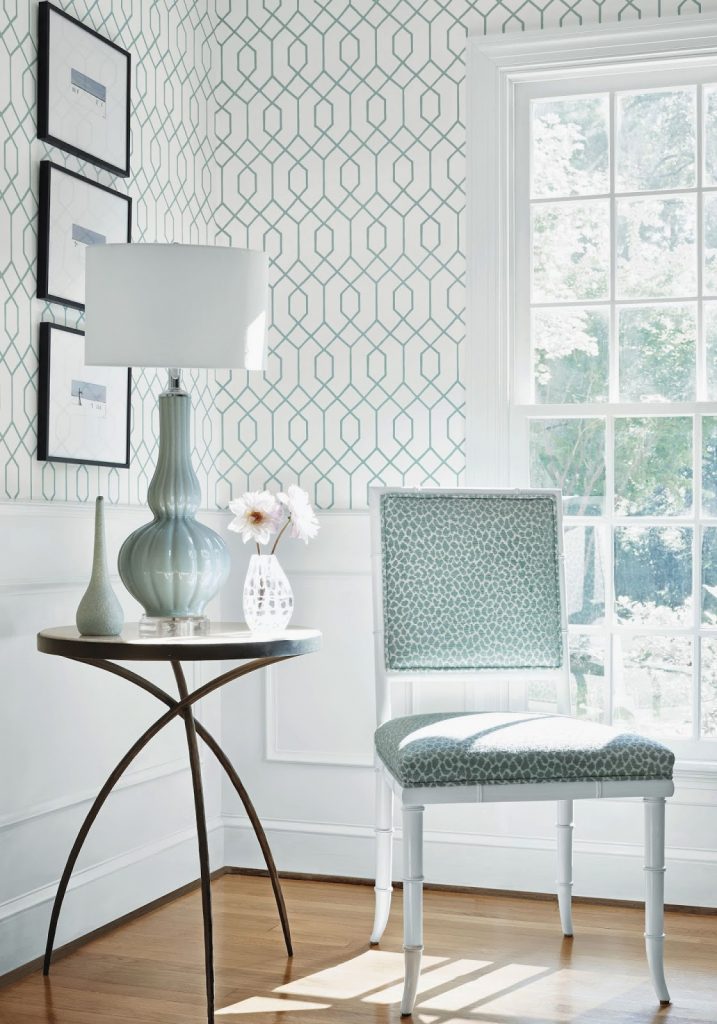 Wallpaper is Thibaut LaFarge in Aqua.
Image
I hope these ideas have inspired some of you to consider wallpapering a wall or two. Feel free to
email
me with questions or photos of wallpaper success in your own home. Thank you again to Erin for letting me borrow her readers!
Happy designing,