Well hello there! Kathryn here, from
Kathryn J. LeMaster Art & Design
. I am just tickled to be here today filling in so our favorite HOT mama and her new little one can spend more time together and hopefully catch up on some well deserved R&R!
Like Erin and most of you, I can't get enough of the color turquoise and all of its beautiful variations. Though I've always been drawn to this happy hue, it seems to have snuck up on me in recent years, climbing the charts and becoming my number one favorite color.

If memory serves me correctly, I believe it was all a head-first-downward-turquoise spiral after the garden stools. Ah, yes. The eye-catching, room-popping turquoise garden stools. A perfect pair.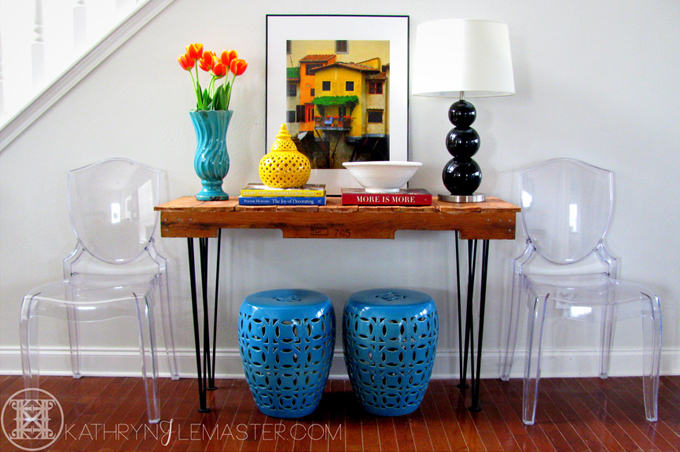 Once upon a time I stumbled across them on
One King's Lane
. They called my name and it was love at first sight. They now live happily-ever-after in my entry way (above). Each time I walk through the room they greet me with a cheery smile that brightens my day the way only turquoise can.
Today I want to pass along to you the day-brightening smile that is everything turquoise. It is my honor to share with you a few of my favorite pics of this winning color in action!